December Retail Sales sink 1.9%, ex-autos -2.3%, Control Group -3.1%.
October, November and December sales net at 0.1%.
American have shifted holiday spending into October.
Inflation threatens household budgets and consumption.
The internet and the pandemic have wrought many changes in modern life. Have they altered that great American pastime, emotional release and economic engine, shopping?
Retail Sales dropped 1.9% in December, far worse than the consensus forecast for a flat month, and November's total was revised to 0.2% from 0.3%.
Results were progressively weaker in the two sub-categories. Sales excluding autos fell 2.3% on a 0.2% forecast with November adjusted to 0.2% from 0.3%. The Control Group, whose figures represent most of the sales that comprise the Personal Consumption Expenditure (PCE) component of Gross Domestic Product (GDP), sank 3.1%, missing its 0.1% prediction by the largest amount since April 2020. November's total was revised to -0.5% from -0.1%.
Retail Sales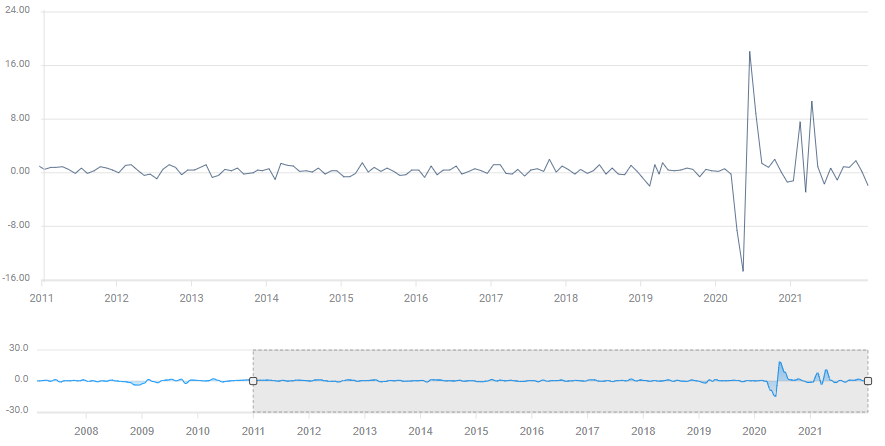 FXStreet
On-line sales took the largest hit in December. Non-store retailers, the Census Bureau's division for internet business, lost 8.7% in purchases but weakness was widespread across almost all categories. Furniture and home furnishing stores lost 5.5% in sales, electronic retailers were off 2.9%, clothing stores shed 3.1% and sporting goods, hobby and bookstores saw purchases slip 4.3%.
Two positive groups were health care stores, with a 0.5% gain and building material and garden supplies outlets with a 0.9% increase. Restaurants and drinking establishments had a 0.8% decline in revenue.
Internet and holiday sales
One theory explaining the poor December results in three of the last five years has been that the internet has made it much easier for consumers to access sales in October and November. Retailers have encouraged the trend, offering earlier and larger discounts in an effort to entice consumers to dispose of their holiday budget early.
There is some evidence that people have moved some of their shopping into October, which until recently was not part of the holiday season.
Traditionally the Christmas shopping season had started the day after Thanksgiving on the fourth Thursday of November.
In the first five years of the last decade, 2012-2016, October sales averaged 0.14% From 2017 to 2021 that average jumped to 0.68%. For November the first half decade average is 0.32% and the second is 0.04%. In December the averages are 0.4% from 2012 to 2016 and -0.8% from 2017 to 2021.
In the second half of the decade the highest spending is in October at 0.68%, it declines to 0.04% in November and becomes negative at 0.8% for December.
In the first five of the last ten years, the highest receipts are in November at 0.32%, followed by December at 0.4%, both trailed by October at 0.14%.
Based on this rather cursory reading of the Retail Sales figures it does seem that Americans have moved a portion of their holiday season purchases into October from November and
December.
Total average sales over the three months have fallen in the last five years to -0.08% from 0.8% prior, but that is entirely due to the baleful influence of the COVID pandemic of 2020 and 2021.
Retail Sales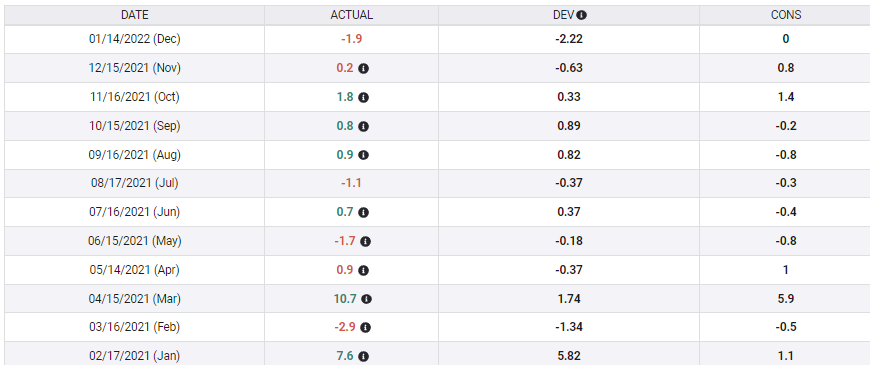 FXStreet
Inflation, wages and consumer optimism
Consumer prices in the United States have been rising 5% or more annually since May. The cumulative increase in the Consumer Price Index in 2021 was a remarkable 500%, from 1.4% in January to 7% in December.
CPI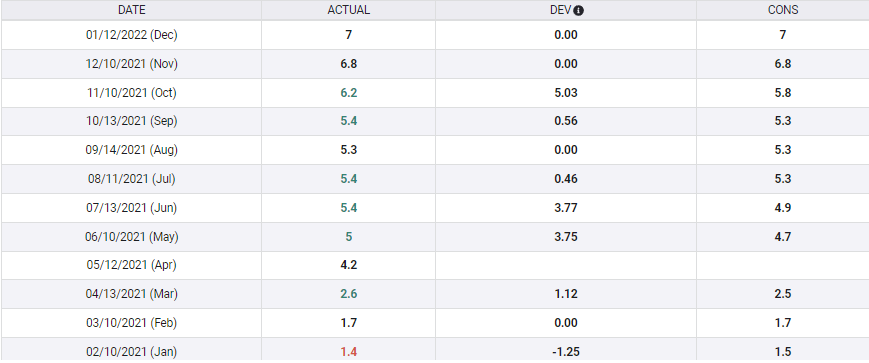 FXStreet
The shock for families is all the greater as it comes after a decade when inflation averaged close to 2% and almost 40 years from the last time rising prices were a serious consideration for the household budget.
CPI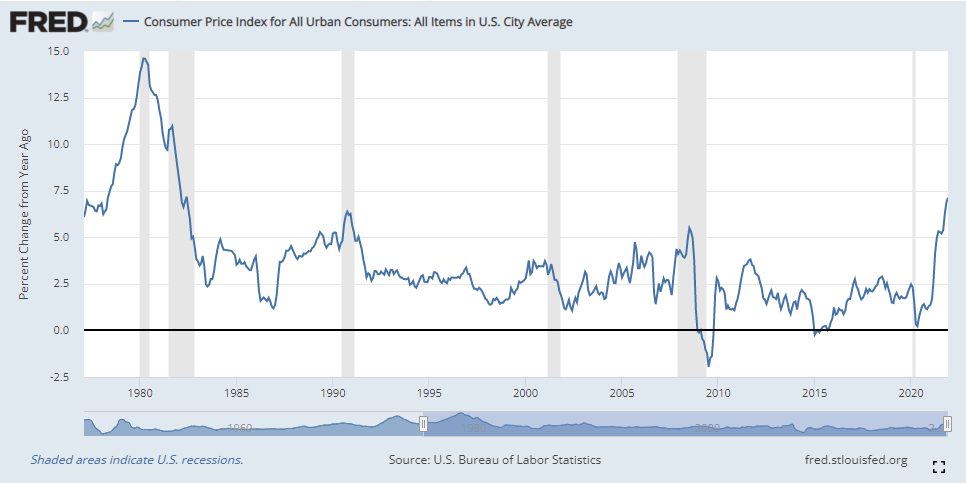 Wages have been kneecapped by inflation. Average Hourly Earnings rose 4.7% for the year in December. Inflation in 2021 was 7%. The purchasing power of American families declined 2.3% last year.
Average Hourly Earnings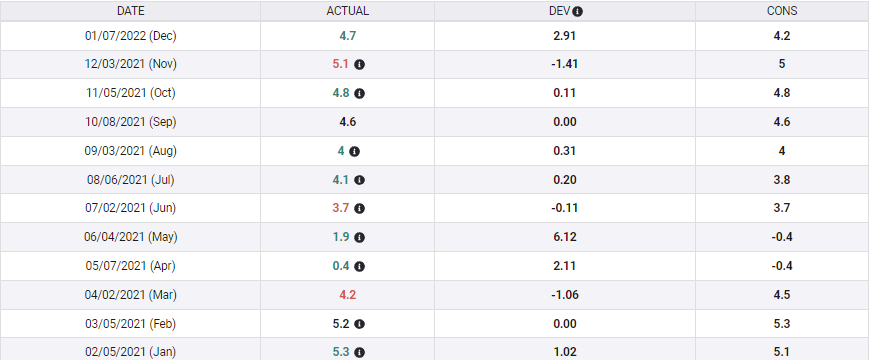 FXStreet
The Michigan Consumer Sentiment Index dropped to 68.8 in January. It has been below the pandemic nadir of 71.8 from April 2020, for four straight months and five of the last six.
Michigan Consumer Sentiment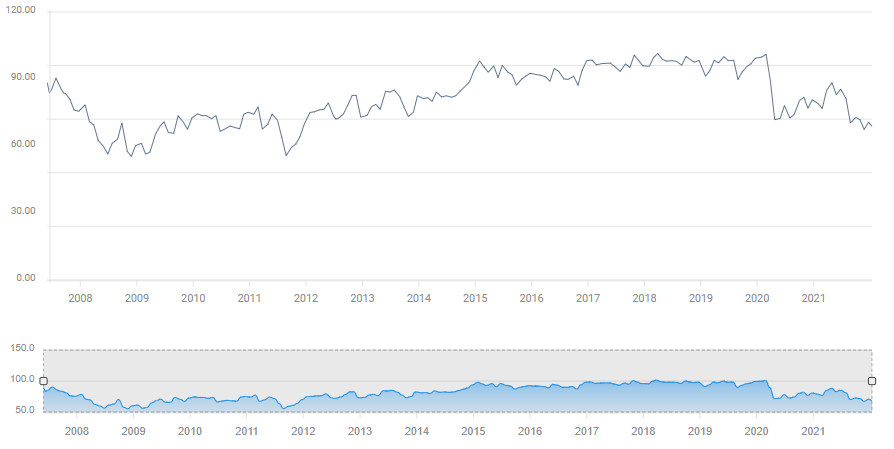 FXStreet
Conclusion
The ease and breadth of the internet market for household goods has changed shopping destinations and habits. It is far easier to shop from home, the range of goods encompasses the entire consumer world and purchases can be made any time, rain or shine, day or night.
What has not changed is the decision to shop.
The economic and financial conditions, jobs, wages and inflation, and the overall sense of well-being that encourage consumption, on-line or retail, remain the same.
Wages always lose out to inflation. Workers know they cannot change jobs fast enough, or negotiate salary increases often enough to keep pace with 5%, 6% or 7% inflation. That is particularly true when the cost of many necessities is rising faster than the overall price index.
After a very short amount of time something has to give and that something is always consumer spending.