S&P 500, Nasdaq climb for 5th straight session as investors cheer earnings.
The S&P 500 led the gains in percentage points of 0.74% followed by the Nasdaq Composite that added 107.28 points, or 0.71%.
The Dow Jones Industrial Average was the laggard and rose 199.36 points or 0.57%.
Wall Street's benchmarks got a boost on Tuesday from the technology and healthcare sectors as investors cheered strong quarterly reports. Notably, in its fifth straight session of gains, the benchmark S&P 500 index neared its early September record high. Analysts now expect S&P 500 earnings to rise 32.4% from a year earlier, according to Refinitiv data.
In healthcare, Johnson & Johnson raised its 2021 adjusted profit forecast which lifted the S&P 500 while insurer Travelers Cos Inc TRV climbed after beating third-quarter profit estimates. In other earnings-related outcomes, high-profile technology and communications companies were also big contributors to the S&P's gain with Apple Inc AAPL, Facebook FB and Microsoft MSFT all rising.
Meanwhile, the CBOE market volatility index hit its lowest level since mid-August during the session. Unofficially, the Dow Jones Industrial Average rose 199.36 points, or 0.57%, to 35,457.97, the S&P 500 gained 33.3 points, or 0.74%, to 4,519.76 and the Nasdaq Composite added 107.28 points, or 0.71%, to 15,129.09.
In related markets, the 10-year US Treasury yield increased 5.1 basis points to 1.635% and West Texas Intermediate crude oil climbed to a multi-year high of $83.72 a barrel. DXY, a measure of the US dollar vs a basket of rival currencies recovered from the lows of 93.50 and targets 93.80 at the close with higher levels eyed:
US dollar 1-hour chart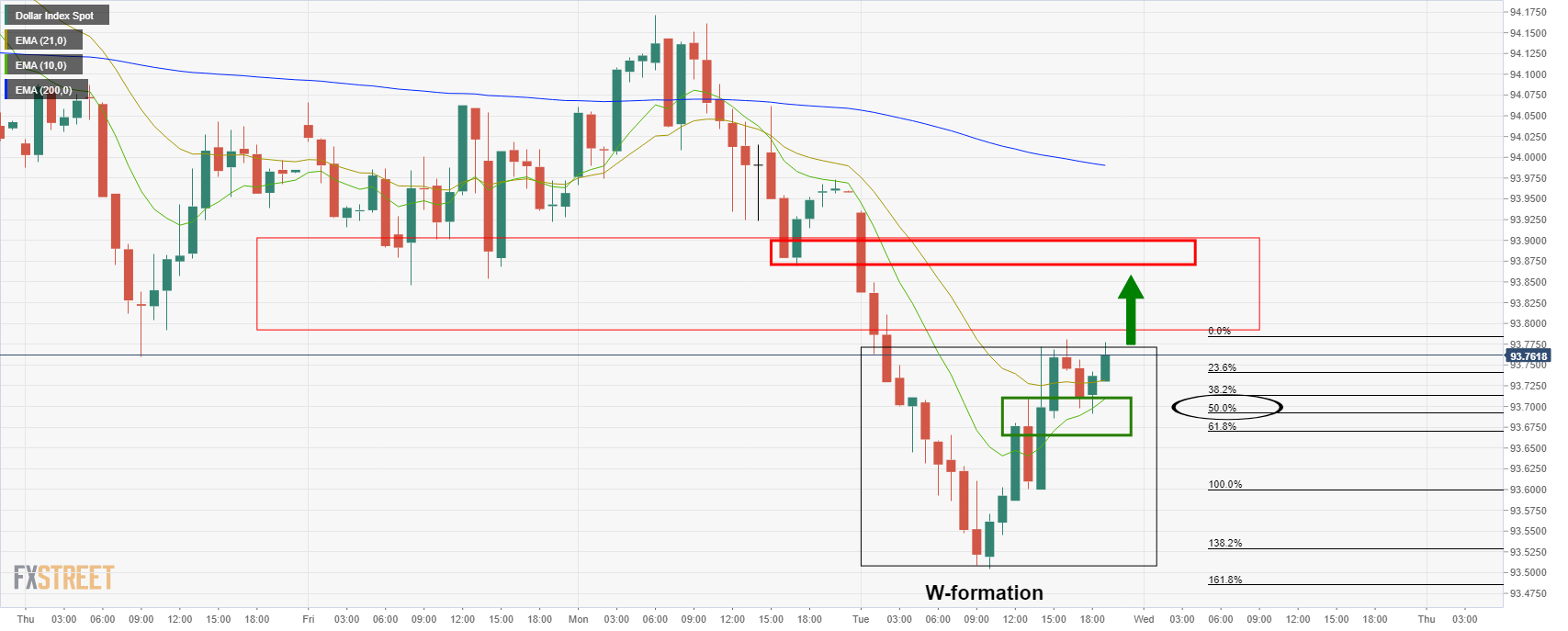 As illustrated, the price has retested the neckline of the W-formation and is now making tracks towards 93.80. A break there opens risk towards 93.87 18 Oct lows.
DJIA daily chart