Share:
Aptos price jumps higher on the back of a lower inflation print against the previous month.
APT, meanwhile, gets a rejection to the upside at an important historical level.
Expect to see APT go nowhere until the US closing bell, some follow-through might occur.
Aptos (APT) price is stuck between a rock and a hard place after the all-important US Consumer Price Index (CPI) data was released. On one hand, the US inflation numbers were a bit lower but, on the other hand, they are still very much elevated. It becomes clear that there is no real winner with these numbers, as APT is flirting with small gains and cannot break above $14.45 after firm rejection just seconds after the US inflation number came out.
Aptos price traders watching all asset classes
Aptos price gets torn between bears and bulls in the aftermath of the US CPI numbers, with a similar tone of dispersion in several asset classes. Equities got pumped higher but are back in the red, and US Treasury bonds see yields rising as prices tank. On the back of this all, the US Dollar is nudging higher, with the DXY slightly higher and EUR/USD 80 pips lower from the high on the US inflation print.
As an altcoin very sensible to risk scenarios, APT price will go nowhere until the US closing bell. Expect bulls to win the tug-of-war game and see them jack up prices in risk assets. Aptos price is primed to break through the $14.45 hurdle. Should a daily close above the level happen, expect to see some follow-through towards $17 for a flirt with a break above the green ascending trend line later this week.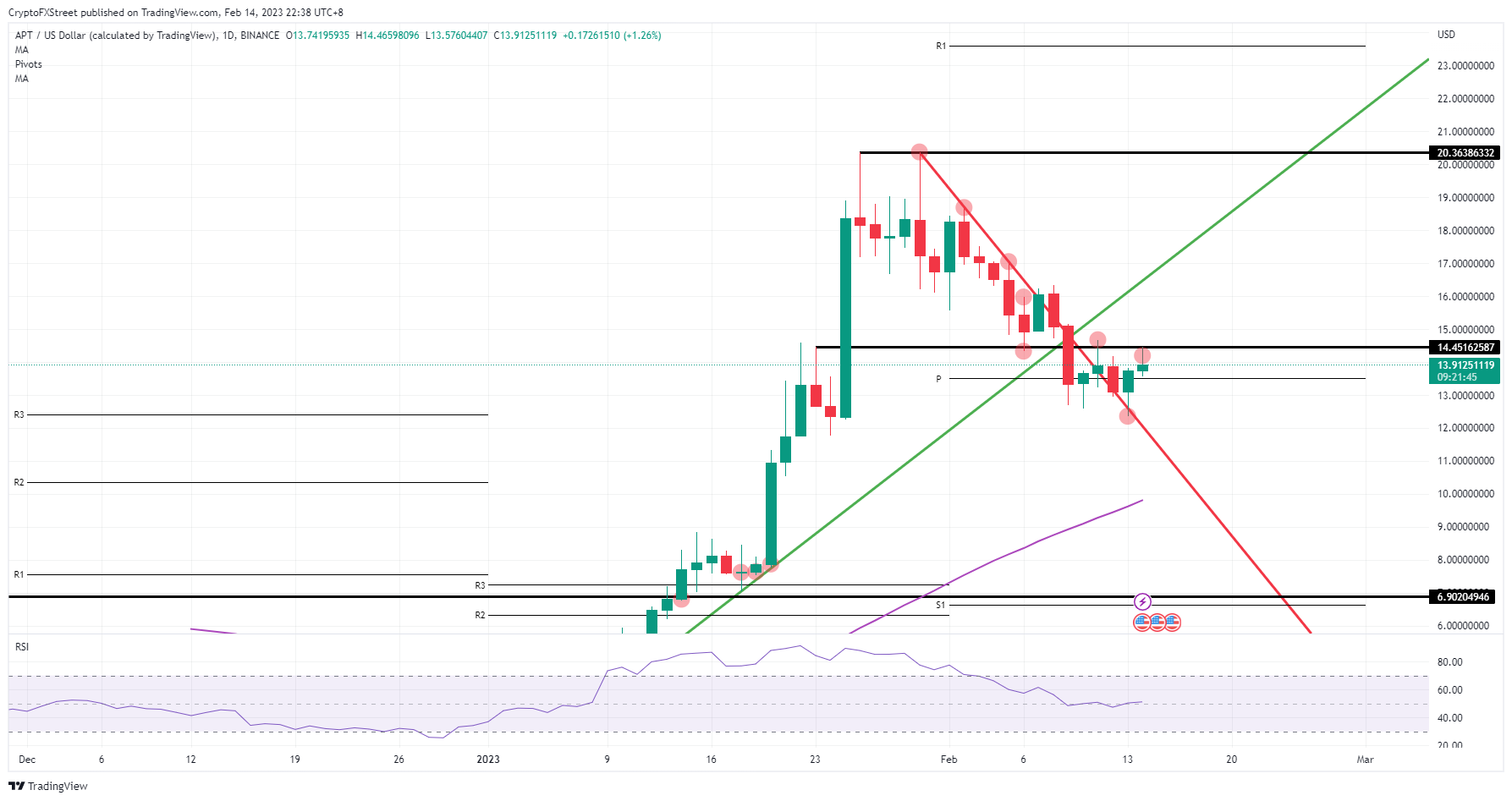 APT/USD daily chart
The biggest elements to keep an eye on throughout the rest of the trading day are bonds and EUR/USD. Should that last pair decline towards 1.0660 –and the DXY strengthen further– the cryptocurrency market can expect a risk-off tone to unfold, with APT on the chopping block. The monthly pivot would break and might see APT tank towards $12 in search of support.