Share:
Arbitrum Foundation's first governance proposal stirred a controversy as it recommended the transfer of 750 million tokens to Special Grants.
While Arbitrum Foundation's documents state 4.278 billion ARB tokens were meant to be allocated to the DAO treasury, only 3.5 billion have been transferred.
750 million tokens represent 7.5% of ARB's total supply, this has raised concerns in the community.
The Arbitrum blockchain's first governance proposal asked for transfer of 750 million ARB tokens worth nearly $1 billion to a "Special Grants" program. This would transfer control of nearly 7.5% of ARB's total supply to three directors, therefore requiring careful consideration by the community.
Also read: Will MATIC price conquer the bullish target of $2 again?
Arbitrum's $750 million governance proposal, a controversy
The Arbitrum Foundation alarmed the ARB community with its first attempt at governance on April 1. The proposal called for 750 million ARB tokens, worth nearly $1 billion to fund a "special grants" program that would foster the ecosystem's growth.
The proposal, AIP-1 has raised concerns because the transfer to special grants would exclude grant allocations from on-chain governance. A team of three directors would be responsible to determine who receives the grants, when and how many ARB tokens are distributed to them.
No votes would be required from the community and this has resulted in criticism on crypto Twitter. Chris Blec, a crypto advocate and proponent criticized Arbitrum Foundation's move in a recent tweet:
Vote is underway for @arbitrum to steal 750m $ARB from treasury for its "Foundation" to hand out "Special Grants".

No votes on these grants.

No mention of security or oversight.

3 ppl control the Foundation.

This is a SLUSH FUND for Arbitrum VCs.

Total embarrassment. pic.twitter.com/hnabrJafbi

— Chris Blec (@ChrisBlec) April 1, 2023
Why does the Special Grants proposal take a step back in transparency?
Blockworks Research commented on Arbitrum Foundation's move and explained that while AIPs are expected to improve DAO governance and transparency, the proposal represents a step backwards.
With no mention of security or oversight from the community, with no provision to vote on grant allocations, a team of three directors that control the foundation would hand out "Special Grants." This makes it questionable and garners criticism from the community of ARB holders and DAO proponents in the crypto ecosystem.
The three directors identified by Blockworks are Campbell Law, Edward Noyons and Ani Banerjee.
Cause of concern for ARB holders?
There are a few key moves since the ARB airdrop that have raised questions among DAO researchers and ARB token holders. As per the Arbitrum Foundation's documents, 4.278 billion ARB tokens were meant to be allocated to the Arbitrum DAO treasury.
However, as seen in the table from AIP-1, only 3,527,046,079 ARB tokens have been transferred to the DAO treasury.

DAO treasury receives smaller than promised share
It was stated that the ArbitrumDAO would have direct on-chain governance powers over the treasury, therefore the community finds no explanation for 750 million ARB to be taken out and moved to a "Special Grants" allocation that has no oversight.
Blockworks Research's recent tweet reveals that the firm has reason to believe that Offchain Labs has pre-emptively separated the Administrative Budget Wallet, as seen from the two DAO Treasury wallets below.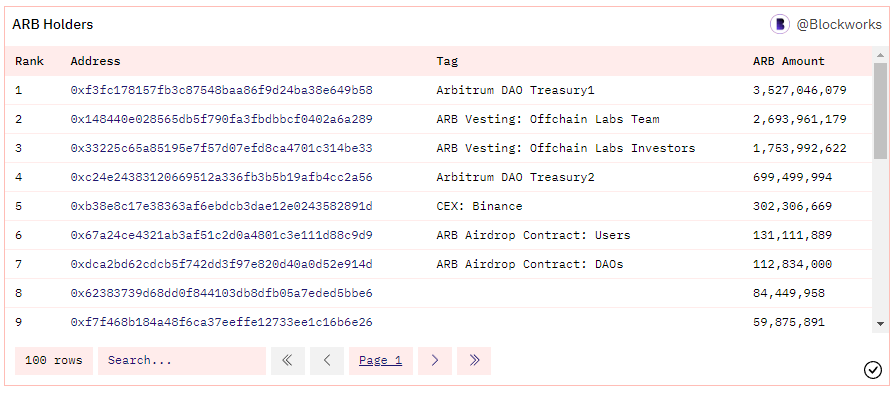 The new address is not listed in the token distribution addresses in foundation documents.
The contract address represents a multi-sig wallet, however it is not a part of the documentation and leaves a security loophole if malicious actors gain access to the 699 million ARB.