Share:
Arbitrum, despite having its airdrop two weeks ago, is noting daily transactions equal to Ethereum.
The Foundation acknowledged the rejection of AIP-1 and stated it would not move any of the remaining 700 million ARB.
Following the 17% drop in price soon after the failed proposal, Arbitrum Foundation put out a transparency report.
Arbitrum made headlines over the month of March, first for the launch of its native token ARB and then for AIP-1. The very first governance proposal that the Foundation put out did not sit well with the community resulting in severe backlash. Now the Foundation is attempting to fix its blunder since Arbitrum use has sustained solid growth.
Arbitrum amends changes to AIP-1
The controversial proposal was criticized for the way it handled the response from the community. Despite noting a majority vote against the transfer of $1 billion worth of 750 million ARB for admin and operations costs, the Foundation went ahead with it anyway.
This led to the newly launched ARB token registering a 17% crash in the span of three days. Now the Foundation has put out two new proposals along with a Transparency report about the Foundation's initial setup. The report details the actions taken to launch the Decentralised Autonomous Organisation (DAO) and how it can change the parameters in the future.
Additionally, the first of the two proposals will impose restrictions on Foundation's spending as well as enforce a lockup schedule. This smart contract-enabled schedule will release ARB linearly over the next four years. The second proposal noted,
"AIP- 1.2 proposes to amend the core governing documents of the DAO, lowering the proposal threshold from 5,000,000 to 1,000,000 tokens to make governance more accessible."
The proposals came at a time when Arbitrum was observing considerable growth compared to its Layer-2 competitors.
Arbitrum's new competition – Ethereum
Despite being two weeks since the launch of Arbitrum's native token, the L2 chain is still sustaining the growth it observed over the last month. At the moment, Layer-2 is observing daily transaction figures at par with the biggest Decentralised Finance (DeFi) chain, Ethereum.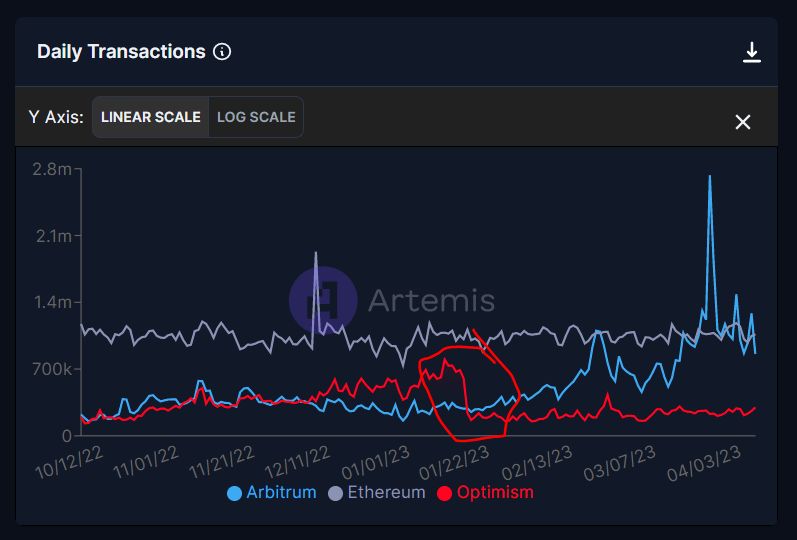 Arbitrum daily transactions
In comparison to its fellow L2 Optimism, the performance presently is pretty good as Optimims, following the end of its incentive program, noted a sharp decline in daily transactions. The significantly higher activity on Arbitrum is still in response to the token launch, but if this sustains, it would indicate the presence of a larger and more active user base.