Share:
Base network total value locked has hit $391.53 million, rising by more than $200 million in 5 days.
It comes after the Aerodrome launch, with the decentralized exchange accounting for almost 52% of the network's TVL.
The epic rise comes as developers join hands to enhance liquidity and boost the Base ecosystem.
Base network Total Value Locked (TVL) has recorded an epic surge over the past week, with the Coinbase incubator program drawing in developers who want to process large volumes of transactions on the mainnet.
Also Read: What BASE and Optimism's collaboration means for OP price
Base TVL skyrockets after DEX launch
Base TVL is $391.53 million at the time of writing, $201.53 million higher than on August 28, just before the launch of the Aerodrome decentralized exchange. This is not a mean feat, considering Base is barely a month old and has already ascended to secure the fourth position among Ethereum Layer-2 (L2) blockchains. Its peers include Arbitrum One, Polygon, and OP Mainnet.
A rise in TVL indicates that user deposits are rising, which points to user interest in the DEX. DeFiLlama data shows that The DEX's TVL is $197.9 million, accounting for 51.58% of the entire mainnet total value locked.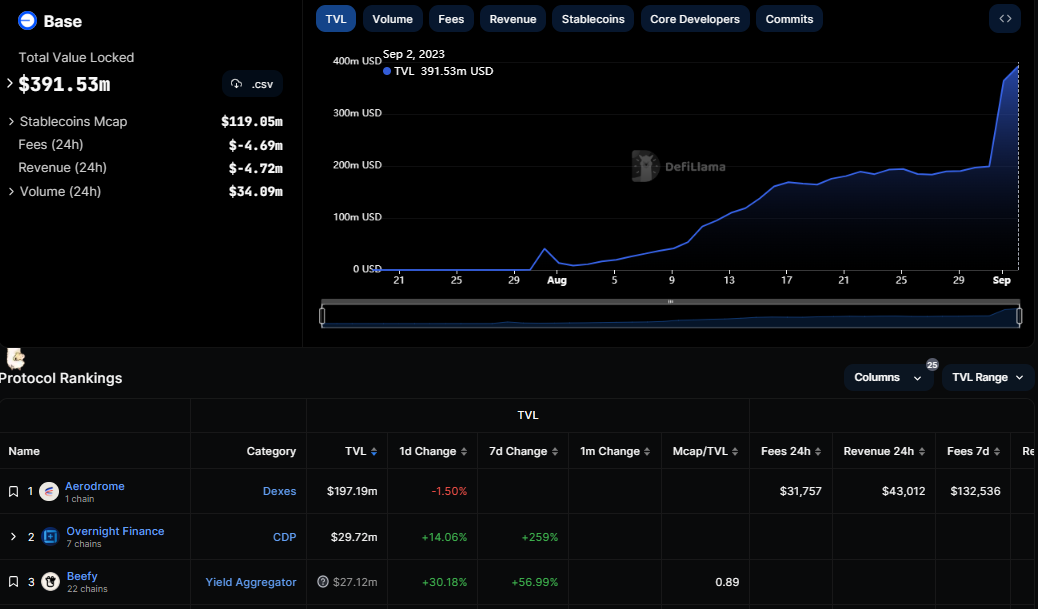 BASE TVL
Aerodrome DEX and its intention for launching on base Mainnet
Aerodrome is a decentralized exchange released by the largest DEX protocol on OP Mainnet, Velodrome Finance. It runs on Coinbase's Layer 2 Base network, released by more than 20 collaborators. The Velodrome team launched Aerodrome on Base as part of a commitment to capture a sizeable part of the network's liquidity and value exchange. Ideally, it is the same thing they did on OP Mainnet (previously Optimism), using DeFi incentives.
It is worth mentioning that the launch of Aerodrome on Base mainnet has proved value adding to the network, multiplying the network's liquidity a hundredfold, an action that has helped complete its DeFi ecosystem courtesy of the new partners.
Open Interest, funding rate FAQs
Higher Open Interest is associated with higher liquidity and new capital inflow to the market. This is considered the equivalent of increase in efficiency and the ongoing trend continues. When Open Interest decreases, it is considered a sign of liquidation in the market, investors are leaving and the overall demand for an asset is on a decline, fueling a bearish sentiment among investors.
Funding fees bridge the difference between spot prices and prices of futures contracts of an asset by increasing liquidation risks faced by traders. A consistently high and positive funding rate implies there is a bullish sentiment among market participants and there is an expectation of a price hike. A consistently negative funding rate for an asset implies a bearish sentiment, indicating that traders expect the cryptocurrency's price to fall and a bearish trend reversal is likely to occur.
---
Source