Bitcoin and Ethereum prices wiped out all gains from the euphoric highs of 2022 under rising selling pressure in the bear market.
The November-December economic data shows signs of recession in the US and Europe are becoming apparent, Fed could remain hawkish.
Traders in the interest rate market expect rates to peak in March 2023 increasing liquidity in cryptocurrencies like Bitcoin and Ethereum.
Bitcoin and Ethereum could witness a spike in liquidity pressure in Q1 2023 as the US federal reserve maintains its hawkish policy. The mid-forward sentiment in the options market remains bearish. A rebound in crypto prices is a long way off based on the macroeconomic outlook.
Also read: Bitcoin on track to be undervalued as stablecoin reserves drop to pre-2021 bull run levels
Bitcoin and Ethereum prices could crumble under selling pressure
Bitcoin and Ethereum prices nosedived with rising selling pressure in 2022. The top three factors influencing crypto prices were the US Federal Reserve's hawkish policies favoring higher interest rates to curb inflation, collapse of Terra's ecosystem of tokens LUNA, UST and the spreading FTX contagion.
According to analysts at Blofin Academy the first half of 2023 will see Bitcoin and Ethereum facing strong liquidity pressure. The economic data in November and December showed that signs of recession in the US and Europe are being apparent. While the US economy remains strong, there is enough evidence that the US Federal Reserve will maintain a hawkish policy through 2023.
High inflation leaves the European Central Bank little choice but to raise interest rates aggressively.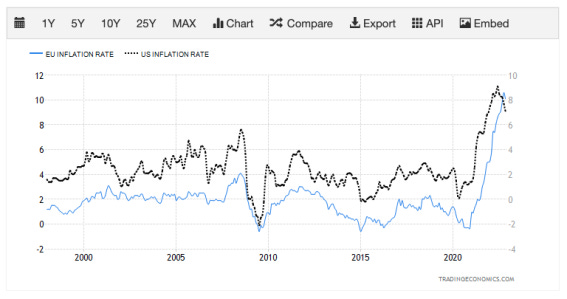 EU and US inflation rate
Experts believe the US Federal Reserve's peak interest rate will remain in place for at least six months and rates are expected to peak in March 2023.
Liquidity pressure on two largest crypto currencies by market capitalisation, Bitcoin and Ethereum will therefore remains high.
Investor sentiment in options remains bearish
In the options market, the mid-forward sentiment is relatively bearish.
The sentiment has not improved from the start of 2022. Institutional and professional investors are concentrated in the options market therefore an analysis of changes helps effectively judge the direction of the crypto market.
The options based crypto sector that includes centralized/decentralized options trading business, structured products, options market data analysis will further develop in 2023 as more professional institutions, market makers, and individual investors join the market. Bitcoin and Ethereum holders might suffer more pain in Q1 2023 as the selling pressure on these risk assets rises.