Share:
Bitcoin CME gaps exist due to the lack of trading on CME on weekends.
These gaps have become self-fulfilling prophecies that are often rebalanced.
There gaps currently exist, $35,000, $27,000 and $21,000.
Bitcoin (BTC) futures product was listed as a product by the Chicago Mercantile Exchange (CME) in December 2017. Since then, CME's BTC futures data has been crucial to identifying institutional flow and interest, among other things. Regardless, the daily chart for BTC now shows three unfilled gaps, two at the top and one at the bottom.
Also read: SEC could approve multiple Ether ETFs soon while delaying Bitcoin spot ETFs
Bitcoin CME gaps and their self-fulfilling prophecy
Bitcoin futures trading on CME closed on the weekends. As trading resumes on CME on Monday, there is a gap between the closing price on Friday and the opening price on Monday, which is effectively named "CME gaps" by the crypto community.
Since its launch in 2017, CME Bitcoin futures have been creating gaps on the weekends. But investors started noticing that these gaps were often rebalanced by price moving into them. As a result, investors started trading with the expectation of rebalancing gaps, which created a self-fulfilling prophecy.
The most recent CME gap was created after the August 17 crash and extends from $27,005 to $27,485. The other two gaps are 31% and 19% away from Friday's close of $26,070. The one to the upside ranges from $34,445 to $35,180, and the CME gap to the bottom extends from $20,330 to $21,110.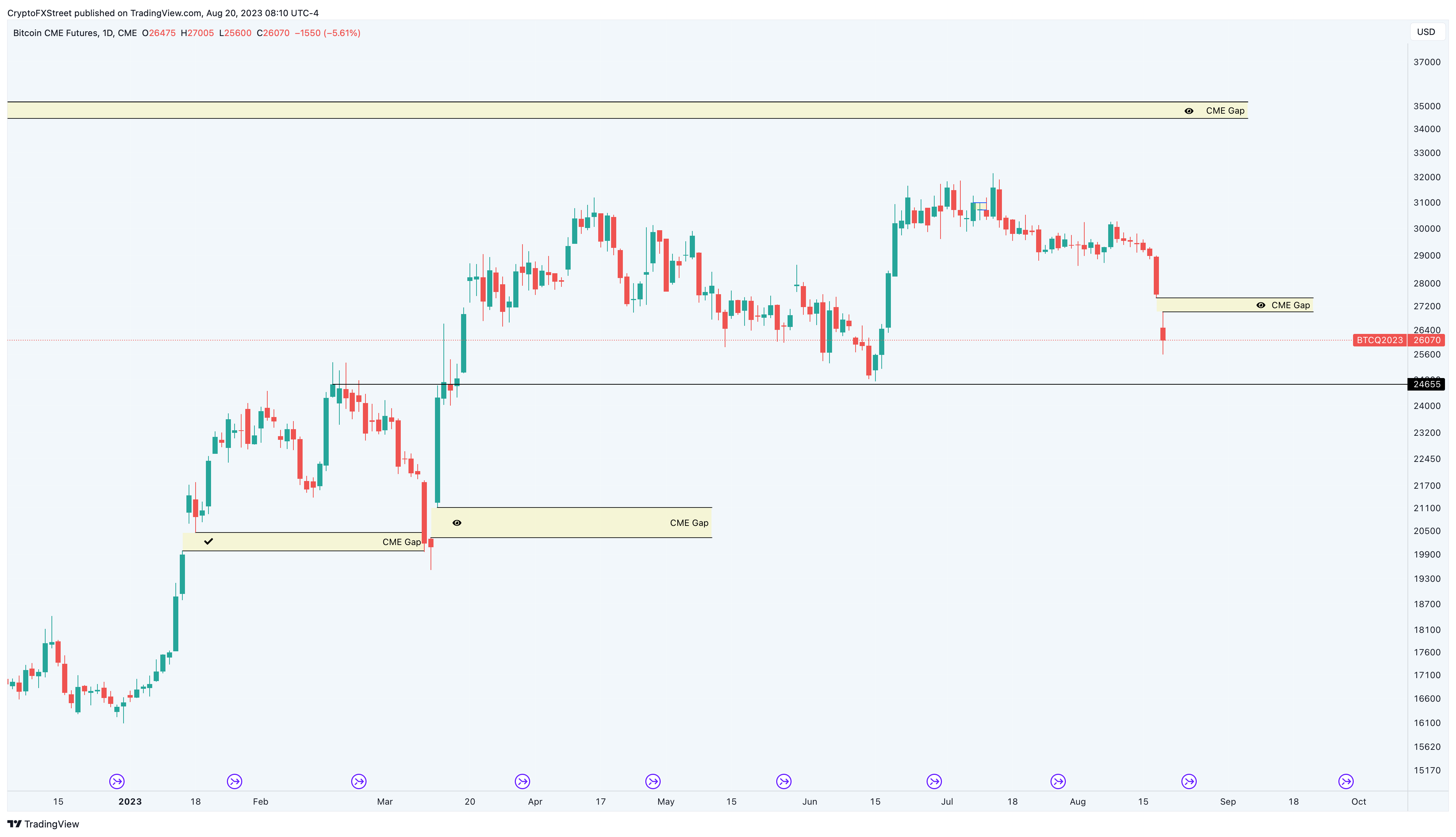 BTC CME Futures 1-day chart
Judging which CME gap will be filled first based on technicals
Bitcoin price has been on a downtrend since July 13 and has shed nearly 20%. As BTC hovers around the $26,000 level, a minor recovery rally seems all but likely. Hence, the immediate CME gap will be filled first.
Based on the daily chart, the Relative Strength Index (RSI), which has hit the oversold zone for the first time in more than nine months, a pullback is on the cards. This retracement will not only fill the immediate CME gap extending from $27,005 to $27,485, it will attempt to move higher.
Read more: If things do not improve, another miner-induced sell-off is likely for Bitcoin
In rare cases, Bitcoin price could sweep the $30,400 hurdle for buy-stop liquidity but is unlikely to have the momentum to scale higher. If things do not improve for Bitcoin price, i.e., a rising hash rate could push BTC miners to sell their stack, ruining the recovery attempt and triggering a selling spree. In such a case, BTC could nosedive and tag the CME gap, stretching from $20,330 to $21,110.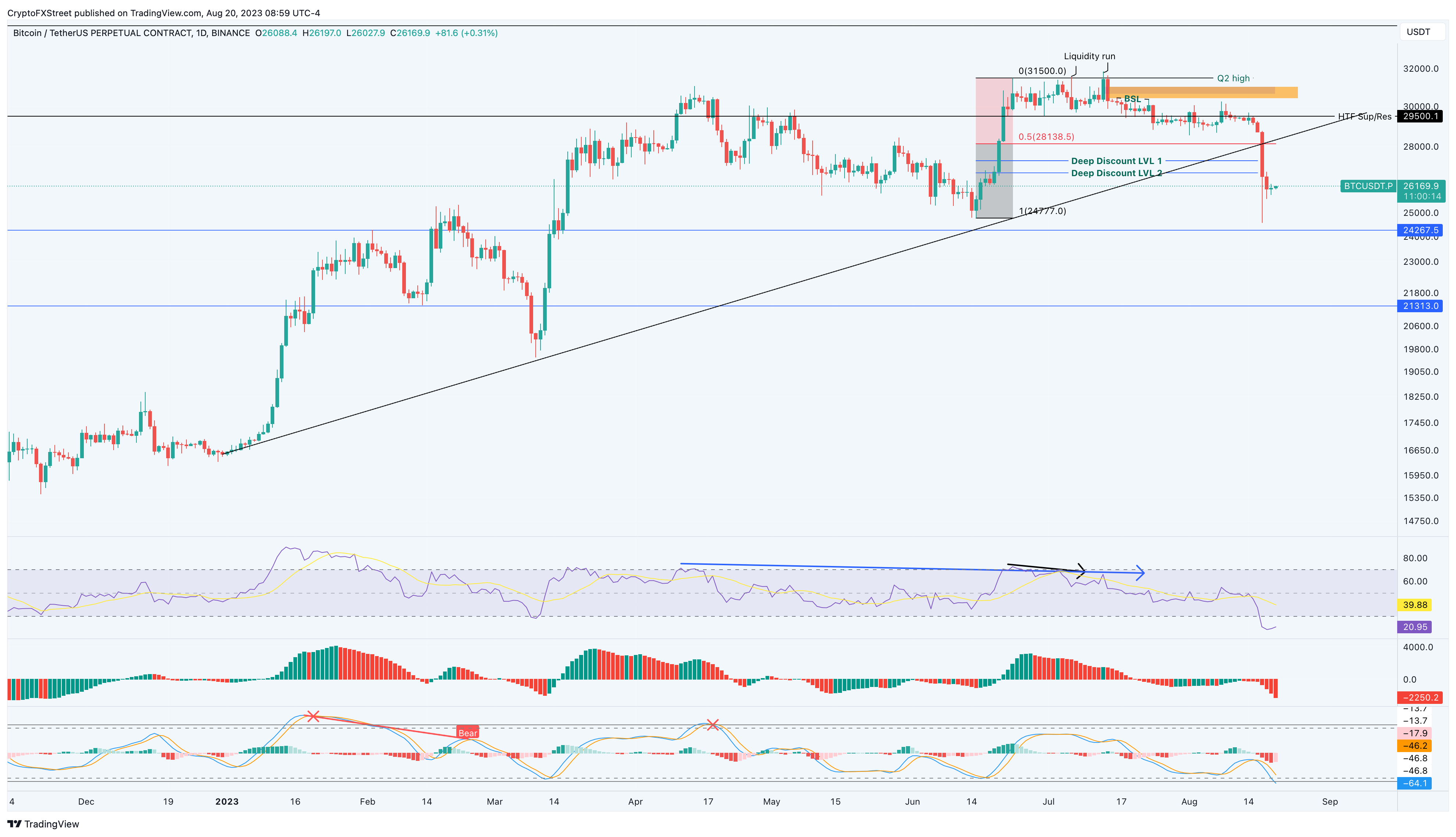 BTC/USDT 1-day chart
---
Like this article? Help us with some feedback by answering this survey:
---
Source