Share:
Bitcoin ETF will get approved with a 70% likelihood in January, according to analyst Alex Krüger.
Crypto traders are possibly preparing to employ a "Sell the News" strategy to front-run the market, Krüger says.
A rise in correlation between the DXY US Dollar Index and Bitcoin can start a 2024 rally.
As the crypto community awaits for the first spot Bitcoin Exchange-Traded Fund (ETF), analyst Alex Krüger hints at a 70% likelihood of approval in January. Krüger anticipates that traders are gearing up for this event, possibly employing a "Sell the News" strategy. Meanwhile, a growing correlation between the DXY US Dollar Index and Bitcoin has raised the prospect of a rally in 2024.
Bitcoin ETF could secure SEC approval next year
In a series of tweets, analyst Alex Krüger pegged the approval odds of impending Bitcoin ETFs at 70%. Krüger underlined that the decision is a crucial event, where crypto traders might adopt a "Sell the News" strategy, front-running the market on the ETF's decision. Krüger suggested that this approach could lead to significant price movements depending on the US Securities & Exchange Commission's (SEC) approval or rejection of such a fund.
If an ETF rejection hits the Bitcoin community in the near future, Krüger anticipates a 'post news short' to $23,000. Contrarily, Krüger envisions "new year highs within a week" if the ETF were to get approved.
Meanwhile, former BlackRock managing director Steven Schoenfield, who now serves as the CEO of MarketVector Indexes, predicts Bitcoin ETF approvals within three to six months.
Notably, the industry has witnessed a surge in ETF applications. According to Bitinning founder Kashif Raza, 16 spot ETF applications are in queue for approval. He notes, "Never before you had so many applications in front of the SEC," he said.

There are 16 applications in Que for a SPOT ETF approval.

12 for Bitcoin.

4 for Ethereum.

Never before you had so many applications in front of the SEC. pic.twitter.com/rxm9jpGyN4

— Kashif Raza (@simplykashif) October 5, 2023
Bitcoin rally could be on the horizon for 2024
While ETF approval would be a catalyst for Bitcoin price, the rise in correlation between the US Dollar Index (DXY) and Bitcoin is also positive news. The correlation has hit a 10-month high at 0.73. Previously, this rise marked the start of the 2023 Bitcoin rally. Therefore, if history were to repeat itself, this pattern could potentially trigger a similar rally in 2024.
Also Read: Bitcoin price could revisit $10,000 amid growing correlation with US Dollar index
However, Bitcoin will need to test the critical $30,000 mark in Q4 before a new year rally. A failure to breach this resistance level could significantly impact the chances of an upward price movement. At the time of writing, Bitcoin is priced at $27,699, exhibiting a slight increase in the last 24 hours. Bitcoin has managed to rise about 5% over the past week.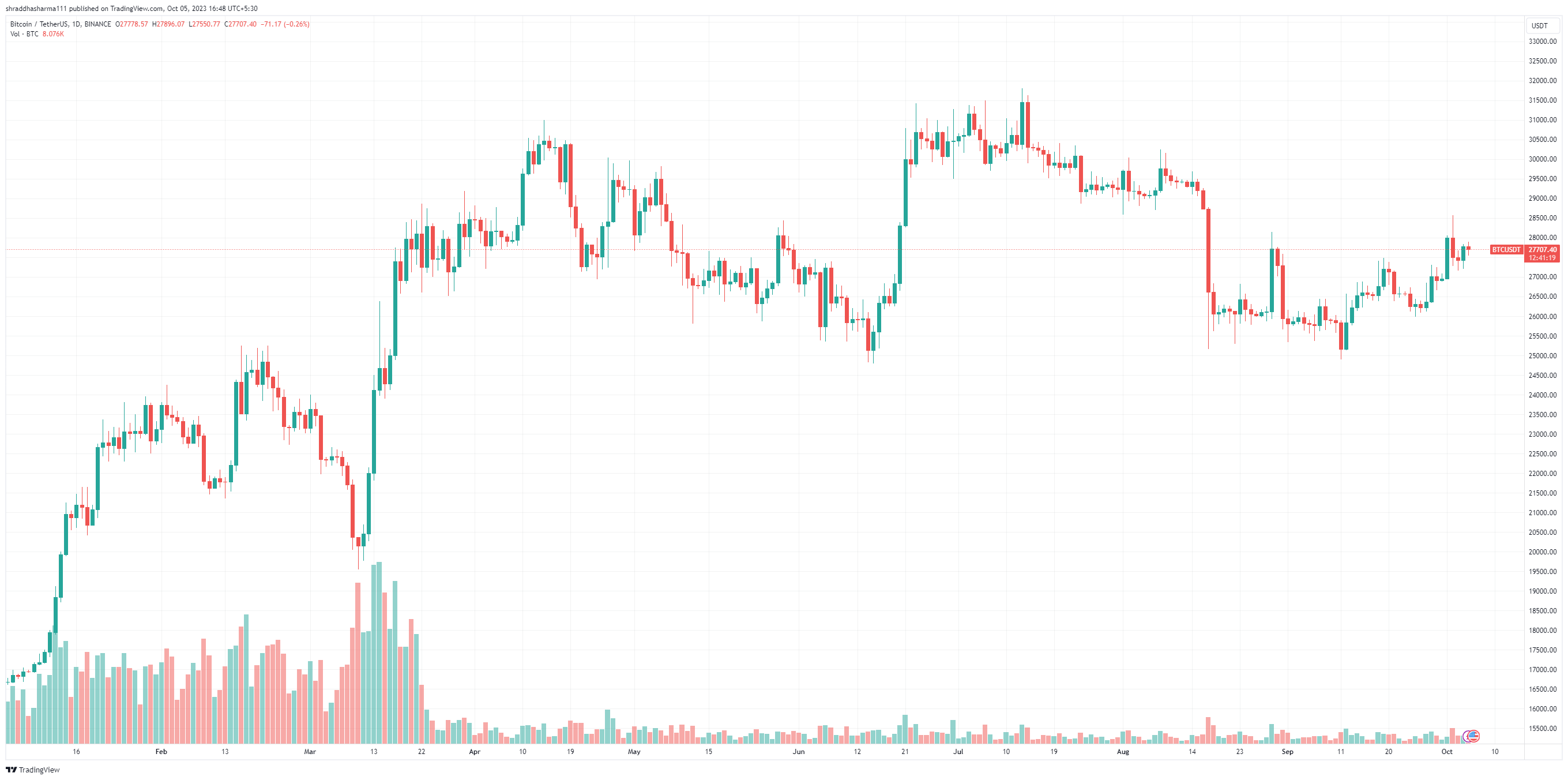 BTC/USDT 1-day price chart
The looming decision on a Bitcoin ETF along with macroeconomic factors like the US Dollar's valuation could be a game-changer for the king coin. Traders are preparing for potential price swings that will shape Bitcoin's price trajectory in 2024.
---
Source