Share:
Bitcoin price had a brief stint below the $20,000 level and nearly $422 million in long and short positions was liquidated.
BTC nosedived to a five-week low in response to the tumultuous events of the week, however whales continued Bitcoin accumulation.
Analysts have identified that several BTC whales have bought call options with a strike price of $25,000 in April expiration.
Bitcoin price suffered a drawdown in response to the collapse of Silicon Valley Bank. BTC dropped to a five-week low, nosediving below the psychological barrier of $20,000.
Also read: Why Charles Hoskinson believes algorithmic stablecoins are key to realizing Satoshi's vision of Bitcoin
Bitcoin price climbs above the $20,000 level
Chinese journalist Colin Wu reported that several Bitcoin whales were spotted buying call options with a strike price of $25,000 in April expiration and selling the same strike call options for June expiration.
In the options market, there have been a large number of calendar spread transactions consisting of large calls in the last hour, mainly concentrated in: BTC-25000-C buy April and sell June; ETH-1600-C buy April and sell June. @GreeksLive said that this may show confidence in… https://t.co/c46OmX68vX pic.twitter.com/aGW8ZfqrUf

— Wu Blockchain (@WuBlockchain) March 10, 2023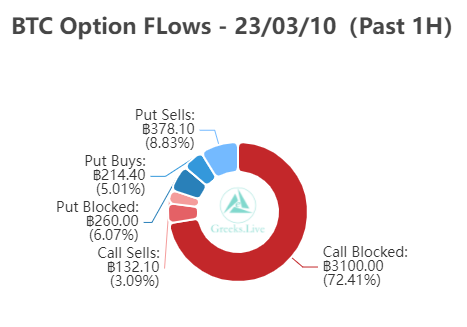 BTC options flows
After hitting a five-week low below the psychological barrier of $20,000, Bitcoin made a comeback above the key price level. The event triggered $422 million in liquidations within the past 24 hours, of which 86.2% were BTC long positions.
Baro Virtual, a cryptocurrency analyst at CryptoQuant assessed Bitcoin price trend and indicators and argued that bears are in control since March 2. Bears have relentlessly pushed BTC price lower with distribution, despite cool-off periods.
The expert warned traders to watchout for the domino effect from the collapse of the now-defunct FTX exchange and US regulatory crackdown on Bitcoin. The rising uncertainty in the crypto market implies seller exhaustion is nowhere close and traders need to tread with caution.
Based on data from crypto intelligence tracker Coinglass, within the last ten days, open interest in Bitcoin declined nearly 10%, a significant drop since the FTX exchange collapse.