Share:
Binance Coin price crashed by over 8% in the span of an hour, falling from $258 to $244 at the time of writing.
The crash was the result of Binance agreeing to a $4.3 billion settlement with the US government.
The US Justice Department alleged that CEO Changpeng Zhao violated criminal anti-money laundering requirements.
After Binance CEO CZ resigned on Tuesday and BNB crashed, nearly $3 million in long contracts were liquidated within a couple of minutes.
Binance Coin price fell by 8.39% in the past hour to trade at $244 as Changpeng Zhao, the CEO of the world's biggest cryptocurrency exchange and the parent company of the altcoin Binance, resigned on Tuesday.
Read more – Binance may have settled with US DoJ as markets anticipate official announcement, CZ steps down as CEO
Binance Coin price crashes as CEO CZ resigns
Zhao is currently facing charges of violating criminal anti-money laundering requirements, to which he also pleaded guilty following his resignation.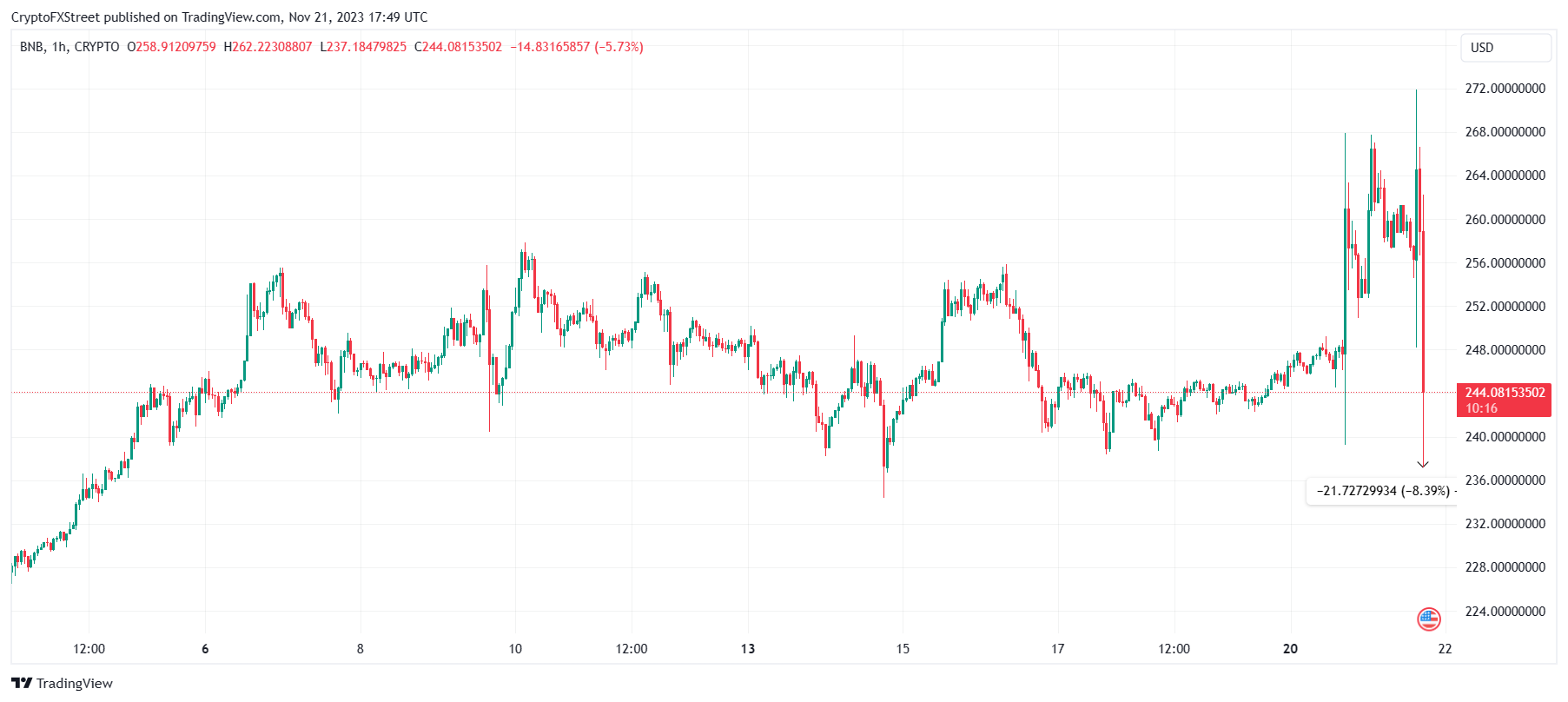 BNB/USD 1-hour chart
Additionally, Binance also agreed to pay $4.3 billion in order to settle the case with the government of the United States, making it one of the largest settlements in the history of the crypto industry, if not the largest.
Following the price crash, traders that had long contracts open on BNB witnessed mass liquidation. At the time of writing, BNB long liquidations neared $3 million in the same hour of the Binance news coming out.

Binance Coin long liquidations
The events that transpired on Tuesday, while considered to be long overdue by many, have also been some of the biggest nightmares for the crypto industry. While no official word from Binance has come out yet detailing the future course of action at the exchange, it is most likely that the exchange will not collapse akin to FTX, given the settlement and resignation.
Read more – Binance moves nearly $4 billion amidst US DoJ demand to end years long investigation
---
Source