Share:
Cardano, Ethereum's largest competitor, is on track to begin its recovery with 457.99 million social engagements in the last seven days.
Cardano network released its node v.8.0.0 earlier this week, fueling a bullish thesis for the altcoin.
ADA price is geared for recovery as the altcoin prepares to make a comeback after recent price correction.
Cardano, one of the largest cryptocurrencies by market capitalization is eyeing a recovery with the spike in social engagement and release of its node v.8.0.0. The altcoin yielded nearly 4% losses for holders over the past week.
Also read:Litecoin network activity climbs less than 100 days away from LTC halving
Cardano sees spike in social engagement
Data from crypto tracker TapTool revealed 457.99 million social engagements in Cardano over the past week. The smart contract network gained relevance among traders on social media platforms and the volume of social engagements climbed.
Cardano released its scaling solution Hydra and node v.8.0.0 over the past week, bringing governance action that facilitates the ADA blockchain. The releases and developments have acted as a bullish catalyst for Cardano, driving its social engagement and fueling a bullish thesis for ADA.
Where is ADA price headed next
Cardano price is currently in an uptrend that started in the beginning of 2023. The altcoin is trading below its three Exponential Moving Averages (EMAs) at 10, 50 and 200-day. The three long-term EMAs act as immediate resistances for the altcoin, at $0.3720, $0.3835, and $0.3956.
The resistance at $0.4050 is a key resistance level for Cardano that has acted as resistance for nearly four months.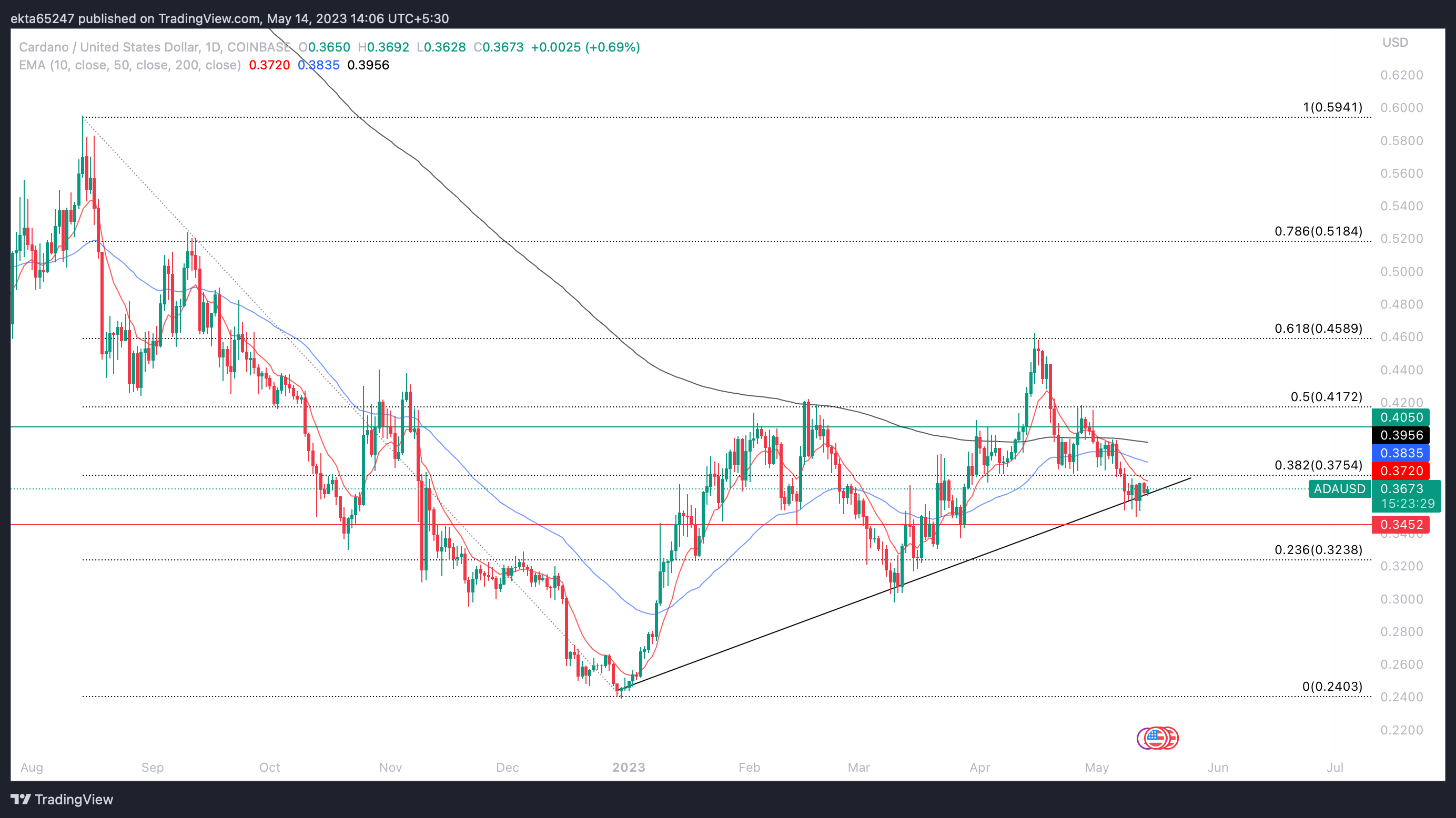 ADA/USD 1D price chart
If Cardano price sees a definitive close below the trendline, it could invalidate the bullish thesis for ADA. ADA is likely to find support at $0.3452, a level that acted as support throughout 2023.