Cardano price reaches a new high within the uptrend at $0.4125 .
ADA shows a 1-2-1-2 pattern which could prompt a much larger rally.
Invalidation of the bullish idea could occur from a breach below $0.36.
Cardano price continues to display bullish price action that could be misinterpreted by impatient traders. This thesis sews the short-term narrative with Cardanos's recent 40% rally in an attempt to provide clarity for weeks to come.
Cardano price stair-stepping higher
Cardano price has been on an uptrend for the past few weeks. On February 2, the ADA token established a new high for February at $0.4125, but this high was met with resistance. While the resistance may be interpreted as a sign of exhaustion, Cardano's larger outlook since December justifies the ongoing grapple. If the technicals are correct, ADA could embark on a much larger move.
Cardano price currently auctions at $0.403. One of the key indicators signaling that a potential move higher is on the horizon is the 1-2-1-2 ramping pattern within the current uptrend rally. This pattern occurs when the price makes higher lows and higher highs in a repetitive manner.
The stair-stepping price action indicates an asset's open interest amongst algorithmic bots, day traders, and smart-money operatives. As the pattern progresses, the price movements can become more intense and volatile, creating an environment where a big move could occur.
Another factor to consider is the divergences on the Relative Strength Index (RSI). The RSI is a momentum indicator that compares the depth of recent gains to recent losses in an attempt to assess an asset's overbought or oversold conditions. At the time of writing, Cardano shows bullish divergences within the 1-2-1-2 pattern after breaching over-bought conditions. This could be interpreted as a cool-down signal before Cardano makes its next leg up.
Based on the current ramping 1-2-1-2 pattern, Cardano could see further gains in the near future. The $0.45 zone represents a confluence of resistance, support, and untagged liquidity levels dating back to September 2022.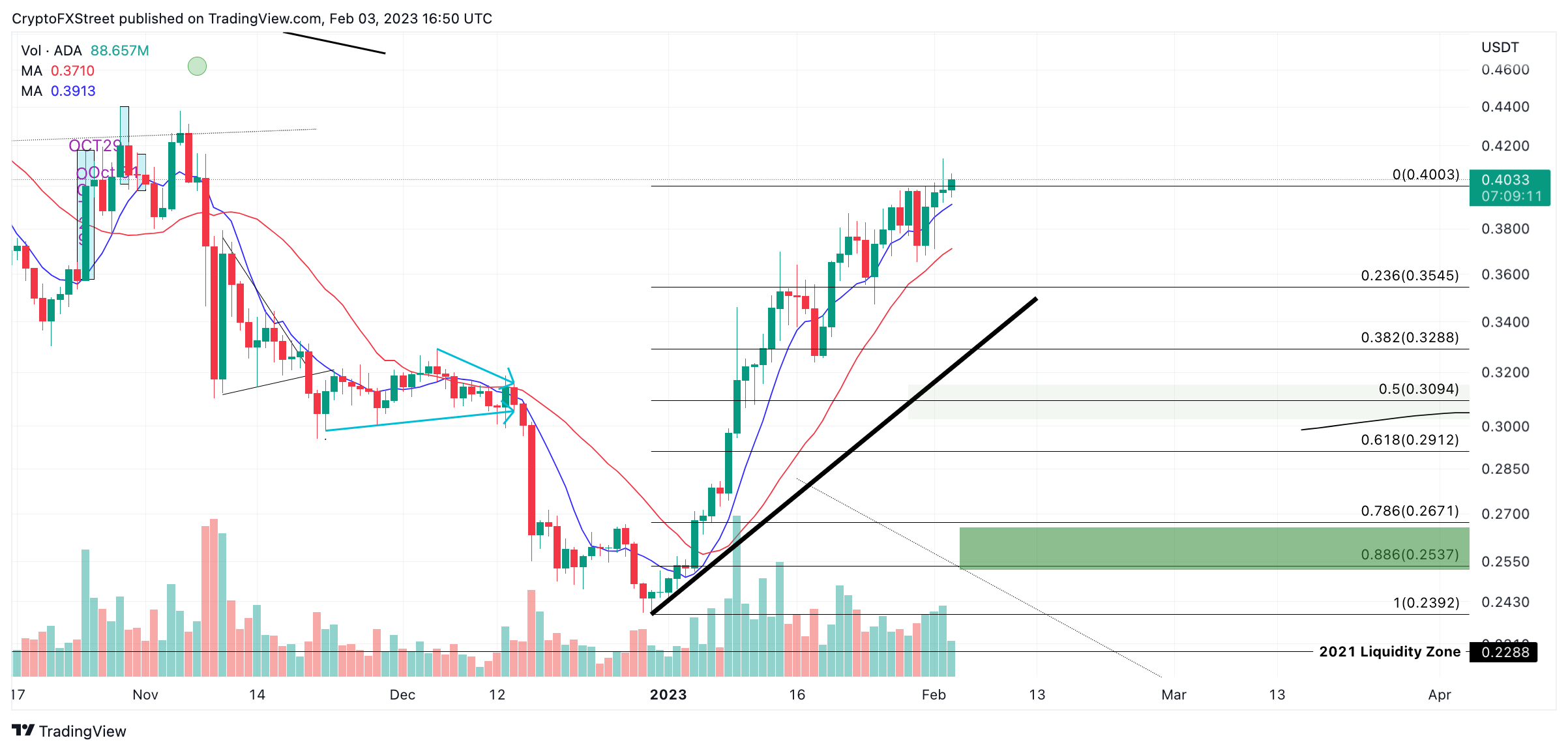 ADA/USDT 1-Day Chart
Invalidation of the bearish thesis could occur from a dip below the $0.36 support zone. If the breach were to happen, the Cardano price could decline toward the $0.30 level of support resulting in a 23% increase from ADA's current market value.