Cardano's developer Input Output Global launched the first iteration of its toolkit for developers to build sidechains on the ADA blockchain.
IOG's toolkit allows developers to leverage Cardano blockchain's security and infrastructure and build parallel blockchains.
Cardano's update will allow the 1,162 projects building in its ecosystem to benefit from the decentralization and scalability of ADA.
Cardano, an Ethereum-killer blockchain co-founded by Charles Hoskinson recently unveiled the developmental updates on the week. Developers at Input Output Global (IOG) have released the first iteration of a toolkit that enables the ecosystem's projects to build sidechains on the blockchain network.
ADA price rallied in response to positive developmental activity and updates over the week from January 7 to 14, 2023.
Also read: Cardano and Solana decoupled from crypto in explosive price rallies, which altcoin is next?
Cardano hits key developmental milestone for ecosystem's utility
Cardano, the eighth largest cryptocurrency with a market capitalization of $12.29 trillion is on track in terms of developmental activity. IOG, the technology company behind the altcoin and its ecosystem has released the first iteration of a toolkit that enables developers to build sidechains on the Cardano network.
A sidechain is an independent chain that works in parallel to a parent blockchain and has one core mission; to tackle the scalability issue and leverage ADA's security and infrastructure. Since its launch in 2017, the Cardano blockchain has run without a failure and its success has drawn 1,162 projects, developing in the ADA ecosystem.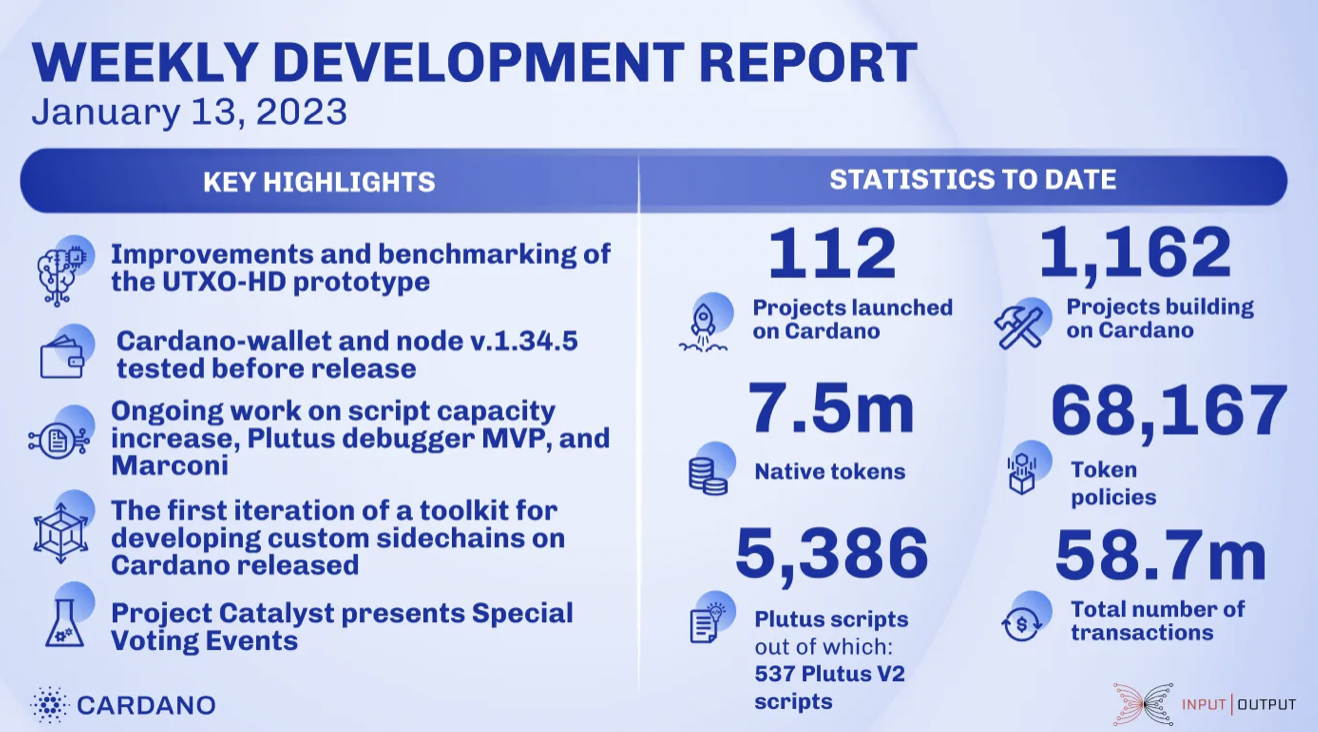 Cardano's weekly development report by IOG
IOG released the above development report on January 13, citing 7.5 million native tokens and 112 total projects launched on the Ethereum-killer's blockchain. Therefore, developmental milestones are key to boosting the utility of the ADA ecosystem and attracting, nurturing smart contract projects, dApps and NFTs.
ADA bulls look exhausted, Cardano price braces for impact
Cardano price is primed for correction based on two factors seen in the price chart below. The altcoin has formed a Rising Wedge, a bearish chart pattern and the momentum indicator Relative Strength Index (RSI) is showing loss of underlying strength in the uptrend.
Both trade volume and the momentum indicator signal that the climb on the ADA/USDT price chart is short lived. Cardano's first downward breakout target is the first point where ADA hit the upper trendline forming the wedge, $0.3290 and the next two key levels are the 50-day Exponential Moving Average (EMA) and the 200-day EMA at $0.2912 and $0.3151 respectively.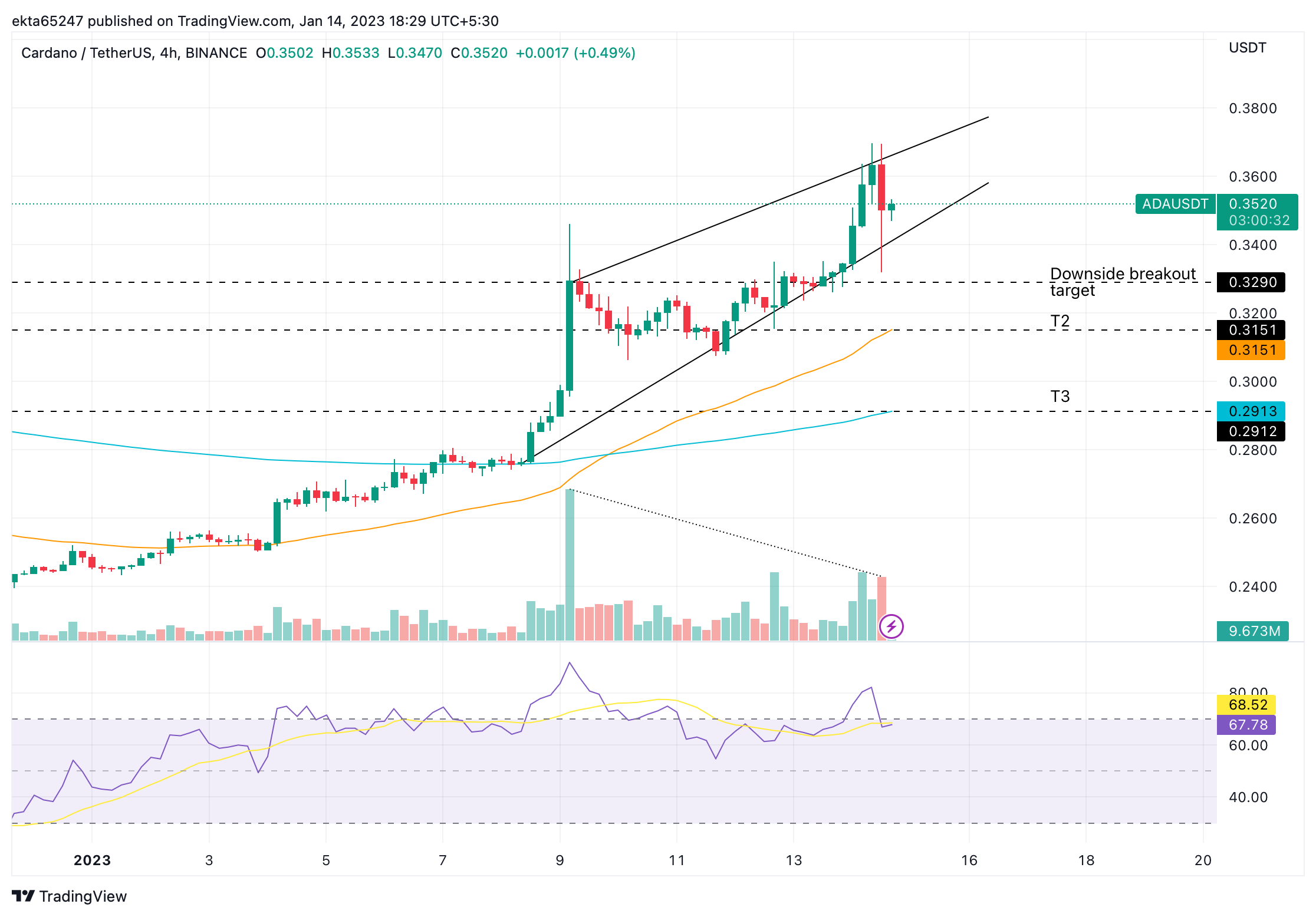 ADA/USDT price chart
If Cardano price continues climbing higher, between $0.3600 and $0.3800, when ADA hits the upper trendline of the wedge, it could witness a pullback. A close outside the upper trendline of the rising wedge could invalidate the bearish thesis.