Share:
Cardano price declined nearly 2% on the day, as whales engage in likely profit taking.
Whale transactions valued at $1 million and higher increased between November 2 and 4.
ADA holders remain optimistic on Cardano price recovery, sentiment among traders remains positive.
Cardano, one of the largest competitors of the Ethereum network and a Layer 1 blockchain network, suffered a pullback after posting 12% weekly gains. There are two bullish catalysts that are likely to fuel a recovery in ADA price, first is the Cardano Summit where protocols on the ADA chain compete, and second is partner chains.
On-chain activity on the ADA blockchain reveals whales have come out of their slumber, engaging in likely profit taking activities in the altcoin.
Also read: Bitcoin price spikes in response to US Nonfarm Payrolls for October
Daily market movers: Cardano Summit triggers spike in whale activity, founder reveals plan for partner chains
Cardano Summit 2023, a special competition for all early-stage startups in the ADA ecosystem where protocols compete for prizes, went live on November 2.
The summit brought several ADA-based protocols under one roof and acted as a bullish catalyst for ADA holders' sentiment.
Based on data from crypto intelligence tracker, Santiment, whale transactions valued at $1 million and higher noted a spike in November. In the first four days of the month, these large volume transactions hit a count of 3,213.
The number is higher than whale transactions noted throughout the month of October 2023. This makes it a significant development in on-chain activity.
Typically, higher count of whale transactions are bullish or bearish depending on the price trend of the asset. A total of 3,213 whale transactions exceeding $1 million were accompanied by a price decline in ADA.

ADA whale transaction count (>$1 million) vs price
ADA price noted a 2% correction in the past 24 hours, this implies whales are likely engaging in profit taking and further volatility is likely.
Cardano founder Charles Hoskinson, introduced a new framework of partner chains.
In an IOG blog, partner chains are defined as networks that build their own computation layer while leveraging Cardano Settlement Layer for value exchange.
Hoskinson believes that partner chains have the potential to revolutionize the ADA blockchain ecosystem.
Cardano price: ADA price eyes $0.3408 target
Cardano price is currently in an uptrend that started on October 20. ADA price rallied 30% between October 20 and November 4. The Layer 1 token suffered a correction in response to rising whale activity, however the asset is poised for a recovery and eyes the $0.3408 target, the 50% Fibonacci retracement of the decline from the April 15 top of $0.4607 to June 10 bottom of $0.2214.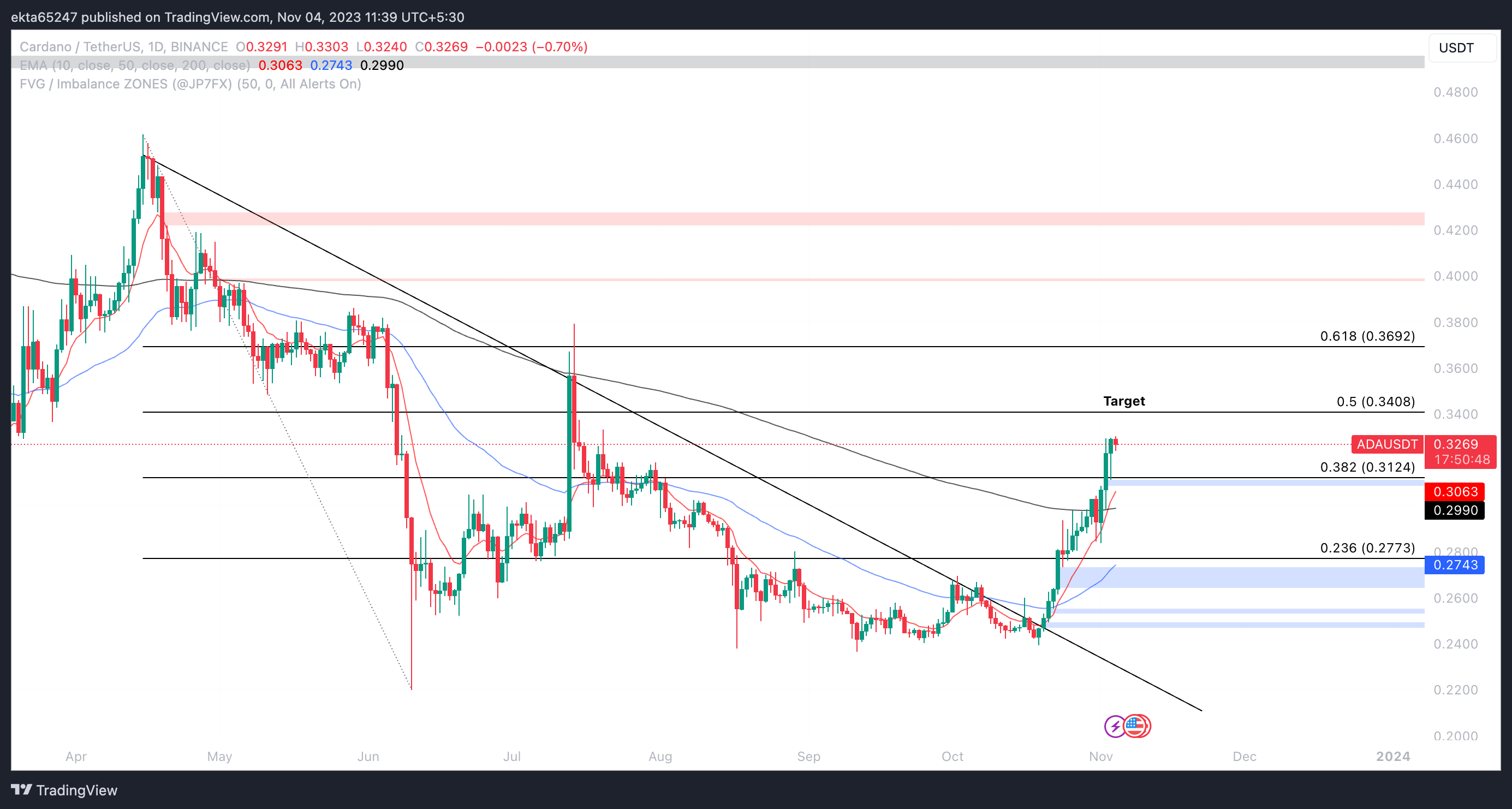 ADA/USDT one-day price chart on Binance
In the event of further decline in Cardano price, the 38.2% Fibonacci Retracement level at $0.2773 could act as support for the altcoin.
---
Source