Share:
Popular asset tracking platform says Cardano's Total Value Locked is "set for exponential growth."
TapTools cites innovation, community support, and strategic partnerships as key drivers to the expected growth.
Cardano's Ouroboros consensus protocol is a significant step forward for the industry.
In an April 7 announcement, the team behind popular asset tracking platform TapTools explained why Cardano's Total Value Locked (TVL) is "set for exponential growth."
Cardano's Total Value Locked (TVL) is set for exponential growth, driven by innovation, community, and strategic alliances. Here's why you should keep a close eye on #Cardano

— TapTools (@TapTools) April 7, 2023
Cardano is a top contender in the DeFi space
The comprehensive asset-tracking platform attributed the expected upswing to innovation, community support, and strategic partnerships, underscoring that these are their opinions and do not guarantee future outcomes.
In their opinion, Cardano's unique Proof of Stake (PoS) model makes it a leading contender in the decentralized finance (DeFi) space.

Source: DefiLlama
Accordingly, as DeFi adoption continues to increase, the network's secure, scalable, and eco-friendly solution could attract more users and projects to the ecosystem. Further, TapTools suggested that introducing smart contracts on Cardano has allowed developers to build powerful decentralized applications (dApps) on the platform. As such, with more dApps launching on the platform, the TVL could also grow in tandem.
Moreover, Cardano is focused on financial inclusivity and real-world applications, especially where emerging markets are concerned. In this respect, TapTools points out that the approach presents a huge potential as more users are drawn to the ecosystem, thereby contributing to Cardano's TVL.
Noteworthy, strategic partnerships and collaborations have played a crucial role in the network's growth thus far. Cardano has collaborated with key players in the industry, which explains why TapTools supposes that these partnerships could be an enabler for increased adoption and growth in the ADA TVL.

In closing, the asset tracker underscored the importance of Cardano's thriving community, comprising developers, enthusiasts, and investors. In their opinion, such kind of support and contributions from community members could play an enabling role in boosting Cardano's TVL higher.
Cardano's innovative consensus protocol, Ouroboros
In a March 25 episode, Tap Tools explained its admiration for Cardano's innovative PoS consensus protocol dubbed Ouroboros, saying:
It [Ouroboros] is a significant step forward for the industry.
Tap tools also narrated key reasons why Cardano's Ouroboros is desirable, supporting each point with how it benefited the community.
Cardano's Ouroboros Proof of Stake

— TapTools (@TapTools) March 25, 2023
According to the Cardano Foundation, Ouroboros is a groundbreaking PoS protocol enhancing the security of Proof-of-Work (PoW) systems while at the same time reducing energy consumption by a significant margin.
Being the first provably safe PoS protocol founded upon comprehensive research, Ouroboros:
Uniquely merges cryptography, combinatorics, mathematical game theory, behavioral psychology, and economic philosophy to ensure the integrity, longevity, and performance of the distributed networks that rely on it, with Cardano being the first.
The Cardano Foundation also explains that Ouroboros is designed for limitless scalability and sustainability, facilitating the creation of distributed, permissionless networks capable of supporting new markets in an energy-conserving manner.
With statistically verifiable security against exploiters, an incentive mechanism where network participants are rewarded, and a decentralized network control spread across stake pools, the PoS protocol delivers a safe and sustainable solution for blockchain networks such as Cardano. This, according to TapTools, boasts up to 4,000,000 times the energy efficiency of Bitcoin (BTC).
Cardano price ready for a breakout
At the time of writing, Cardano (ADA) is trading at $0.38, after gaining 0.2% in the last 24 hours.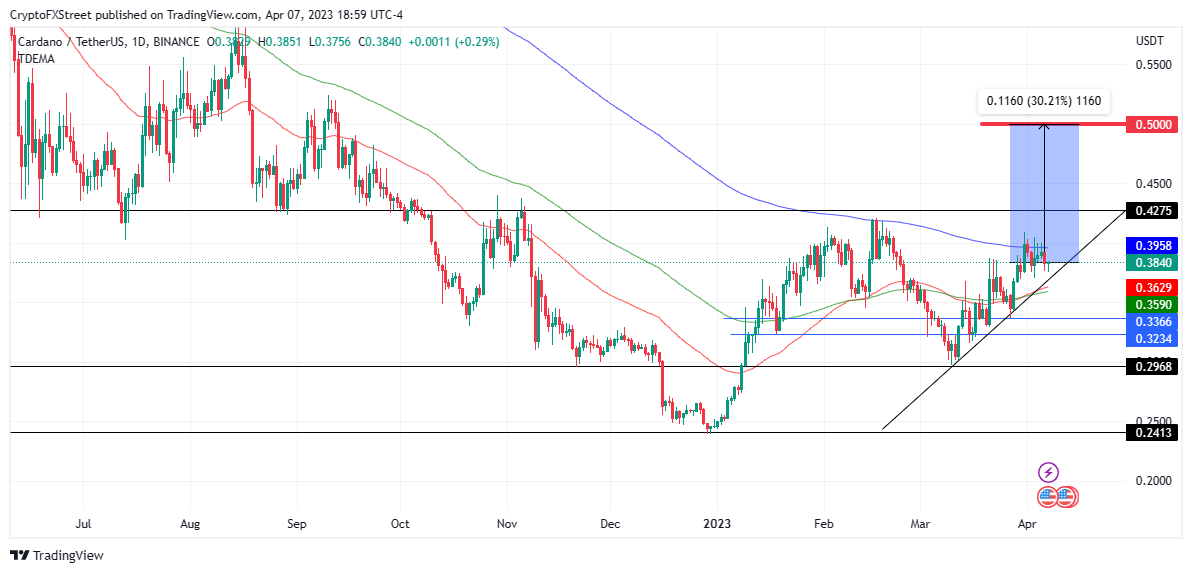 ADA.USDT 1-day chart
The altcoin is up 2.1% in the last week and 16.2 in the last month, according to data on Coingecko.
Interestingly, the token's 24-hour volume on decentralized exchanges is up almost 80% to $6.18 million as of the time of writing.