Share:
Cardano network is enjoying a watershed moment after hitting a new total value locked peak at $446 million.
The TVL surge is a testament to the growing popularity and trust in the ecosystem as more protocols go live.
Meanwhile, Charles Hoskinson has committed to Cardano becoming more decentralized than every other crypto by this summer.
At the time of writing, ADA is trading at $0.36, a daily rise of almost 2% despite a dull market.
Cardano (ADA), the blockchain platform famous for innovation and peer-reviewed scientific research, is enjoying another watershed moment after its total value locked (TVL) soared above $446 million.
According to DefiLlama data, this hit marks a new all-time high for the ADA network and is a testament to the growing popularity and trust the ecosystem has earned as more protocols come on board.
Also Read: Cardano TVL could explode soon, here's why
Cardano hits new TVL all-time high
Cardano (ADA) has recorded a new all-time high in TVL, marking a glorious moment for the network as the march toward becoming the most decentralized token continues.

Source: DeFiLlama
The surge in TVL is attributed to, for the most part, the rapid growth of decentralized finance (DeFi) protocols on the Cardano network, as these protocols facilitate users in engaging in a wide range of financial activities – lending, borrowing, and yield farming, among others- while maintaining control of their funds.
The network's scalable and secure infrastructure has beckoned many DeFi projects, enhancing Cardano's ecosystem while pumping it TVL. Citing one example, Minswap leads the TVL on Cardano, recording almost 36% in dominance, according to TapTools team. It is worth mentioning that TapTools had predicted exponential growth in Cardano TVL as FXStreet reported on April 8.
Cardano's Total Value Locked (TVL) is set for exponential growth, driven by innovation, community, and strategic alliances. Here's why you should keep a close eye on #Cardano

— TapTools (@TapTools) April 7, 2023
The new TVL ATH also attributes to the allure of traditional banking systems and centralized exchanges (CEXs). Amid growing privacy, security, and control concerns, many users have drawn toward decentralized alternatives, with Cardano as the ideal option.
Another contributor to the TVL uptick is meme coins, with altcoins such as Snek finding a hub on Cardano Reason- the network has attracted all manner of participation for exploration and investment.
Cardano emerges as a crypto industry powerhouse
The TVL milestone has earned Cardano a place among the top 20 chains by total value locked, highlighting its position as a prominent blockchain ecosystem. Meanwhile, in a recent video, Cardano founder Charles Hoskinson committed to the network becoming the most decentralized of all cryptocurrencies by the summer of 2023.
The expression came as Hoskinson detailed what lies ahead for the network, touching on various topics with an optimistic outlook before disclosing the potential of a "Cardano Summer" in the next few weeks. Among the key highlights of his address was the CIP-1694 proposal reported recently.
With more projects and users flocking to Cardano, ADA could enter the early stages of a bull run, catapulting its growth and solidifying its role as a leading blockchain platform.
At the time of writing, Cardano price is $0.363 as it consolidates above an uptrend line on the three-day timeframe. Despite the bearishness in the broader market, the overall outlook for ADA is bullish, but the potential remains suppressed by heavy overhead pressure due to the 100-, 50, and 200-day Exponential Moving Averages (EMA) at $0.374, $0.376, and $0.391 respectively.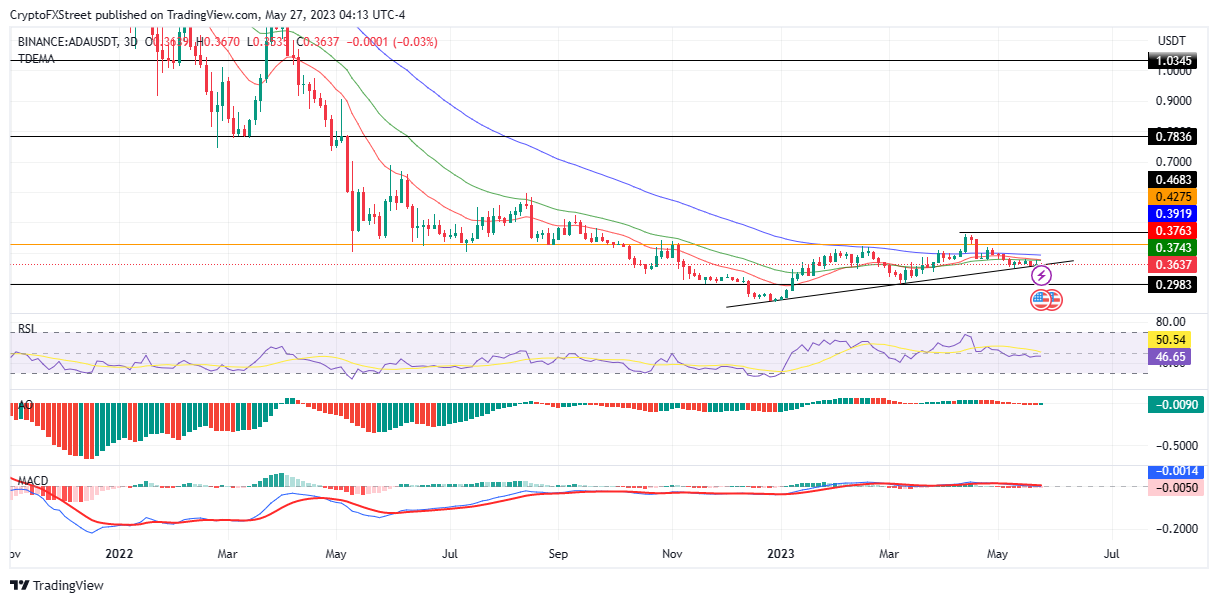 ADA/USDT 3-Day Chart
On-chain metrics
Notice that the three EMAs all fall within IntoTheBlock's Global In/Out of the Money (GIOM) metric's $0.365 and $0.386 range, where 307,310 addresses bought 6.49 billion ADA at an average price of $0.386. Any attempts by Cardano price to the upside are challenged by selling pressure from this cohort of traders looking to break even or book early profits.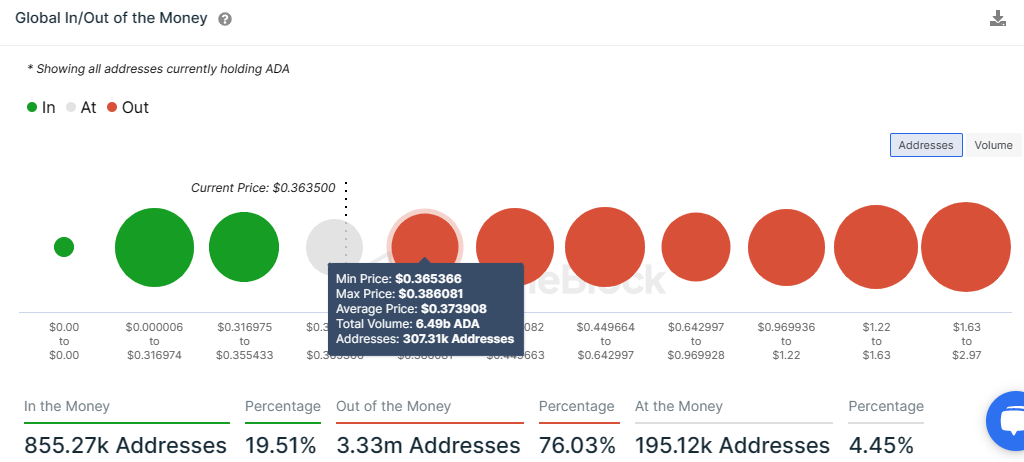 Also Read: Cardano founder says CIP-1694 upgrade will be a "wake-up call" for crypto