Share:
Cardano whales and sharks that hold between 100,000 and 10 million ADA tokens are accumulating the altcoin.
Whale accumulation has hit the highest level since September 2022.
Cardano's on-chain transaction volume is in a consistent uptrend, supporting potential ADA price rally.
Cardano (ADA) network's whale and shark investors are rapidly accumulating ADA tokens. Accumulation of an altcoin by whales is typically considered bullish for assets. Cardano price is therefore likely to see a rally in the short term, based on whale activity and bullish on-chain metrics.
Also read: Ripple XRP gears up for a massive price rally as Korea's prosecutors draw support for Terra LUNA trial
Cardano whales engage in ADA token accumulation
Based on data from crypto intelligence tracker Santiment, whales and sharks, two classes of investors holding between 100,000 and 10 million ADA tokens, have been scooping up the altcoin.
Whale accumulation has hit its highest level since September 2022.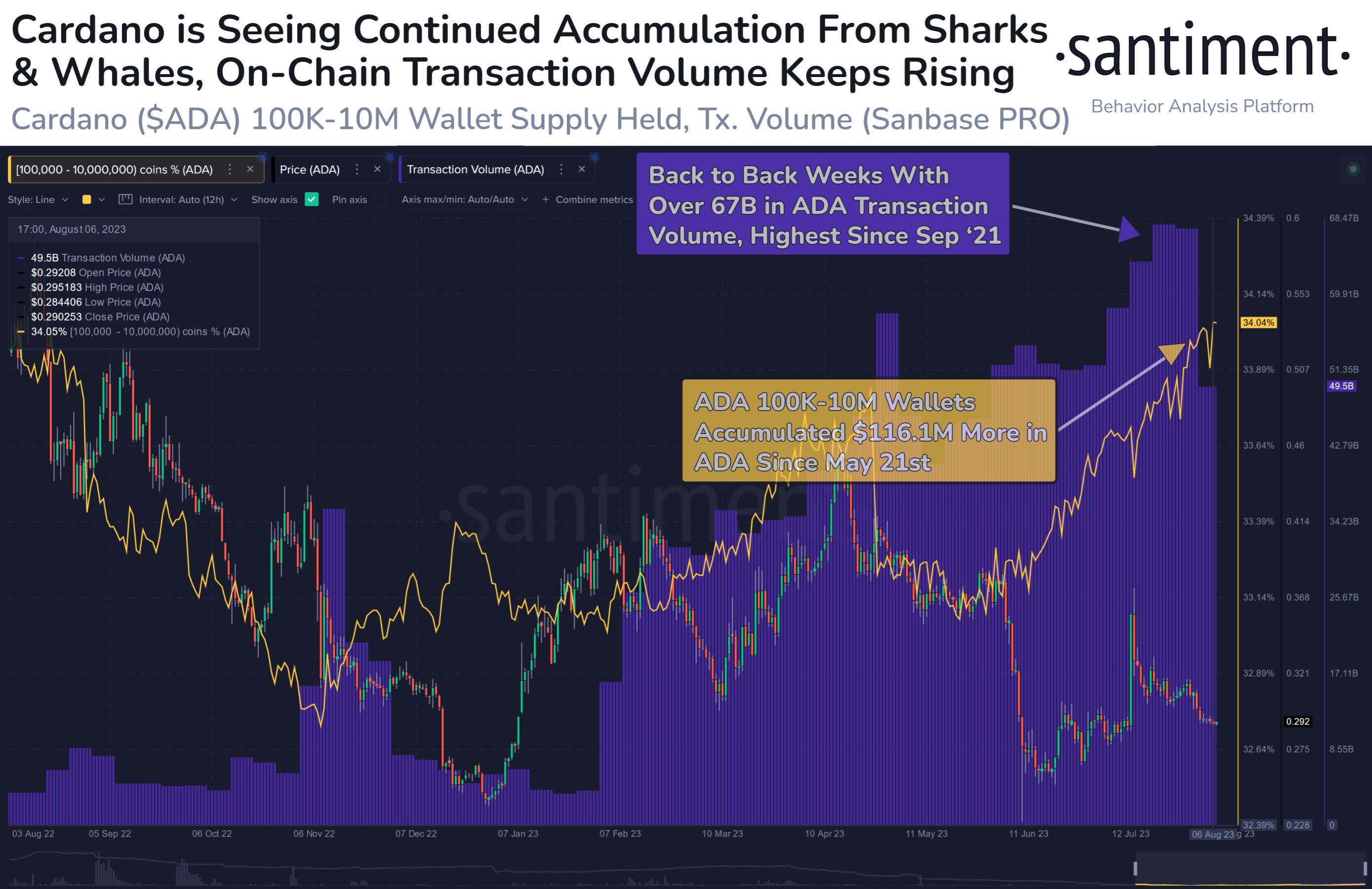 Cardano accumulation by large wallet investors
There has been a consistent increase in Cardano trade volume over the past six months. The total volume of transactions is over 67 billion, the highest level since September 2021, and whale wallets have accumulated $116.1 million worth of Cardano tokens since May.
Cardano blockchain's total value of assets locked has climbed to $207.56 million from $196.17 million, marking an increase of 6% since the beginning of July 2023.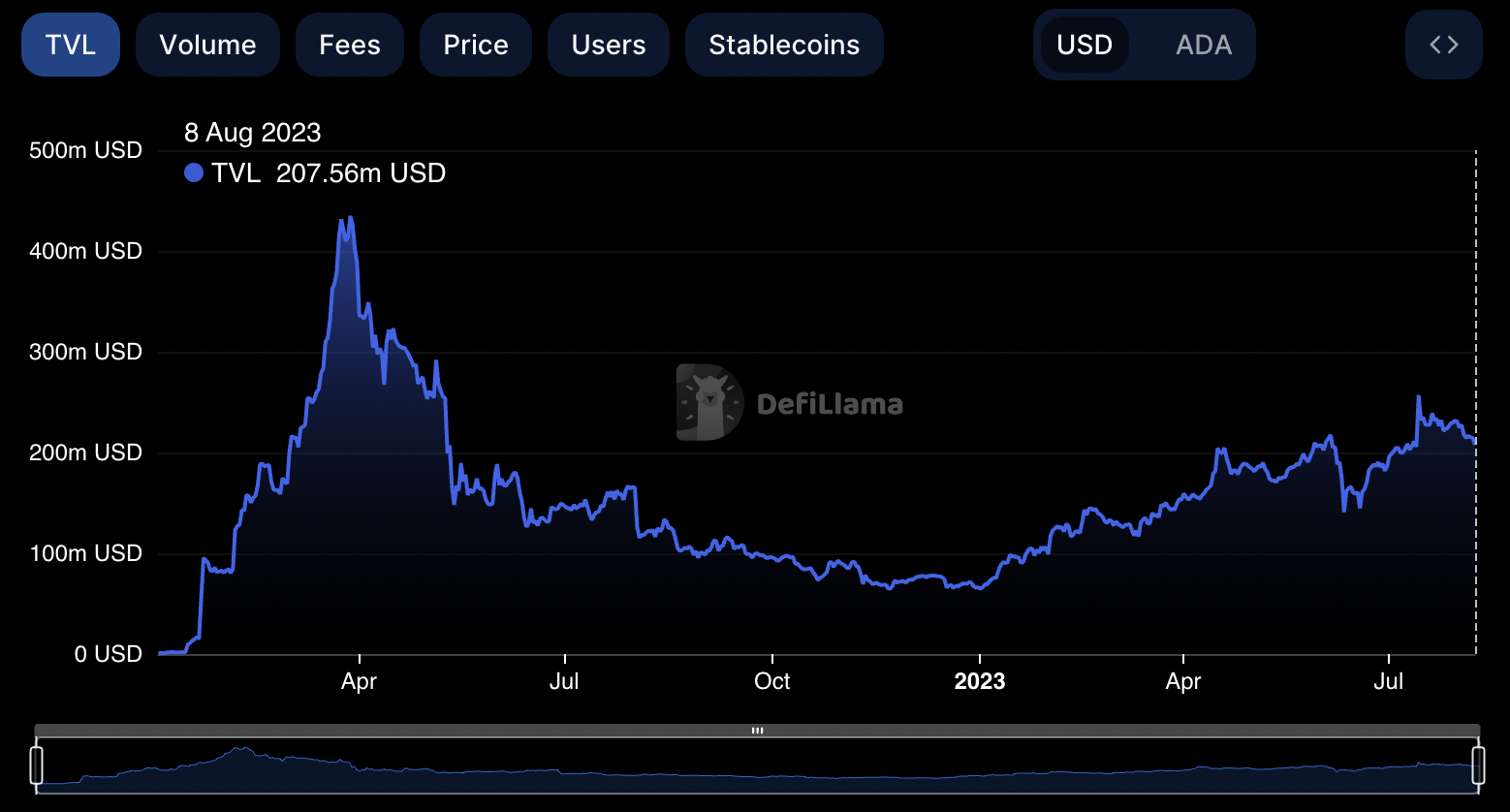 Cardano TVL on DeFiLlama
The 24-hour trade volume on the Cardano blockchain is $11.24 million and has been consistently climbing over the past six months. The blockchain has upwards of 38,000 active users and combined with the rising trade volume and bullish on-chain metrics, these statistics fuel the thesis for a potential ADA price rally.
Cardano is trading at $29.21 on Binance, at the time of writing.
Bitcoin, altcoins, stablecoins FAQs
Bitcoin is the largest cryptocurrency by market capitalization, a virtual currency designed to serve as money. This form of payment cannot be controlled by any one person, group, or entity, which eliminates the need for third-party participation during financial transactions.
Altcoins are any cryptocurrency apart from Bitcoin, but some also regard Ethereum as a non-altcoin because it is from these two cryptocurrencies that forking happens. If this is true, then Litecoin is the first altcoin, forked from the Bitcoin protocol and, therefore, an "improved" version of it.
Stablecoins are cryptocurrencies designed to have a stable price, with their value backed by a reserve of the asset it represents. To achieve this, the value of any one stablecoin is pegged to a commodity or financial instrument, such as the US Dollar (USD), with its supply regulated by an algorithm or demand. The main goal of stablecoins is to provide an on/off-ramp for investors willing to trade and invest in cryptocurrencies. Stablecoins also allow investors to store value since cryptocurrencies, in general, are subject to volatility.
Bitcoin dominance is the ratio of Bitcoin's market capitalization to the total market capitalization of all cryptocurrencies combined. It provides a clear picture of Bitcoin's interest among investors. A high BTC dominance typically happens before and during a bull run, in which investors resort to investing in relatively stable and high market capitalization cryptocurrency like Bitcoin. A drop in BTC dominance usually means that investors are moving their capital and/or profits to altcoins in a quest for higher returns, which usually triggers an explosion of altcoin rallies.
---
Like this article? Help us with some feedback by answering this survey:
---