Share:
Chainlink price has increased by more than 4% in the last few hours of May 13.
LINK whales have shown immense control despite the drawdown phase, keeping selling to a minimum.
There still is a demand wall of 422 million LINK, worth $2.7 billion, that will become profitable again.
Chainlink price has become one of the only few cryptocurrencies to note a decent rise on May 12. While the rest of the market is still reeling from the losses, LINK investors are seemingly preparing to realize profits provided they can maintain their current behavior of HODLing.
Chainlink price eyes recovery
Chainlink price trading at $6.6 marked a more than 4% recovery towards the end of the week, all thanks to its investors, that have maintained a bullish note for a while now. Despite the potential losses witnessed, LINK holders refrained from dumping their supply, which inherently saved the altcoin from any major drawdown.
Chainlink whales showed significant restraint as even though they attempted to minimize their losses, they didn't sacrifice the market to do so. Wallets holding between 100,000 to 1 million LINK sold some 2 million LINK over the last week despite the price falling by nearly 12% before the rise. Other large wallet holders and even retail investors kept their supply to themselves.

Chainlink whale activity
This control prevented a significant decline in price. However, there is still some concern regarding the 422 million LINK demand wall. Investors that bought their tokens between $6.56 and $7.03 would need to wait for the altcoin to recover the last week's decline in order to become profitable again. Should LINK cross the $7.03 mark, over $2.7 billion worth of supply would become profitable again.

Chainlink GIOM
However, investors should hold off against making any major investment for now as price indicators are still heavily bearish. At the time of writing, the Relative Strength Index (RSI) was still in the bearish area, far away from the oversold zone below the 30.0 mark.
The oversold zone is synonymous with recoveries, and a dip into the same would reinvigorate optimism.
But the MACD line (blue) is inching closer to the Moving Average Convergence Divergence (MACD) indicator. The red signal line has observed a dominance for nearly three weeks now. If the indicator line moves over the signal line, a bullish crossover will take place, which is a sign that recovery is inbound.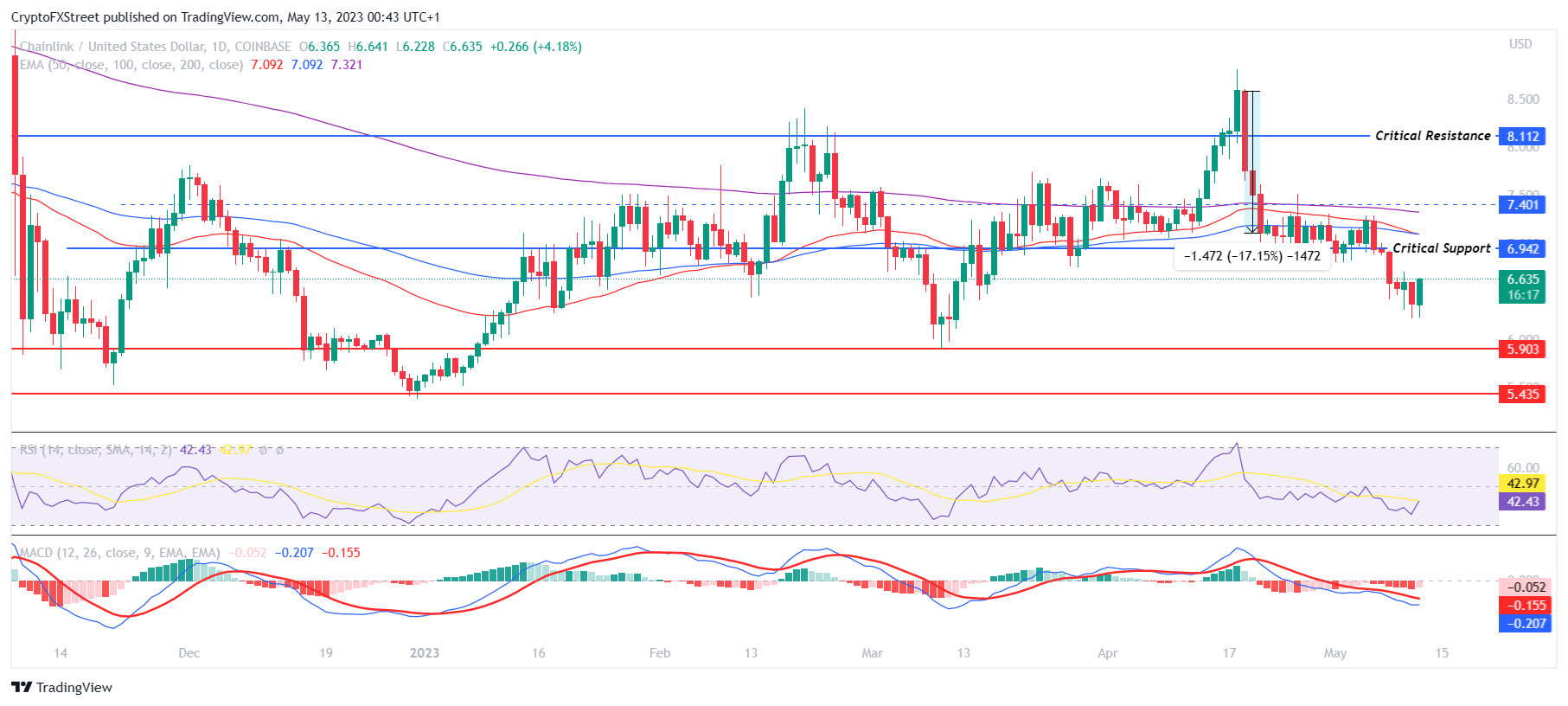 LINK/USD 1-day chart
Thus, LINK holders simply need to maintain the optimism of a rally going forward and refrain from dumping their holdings in order to support recovery.