Share:
Chainlink price rally is likely to be catalyzed by CCIP adoption by a Hong Kong based financial services institution.
Sixteen firms participated in the phase one trial of the e-Hong Kong dollar CBDC by the Hong Kong Monetary Authority.
Chainlink's collaboration with financial firms in the trial powers cross-chain atomic settlement of tokenized funds.
Chainlink, the token of a decentralized blockchain oracle network, is likely to get a boost from the blockchain's adoption by financial institutions in Hong Kong. Chainlink's Cross-Chain Interoperability Protocol (CCIP) technology is being used for value exchange in Hong Kong's Central Bank Digital Currency (CBDC) trials.
Also read: Ethereum whales scoop up the altcoin, likely to catalyze ETH price rally
Chainlink CCIP adoption likely to catalyze gains
Hong Kong Monetary Authority (HKMA) started the first phase of its eCBDC trials, of the e-Hong Kong Dollar. A financial institution, Arta, announced its collaboration with blockchain firm Chainlink. Arta demonstrated how the e-Hong Kong Dollar can be used for programmable payments and for the atomic settlement of tokenized funds.
Chainlink was key to the demonstration as its CCIP technology was used for the cross-chain atomic settlement of the firm's tokenized funds. Fund tokens serve as the security leg of the trade and the utilization of CCIP is bullish for Chainlink. LINK is likely to receive a boost from the adoption and use of its blockchain technology by financial institutions like Arta.
Chainlink Labs offered CCIP, PoR and data feeds to power regulated, cross-chain, tokenized funds in the trial. The rapid adoption of CCIP is likely to accelerate gains in LINK price.
Chainlink price targets likely 10% gains
At the time of writing, LINK price declined 1% on the day. The altcoin has yielded 47.70% gains over the past month. A recovery in LINK is likely in the short term. As seen in the price chart below, LINK price is likely to hit the target of $12.3. This level represents the lower boundary of a Fair Value Gap. Once filled, LINK is likely to resume its downward trend.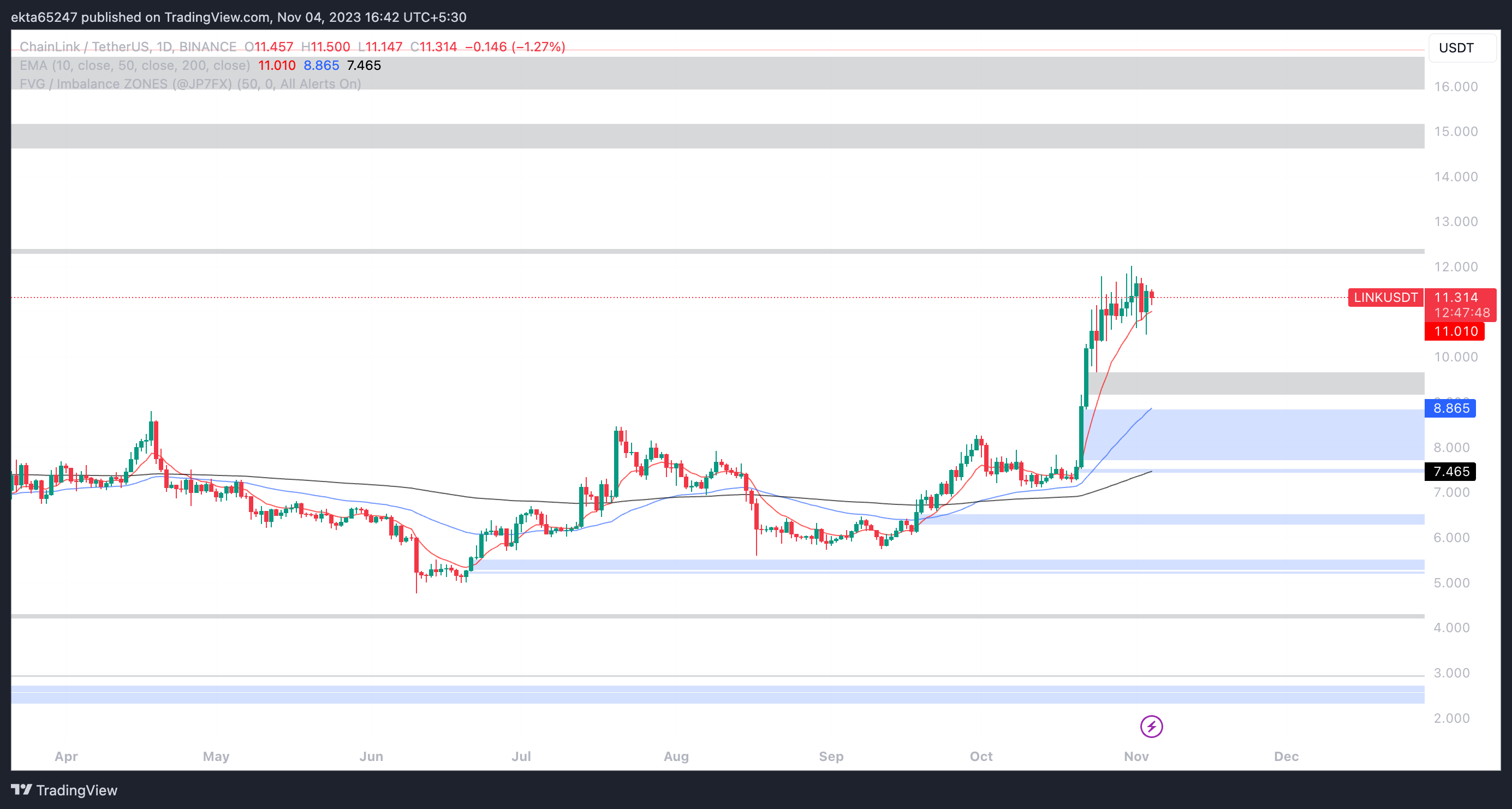 LINK/USDT one-day price chart on Binance
The altcoin could decline to its 10-day Exponential Moving Average (EMA) at $11.010, in the event of a correction in LINK price.
---
Source