Share:
Aptos price is pushing up over 6% intraday near the US opening bell.
APT traders are trying to break above the red descending trend line.
US Dollar strength is the omen for APT traders as US Fed Chair Powell is set to speak later this evening.
Aptos (APT) price is pushing on the red descending trend line to trigger a breakout trade with a rally toward $20.36. The move is an outlier as the downtrend since the beginning of February has not finished one day in the green. The risk of a dead cat bounce is massive as US Fed Chair Jerome Powell is due to speak, and near the US closing bell US president Biden is set to give his annual State of the Union address.
Aptos traders need to learn about financial markets to avoid rookie mistakes
Aptos price is fairly new to the markets as it started trading at the end of November last year. Price action did not make big waves until the opening rally in January with a massive 493% return in a month. That is probably the best performance any investor can get, but it clearly comes with a warning as what goes up must come down.
APT could be seen tanking firmly back to $14.45 on the back of the comments from US Fed Chair Jerome Powell later this Tuesday. Markets are already frontrunning hawkish comments as the bond market is selling off for a second day in a row, pushing yields higher in the idea that the Fed will need to hike more and leave rates high for longer. That is not good for risk assets such as cryptocurrencies, and with a stronger US Dollar APT could get a double-whammy of pressure to the downside with a descent toward $6.90 at risk.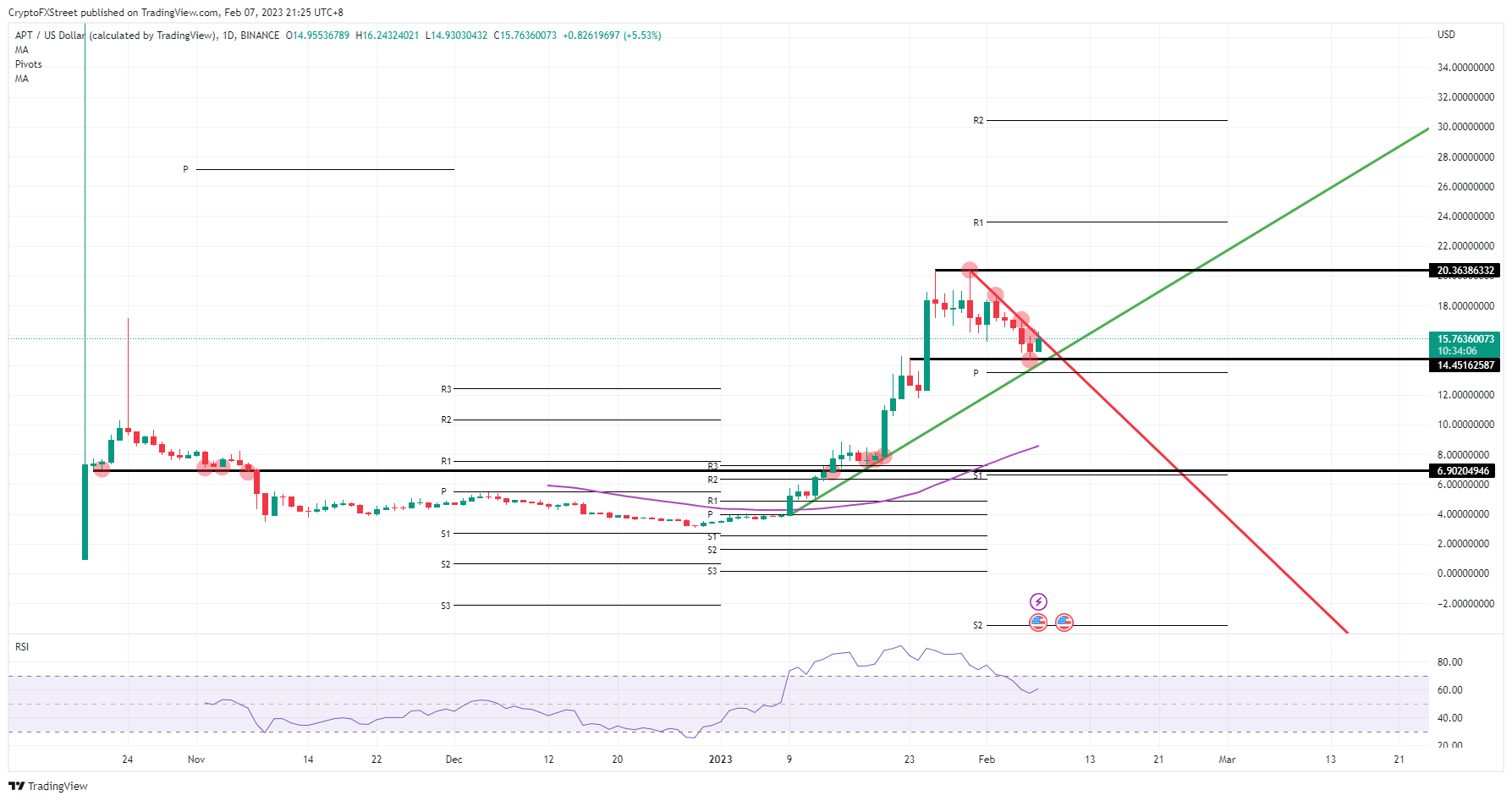 APT/USD daily chart
Upside potential will come with a break to the upside, should the red descending trend line break. A quick rally would be $20.36, with its double top due for a test and break. With unchartered territory ahead, the best is to look for the pivots. The monthly R1 resistance level at $24 would need to see a close and test of support before rallying higher.