Share:
Crypto.com Coin price shows resilience after upbeat inflationary numbers from US PPI.
CRO is set to jump higher and recover a large portion of the incurred losses from Thursday.
Expect the rally to continue over the weekend, with $0.09 as the profit target by Sunday.
Cronos (CRO) price has seen its efforts from earlier this week being fully erased as CRO bulls had to step out of the way of the US PPI numbers rolling through the markets. It could have been the opening scene from the famous Indiana Jones movie with bulls just in time to step aside and not be steamrolled by the big bearish stone ball coming right for them. With CRO bulls keeping their heads cool, price action is picking up and shows signs of a quick and swift recovery. An 18% rally is on the docket toward Sunday.
Everybody loves an 18% profit on a Sunday afternoon
Cronos price has bulls dusting off the US PPI numbers quite rapidly. One person is even backing the CRO bulls in their belief, that individual being US Fed Chairman Jerome Powell. At the beginning of this month, during the Fed meeting and rate hike decision, Powell warned that there could be hiccups along the way and data points contradicting the situation despite the disinflationary process being firmly underway.
CRO could slowly tick higher this Friday as bulls will be aware of the risk of a dead cat bounce. Price action should still hold nicely and could see some rapid movements should the US session turn positive for US equities with cryptocurrencies being pulled higher for the ride. The Friday Profit target is $0.09 with $0.10 arriving by Sunday.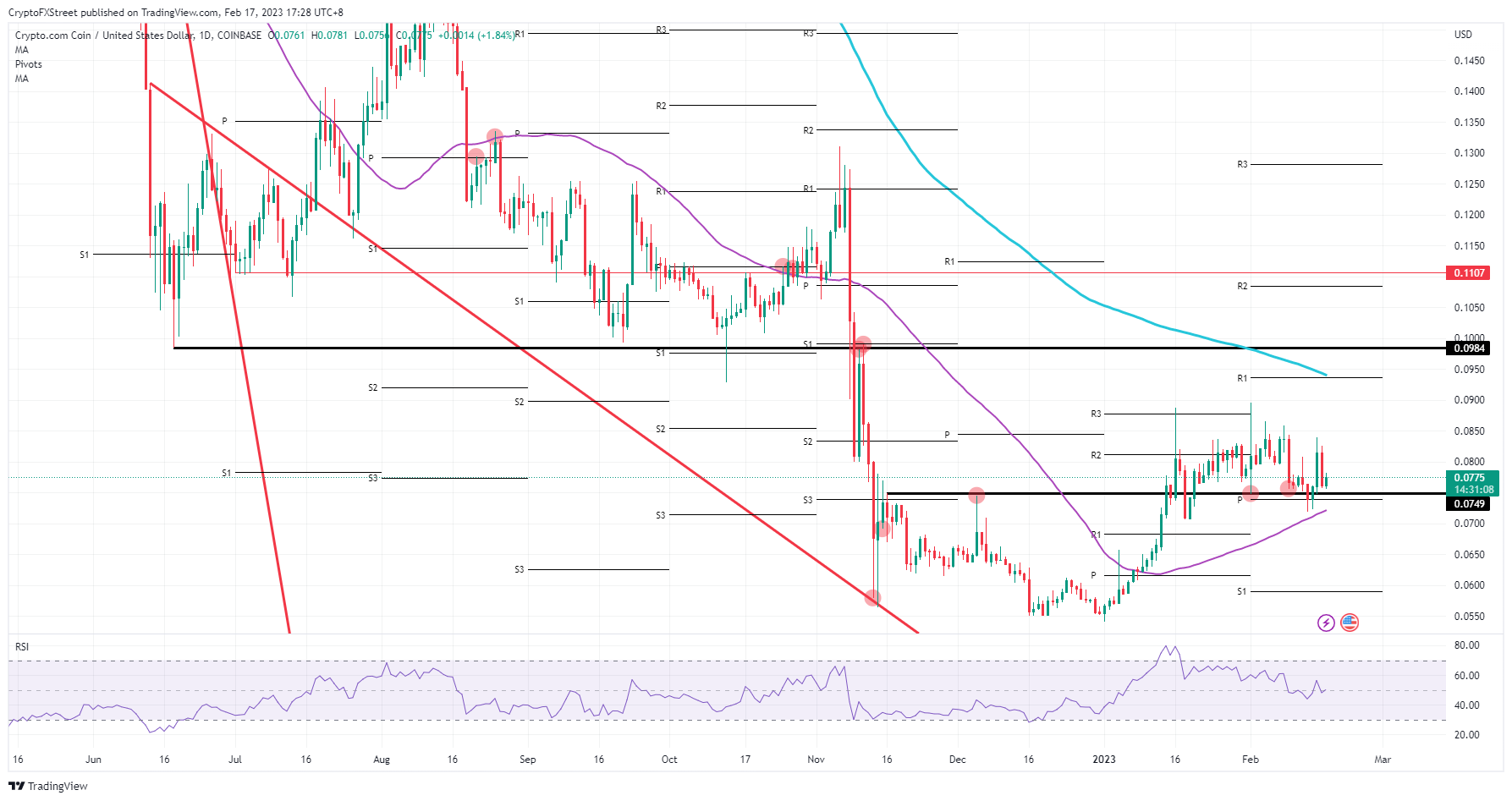 CRO/USD daily chart
The downside risk comes from the fact that the low of Friday is near an area of bulky support. At a pivotal level, the monthly pivot and the 55-day Simple Moving Average are all very close in the $0.075 area. Expect a big drop toward $0.06 should those triple layers break to the downside under bearish pressure.