Share:
Dogecoin price's dependency on Twitter and CEO has investors concerned.
Elon Musk's decision to remove Dogecoin's logo caused its value to plummet by 22% in four days and 5% in minutes.
The sudden change in market dynamics caused a stark trend reversal on various metrics for DOGE.
Dogecoin price (DOGE) soared almost 30% on April 3 after Twitter CEO Elon Musk changed the website's official logo from the traditional blue bird to a Shiba Inu dog. In a twist of events, however, the tech billionaire removed the dog logo and revolted back to the bird symbol, causing DOGE price to plummet 5% in minutes and 22% in days.
Also Read: Dogecoin Price Forecast: This is what could happen after DOGE's 30% rally
Dogecoin price volatility sparks investor concern
Upon Elon Musk's controversial move to update the Twitter logo with a Shiba Inu dog, community members interpreted the move as an endorsement for DOGE. As a result, Dogecoin price spiked 30%. Like all good things, however, this, too, ended, though rather quickly, after Twitter resumed using the bird logo only two days later.
The update to a Shiba Inu dog logo was just as unexpected as the move to rescind it was. Accordingly, "the reaction from users was equally swift." Nevertheless, while Twitter seemed to resume normalcy regarding aesthetics, Dogecoin price did not follow suit.
A look at Dogecoin price reveals a stark 22% decline, to auction for $0.0824 at the time of writing. In the last 24 hours, DOGE is down almost 4%, alongside reduced trading volume by almost 40% in the same period. This shows a reduced interest among investors in the dog-themed coin.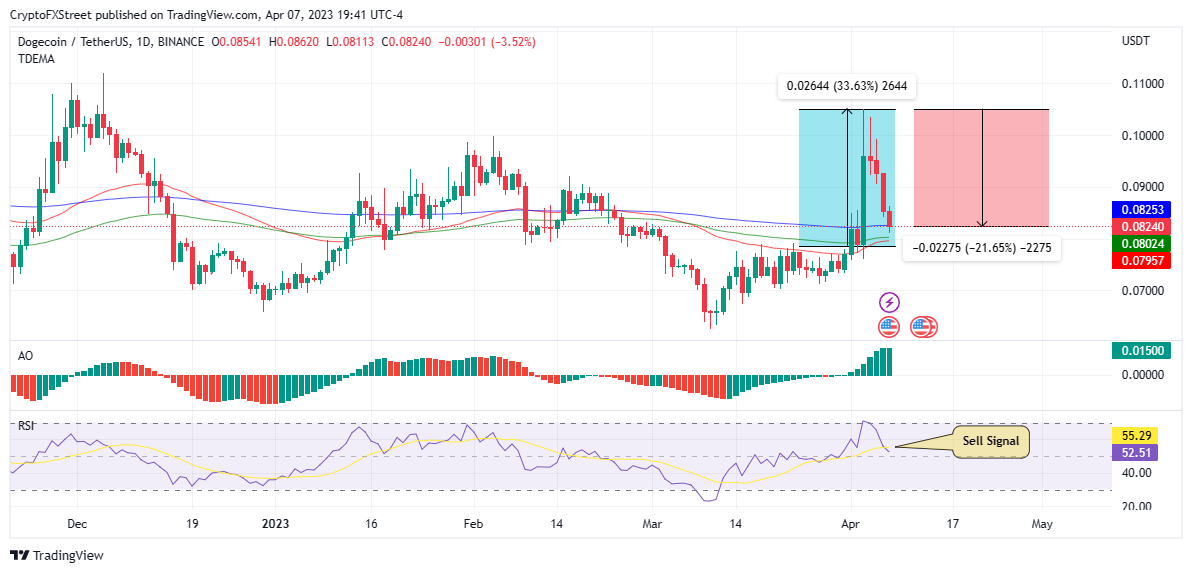 DOGE/USDT 1-day chart
The movement of the Relative Strength Index (RSI) corroborates the sudden plunge in Dogecoin price, indicating just how rapidly the meme coin abandoned its bullish trend. Notably, the RSI dropped from a high of 71 on April 3 to 52 at the time of writing, suggesting how fast the altcoin went from overbought toward the cusp of breaching the mean line as traders heeded the call to 'sell DOGE.'
If the trajectory continues, Dogecoin price could soon plummet further despite efforts by the 50- and 100-day Exponential Moving Averages (EMAs) at $0.0802 and $0.0795, respectively, to provide support. Already, DOGE has flipped the support due to the 200-day EMA at $0.0825 into resistance. Therefore, how long the slower-moving averages could sustain the support remains to be seen.
On-chain metrics also show trend reversals
The 30-day Market Value to Realized Value (MVRV) ratio stood at 2.5% as of April 6, suggesting a DOGE enjoyed a desirable market valuation. However, things changed in barely three days as the MVRV dropped significantly to the negative territory at around -0.5%.

Besides the Dogecoin price and the MVRV ratio, the volume metric also recorded a steep reversal, dropping from around 170,000 to 130,000.

The volume drop point to a weakening buyer momentum for DOGE, presumably because investors are shifting their attention to lesser volatile assets. It also suggests that selling pressure is increasing, hence the reduced demand for the largest meme-inspired crypto.
Keeps getting worse for Dogecoin
As if that is not enough for an eventful week for DOGE, it is impossible to forget that a group of Dogecoin investors filed charges against Elon Musk on allegations that he promoted DOGE as a Ponzi scheme.
Notably, the Tesla CEO continues to plead innocent, with his lawyers arguing, "There is nothing unlawful about tweeting words of support for, or funny pictures about, a legitimate cryptocurrency that continues to hold a market cap of nearly $10 billion."
Notwithstanding, the case remains a bearish fundamental for Dogecoin price.