Share:
Ethereum unleashed a groundbreaking innovation based on NFT inscriptions.
Bitcoin also has its own inscriptions that let users attach content to individual satoshis on the BTC network.
Ethscriptions debuted with 10,000 Ethereum punk inscriptions, all claimed at record speed.
ETH transaction fees bound to increase amid growing transaction volume.
Ethereum (ETH) has joined Bitcoin (BTC) with an NFT inscription project. The news follows an announcement by Capsule 21 co-founder Middlemarch, who christened the innovation 'Ethscriptions,' saying it will allow users to create and share digital works via Ethereum transaction calldata.
Introducing Ethscriptions: a new way of creating and sharing digital artifacts on Ethereum using transaction calldata.https://t.co/XfQ7RdtblD

ALSO: Introducing Ethereum Punks. Because why should all non-contract Punk collecting happen on Bitcoin?https://t.co/d3Ycwbdc2Z…

— Middlemarch (@dumbnamenumbers) June 16, 2023
The news comes barely a week after Music platform Sound.xyz added support for Ethereum Layer-2 (L2)Optimism with a tribute to co-founder Vitalik Buterin.
Also Read: Music NFT platform Sound.xyz adds support for Ethereum Layer-2 Optimism
Ethereum follows Bitcoin with NFT inscription project
Ethereum (ETH) continues doubling on innovation with the latest development of an imminent non-fungible token (NFT) inscription project, Ethscriptions. This adds to a chain initiated by Bitcoin when it launched its own NFT inscription.
Inscriptions are a new way to write arbitrary data, with the Ordinals documentation calling them "digital artifacts" on the Bitcoin blockchain.
Ethereum's Ethscriptions has received massive support from the community, who are elated about the collection of non-contract punks called Ethereum Punks that come along with it. Notably, these punks are similar to those on the Bitcoin network.
With almost 30k Ethscriptions in <18 hours, the launch was a huge success!

Thank you for seeing the massive potential here!

I am on Ethscriptions 24/7, but I need your help!

DM @proroketh to join our protocol Twitter chat. Ideas, bug reports, NO alpha, NO trading, NERDS ONLY! pic.twitter.com/udKdsVT0L8

— Middlemarch (@dumbnamenumbers) June 17, 2023
Evidence of the thrill is seen in the fact that all the 10,000 inscriptions that debuted with the Ethscriptions launch were claimed almost immediately. This enthusiastic response indicates how well the community has received Ethereum's inscription enterprise.
Ethereum transaction fees likely to increase
Ethereum came out top in terms of the highest fees compared to rival platforms. Based on Crypto Fees data, the daily fees went above 4.6 million, with the average fees surpassing 4.3 million over the past week.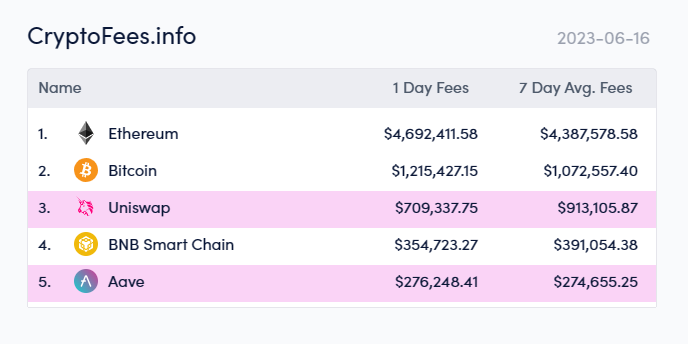 The transaction fees are bound to increase as more transactions (representing volume) will be carried out on the network. A similar turnout was observed in January when Bitcoin debuted its own inscriptions. The launch of Bitcoin inscriptions and Ordinals had a similar impact on BTC transaction fees.
2/ Bitcoin Network recently registered:
⬩ Highest transaction fees in over a year.
⬩ Exponential growth in the number of txs.

The reason is one:
⬩ Mfers invented Bitcoin NFTs.

Traditionalists are pissed, and miners are happy recording revenue increases.

(Inscription 30) pic.twitter.com/nbpuBCOLlj

— Gorge ‍♂️ (@0xGorge) February 7, 2023
As inscriptions become more popular, related networks also record increased transactions. This has a directly proportional relationship with fees. Notably, minting an NFT on Ethereum generally costs between $60 and $250, depending on the time of day and the stress on the network. The more users compete to get their transactions in the chain's next "block," the worse the fees.
Considering the importance of security on decentralized platforms, increasing transaction fees is not all that bad as it incentivizes ETH miners to keep working. However, with surging transaction fees on the Ethereum network, alternative means have become even more necessary, some of which have already been identified.
Currently, on transaction fee metrics, Ethereum decentralized network is the most expensive chain to transact and use as a base for building. This was among the key drivers for implementing Proof of Stake (PoS) validators.