Share:
Ethereum holders sold over 70,000 ETH worth $113 million as the altcoin shot up by 12%.
Ethereum validators that have staked since December 2020 currently face unrealized losses of $4.7 billion.
Depositors with over 500 validators share 76% of the unrealized losses, which will prevent them from selling until the price goes up, making a bullish case for ETH.
Ethereum Shanghai upgrade is right around the corner, and ETH holders are waiting in anticipation of a further price increase. At the same time, one of the biggest concerns of the market about whether validators would unstake and sell their ETH may no longer hold any significance.
Ethereum price rise might keep investors on hold
Ethereum price over the last two weeks has noted gains worth nearly 12% as the Shanghai upgrade approaches. Set to go live on April 12, the market is expecting a two-way spike in prices, but a spike lower seems less likely.
The fear of $32 billion worth of staked ETH being unlocked would lead to selling is potentially going to dissipate. This is because the validators that have been depositing their ETH on the Beacon Chain since December 2020 are looking at significant losses at the moment.
The unrealized losses currently amount to more than $4.7 billion, which is a remarkable improvement from July 2022, when these losses stood at $16 billion.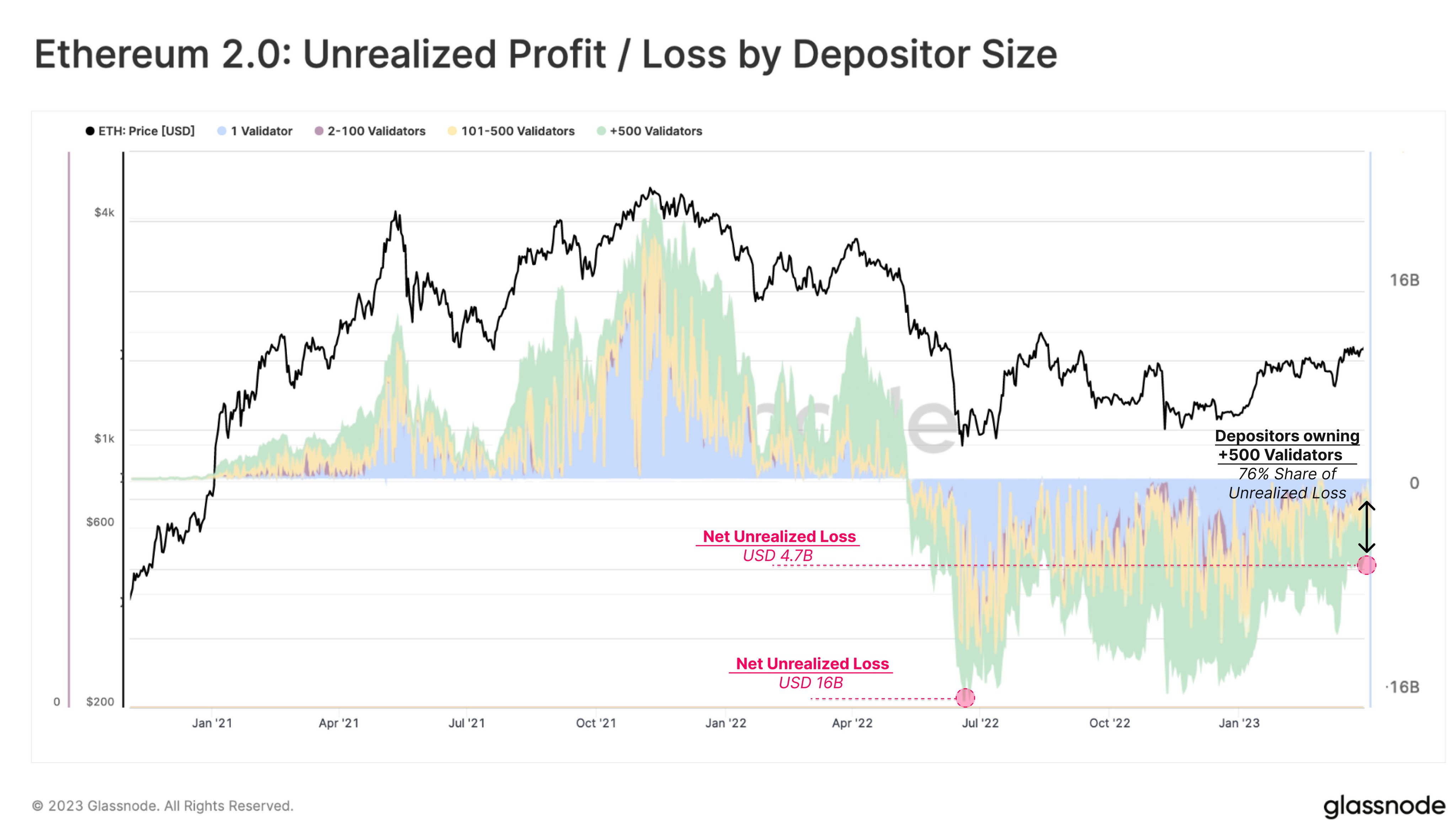 Ethereum validators' unrealized losses
Despite Ethereum price breaching $1,900, validators are still underwater. Furthermore, the depositor that owns more than 500 validators bears 76% of the losses. This will keep them from selling until at least their ETH hits theirbreak-even price point. And by the looks of it, ETH holders might follow the same strategy.
Shifting from accumulation to selling in the last two weeks, these investors have sold over 70,000 ETH worth $113 million. But this may not continue for the next few days, thanks to the uncertainty surrounding the price action.

Ethereum supply on exchanges
Besides, as per the Market Value to Realized Value (MVRV) ratio, the cryptocurrency is still far from the danger zone. This zone is historically synonymous with selling, and in the case of Ethereum, it sits between 10% to 40%. At the moment, the MVRV ratio is far below at 5.8%, which means that there is still a while before investors turn to profit-taking.

Ethereum MVRV ratio
If, in this duration, the broader market cues continue to remain bullish and Ethereum price keeps on climbing the chart, selling eventually could yield substantial profits