Share:
Ethereum options' open interest hit an all-time high on CME, suggesting interest from traditional investors.
This move comes ahead of a potential approval of futures ETH ETF on October 2.
The whale transaction metric also shows a spike on the recent dip, suggesting buying activity.
Supplementing the bullish nature is the accumulation from holders with 10,000 to 100,000 ETH.
Ethereum (ETH) price is likely going to witness a massive spike in volatility soon due to the circumstances surrounding the approval of the token's futures Exchange-Traded Fund (ETF). According to Twitter users, the ETF is likely going to be approved on October 2. So, a closer look at on-chain metrics reveal that whales and traditional investors are positioning themselves ahead of the potential ETF approval.
Read more: First Ethereum futures ETF expecting approval by October 2
Ethereum futures ETF approval and volatility spike
The chart attached below adds proof that investors positioning themselves ahead of the Ethereum futures ETF approval on October 2 is the open interest of ETH options on the CME exchange. The open interest has hit $352 million, which is and all-time high.
While this chart does not provide a directional bias, looking at other on-chain metrics does show signs that these investors are likely expeceting a bullish outcome.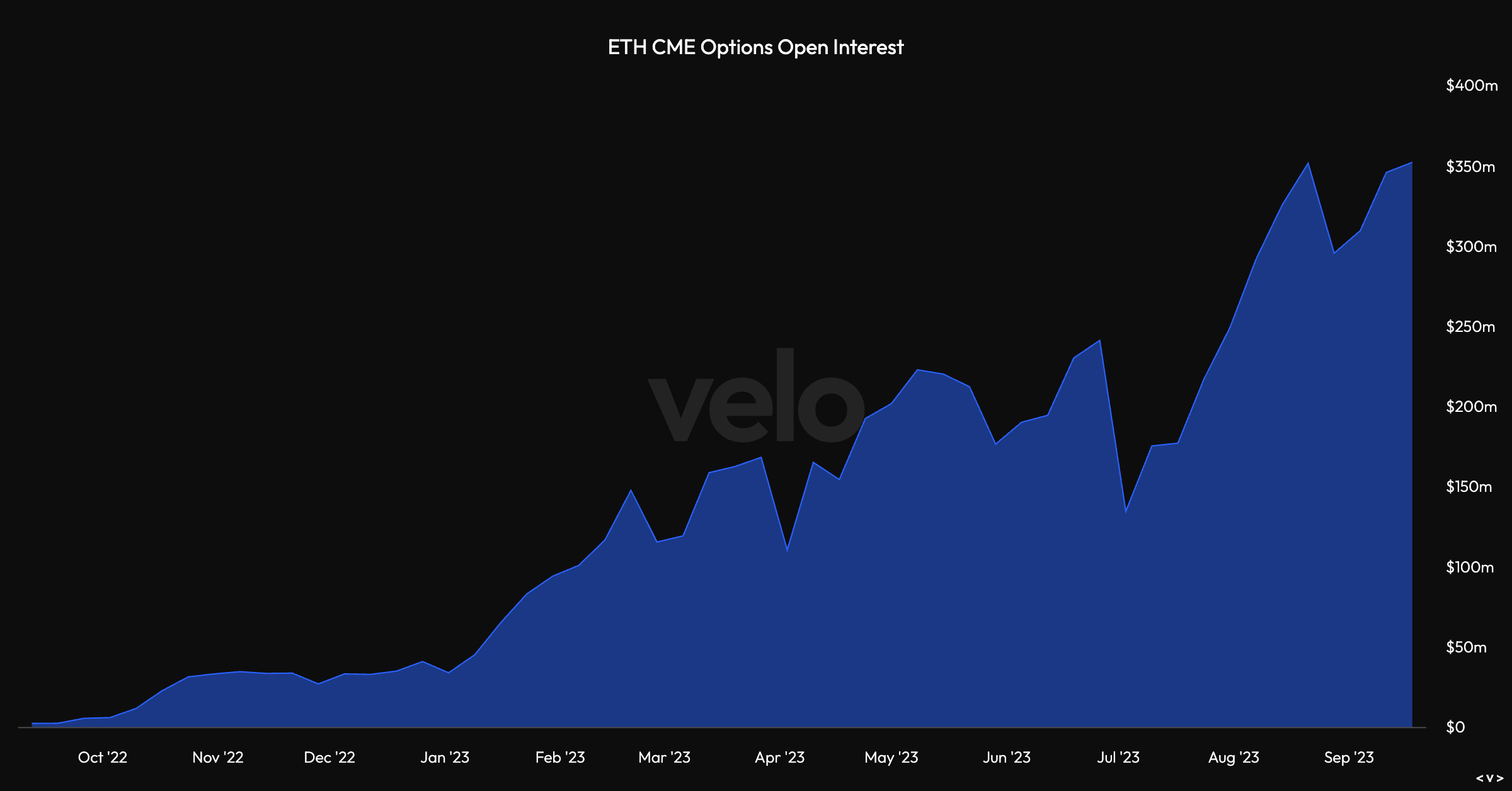 ETH CME OI
Also read: SEC could approve multiple Ether ETFs soon while delaying Bitcoin spot ETFs
Santiment's Supply Distribution by on balance of addresses shows that Ether whales holding between 100,000 to 1,000,000 ETH has grown from 19.1 million on August 19 to 20.19 million as of September 24. In total, these whales added 1.09 million ETH to their holdings.
This moves comes after Ethereum (ETH) price dropped nearly 15% between August 15 and 20, suggesting that it was a buy-the-dip accumulation.

ETH supply distribution by balance of addresses
Further supporting that these holders are preparing for an approval of Ether futures ETF is the whale transaction metric. This index tracks transactions worth $100,000 or more and serves as a proxy of investor sentiment. A spike in this on-chain metric after a dip, hints at accumulation and the opposite often indicates that these holders are looking to sell.
On September 12, when Ethereum (ETH) price dropped to $1,551, this index saw a major uptick, suggesting nothing but accumulation.

ETH whale transaction
---
Source