Share:
EUR/USD breaking to the upside as markets position ahead of the Fed.
The Fed is expected to stand pat on interest rates, give updated economic outlook.
Fed chair Jerome Powell to hold press conference 30 minutes after data release.
The EUR/USD is stepping higher in the run-up to the Federal Reserve's (Fed) showing today, reaching for the 1.0750 level. The US Dollar (USD) has been giving up ground to the Euro (EUR) throughout the Wednesday trading session as investors brace for the Fed's upcoming rate call and updated 'dot plot' projections.
Next up: Fed rate, outlook, and press conference
Read more:Interest rates to remain unchanged as end of tightening cycle looms
Markets are broadly expecting the Fed to hold steady on their benchmark interest rate band at 5.25% – 5.5%, but the key to today's Fed action will be their updated Summary of Economic Projections (SEP). Investors are still currently mixed on their Fed projections for the rest of the year, with 40% of market participants still expecting one more rate hike this year.
Elsewhere on the docket, the President of the European Central Bank (ECB) Christine Lagarde is slated to give a speech during the Thursday market session. ECB President Lagarde will be delivering speaking notes at the Mediterranean meetings being held in Marseilles.
Friday will also bring Purchasing Manager Index (PMI) data for both the Eurozone and the US, capping off an action-packed midweek.
PMIs for the pan-European economic zone are expected to come in mixed, with the composite figure expected to decline slightly from 46.7 to 46.5.
On the US side, PMIs are forecast to tick upwards, albeit slightly. US manufacturing PMIs are forecast to tick from 47.9 to 48.0, and services is seen giving a similar improvement from 50.5 to 50.5.
EUR/USD technical outlook
The EUR/USD pair is bouncing for Wednesday's pre-Fed action, climbing over the 200-hour Simple Moving Average (SMA) to claim territory north of the 1.0730 level. The pair kicked off Wednesday's trading session near 1.0680 and has done nothing but ramp up as Greenback traders hold their orders.
On the daily candlesticks, the EUR/USD has been gaining some bullish momentum from the recent bottom near 1.0650, but the pair is set for a faceoff with a descending trendline from July's last swing high near 1.1250. Continued upside pressure will also have to contend with the 200-day SMA, currently floating just beneath 1.0850.
EUR/USD daily chart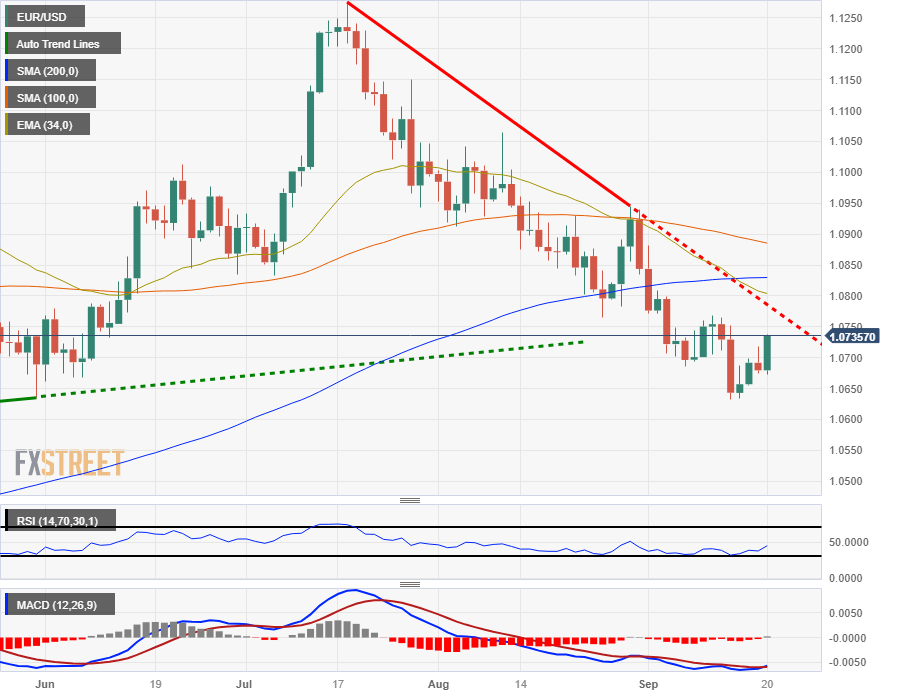 EUR/USD technical levels