Share:
Federal Reserve Chair Jerome Powell stated that the interest rates would be higher than anticipated.
Powell also stated that, at the moment, there is little evidence of disinflation in core services.
Crypto market immediate reaction to the comments was negative, with Bitcoin price slipping below $22,000.
Federal Reserve Chair Jerome Powell on Tuesday presented his views on what the market can expect going forward in terms of rate hikes in his testimony in the US Congress, in front of the US Senate Committe on Banking, Housing and Urban Affairs. Powell stated that so far, there has been very little evidence of disinflation in the core services and that if the totality of the incoming data indicates that faster tightening is required, the rate hikes could accelerate. Adding to the same, Powell stated,
"The latest economic data have come in stronger than expected, which suggests that the ultimate level of interest rates is likely to be higher than previously anticipated."
Inferring Powell's comments, FXStreet analyst Eren Sengezer stated,
"FOMC Chairman Jerome Powell's prepared remarks for delivery at the congressional testimony showed on Tuesday that the Fed intends to leave the door open to return to bigger – 50 basis points (bps) – rate hikes if warranted by economic data."
According to the Fed Chair, the current trend highlights that the central bank's fight against inflation is not over yet. At the moment, the benchmark fund rate has risen nearly eight times in the past year and is currently targeted at 4.5% to 4.75%. Commenting on the same, Powell said,
"We have covered a lot of ground, and the full effects of our tightening so far are yet to be felt. Even so, we have more work to do."
Discussing the impact of Powell's testimony, Eren added,
"With the initial reaction, Wall Street's main indexes fell sharply, reflecting a neagtive shift in risk sentiment. The benchmark 10-year US Treasury bond yield climbed to 4% and the US Dollar Index advanced beyond 105.00. The CME Group FedWatch Tool now suggests that markets are pricing in a 50% probability of a 50 bps rate increase at the next FOMC meeting."
Bitcoin price rises to $22,470
Bitcoin price, along with other cryptocurrencies, had a rather volatile reaction to Powell's statements as the biggest crypto asset dipped to trade at $22,040 initially but climbed to $22,474 at the time of writing.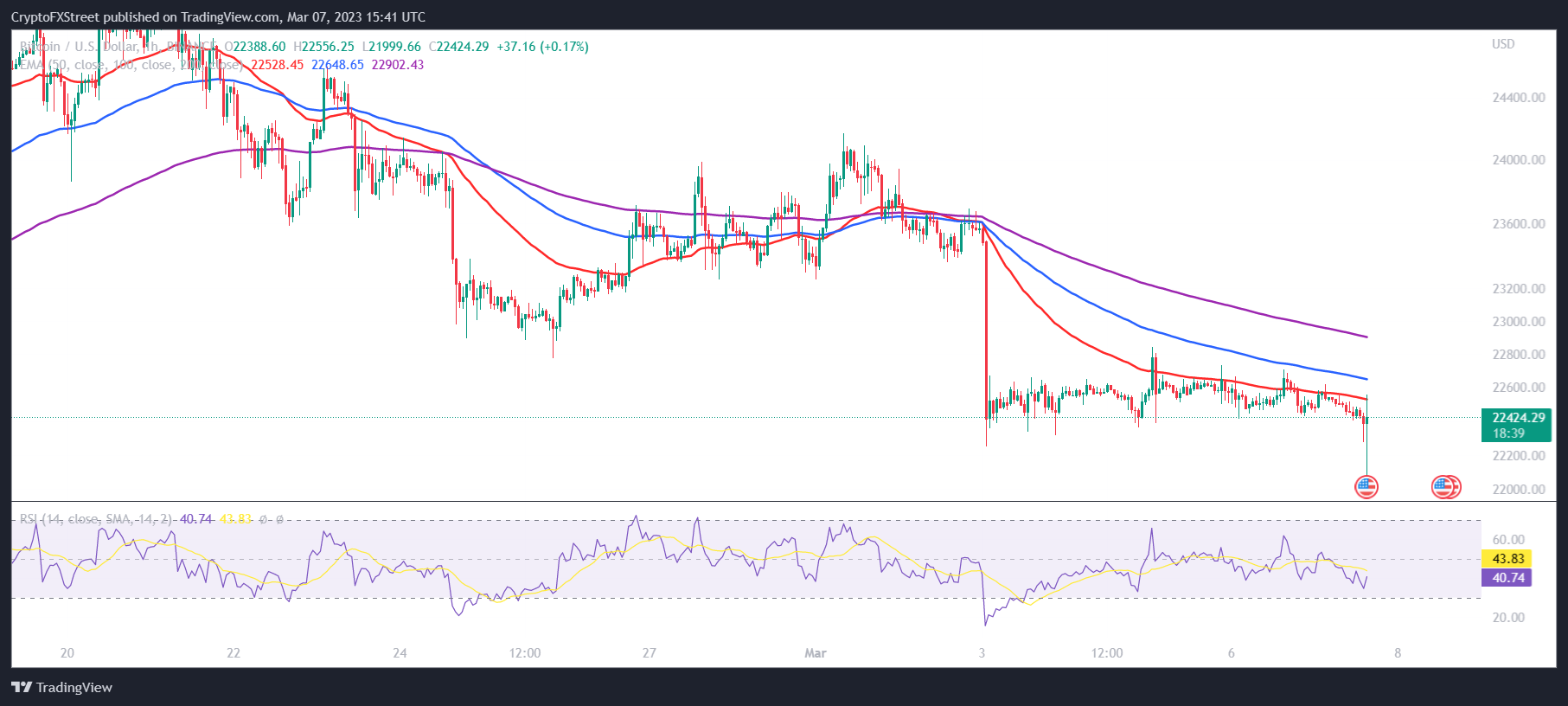 BTC/USD 1-day chart
Ethereum price also dipped by 1.04% to trade at $1,548 before recovering, and other altcoins followed suit. MATIC price slipped to change hands at $1.15, rising by more than 0.87%, while Cardano rose to $0.328. Only the XRP price noted some increase in value as the altcoin traded at $0.3802, rising by 1%.