Share:
Floki network premiered TokenFi, a crypto and asset tokenization platform for its staking program.
Barely four hours post launch, the TVL for the staking program hit $27.2 million, indicating total amount of staked FLOKI.
Investors looking to trade $TOKEN would find it on decentralized exchanges Uniswap and Pancakeswap as of October 27, 15:00 UTC.
Meanwhile, users have complained of a controversy with the network responding to possibility of fake listings as CEXes create honeypots
Floki, a decentralized autonomous organization (DAO) announced the launch of TokenFi, to be a cryptocurrency and asset tokenization platform as part of the efforts to leverage the tokenization industry. Recent reports indicate a successful launch, with the excitement around the Floki staking launch being massive so far, fueling expectations of more capital inflow to come.
Also Read: Floki Inu rips 10% higher ahead of TokenFi launch as network looks to capitalize on tokenization
Floki network records successful TokenFi launch
Floki network's plans to capitalize on the tokenization industry have started with the best foot forward, recording a total value locked (TVL) of $27.2 million within the first four hours after launch. For the layperson, TVL points to the total amount of staked tokens.
TVL FOR THE FLOKI STAKING PROGRAM HITS $27 MILLION IN 4 HOURS

It's been barely four hours since the #Floki staking program launched and Total Value Locked (TVL), which is the total amount of $FLOKI tokens staked on the platform, is at $27.2 million.

It is important to realize… https://t.co/GQjKGssCHx

— FLOKI (@RealFlokiInu) October 27, 2023
With this record of success, the network anticipates more capital inflow over the next few weeks and months, citing massive "excitement around the Floki staking launch." The project offered rewards in TokenFi's ticker, TOKEN, earned by staking FLOKI tokens.
There is no limit to how many FLOKI tokens you can stake, and you can claim your rewards at any time!
The network articulated that the staked FLOKI tokens would remain locked for a minimum duration of 3 months and up to 4 years. This means that while you could claim, withdrawals would not be allowed.
Users trading wrong TOKEN on CEXes
In a recent update, the network has indicated concerns of users possibly trading the wrong tokens, noting that "any TokenFi centralized exchange (CEX) listing that happened today was not authorized by us. If you bought TOKEN on a CEX today, you are likely not trading the real TokenFi token."
IMPORTANT TOKENFI NOTICE

We are getting reports from users that purchased #TokenFi / $TOKEN on the CEXs that announced a "listing" today that they cannot withdraw their tokens on those CEXs.

As we communicated earlier, any TokenFi CEX listing that happened today was not… https://t.co/Zu2w3GuDGt

— FLOKI (@RealFlokiInu) October 27, 2023
In the original announcement, the Floki ecosystem noted that $TOKEN would be available for trading on decentralized exchanges Uniswap and PancakeSwap as of October 27, 15:00 UTC. They have also indicated coordinating exchange listings with key exchanges and will be announcing the timelines soon.
Investors who bought TOKEN on CEXes have been asked to withdraw their tokens immediately because chances are that they are trading the wrong tokens.
Try to withdraw these tokens to your wallet from the CEX you purchased it from. If you cannot withdraw your tokens, they do not have the real thing.
It has raised concerns about CEXes listing tokens without notifying the maker, which could pass as a flaw in the freedom in the decentralized finance (DeFi) world. Citing one user, "I bought from CoinW (900 000 token) suddenly they withdraw the tokens without even my permission and then give yme back my my USDT without even my permission also can I sue them for that? I want my token back."
However, it leaves traders at an impasse especially when they want to book profits contrary to original network guidelines.
Floki (FLOKI) price has reacted with a 15% drop in price and is exchanging hands for $0.000035 at the time of writing.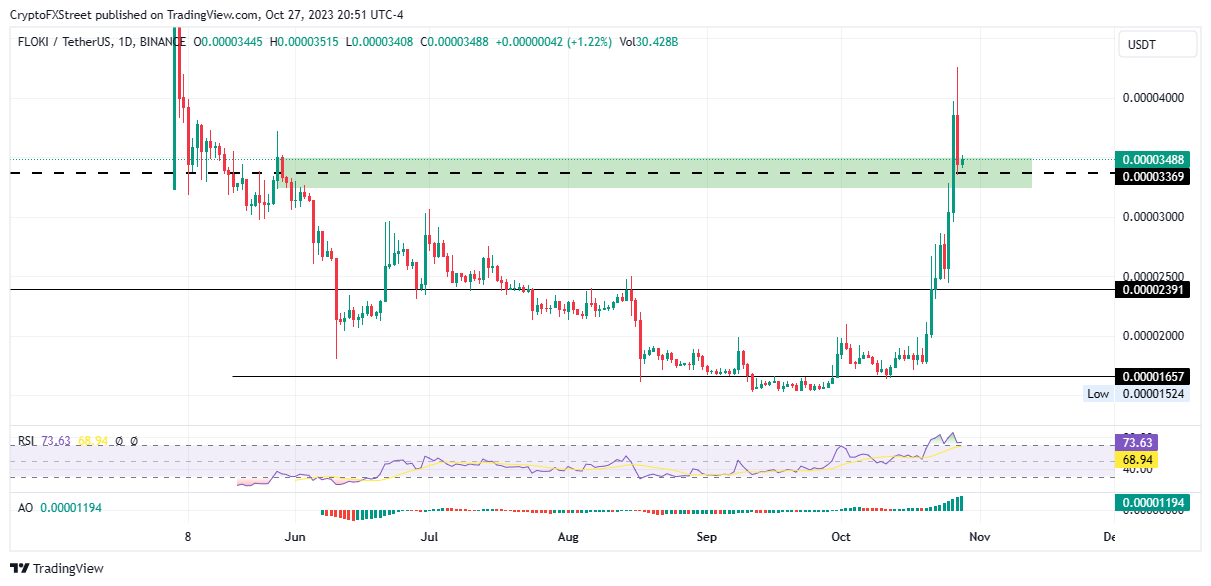 FLOKI/USDT 1-day chart
---
Source