Share:
FLOKI tokens locked in the Floki staking program have hit a new milestone, 17% of the total supply has been staked.
Majority of the FLOKI tokens have been staked for as long as four years and will remain out of circulation.
FLOKI price posted nearly 3% overnight gains, trading at $0.00003132.
FLOKI, one of the largest meme coins in the crypto ecosystem, hit a key milestone early on Saturday. The token's total value locked hit $54.4 million and catalyzed a price rally in the meme coin. FLOKI price climbed over the weekend, hitting $0.00003132 on Binance.
Also read: Chainlink price eyes likely 10% gains amidst CCIP adoption in Hong Kong
FLOKI TVL hits milestone within a week of staking going live
FLOKI ecosystem's staking went live a week ago and it hit $54.4 million. FLOKI tokens worth $54.4 million were locked in the FLOKI staking program. This number represents 17% of FLOKI's total supply and 18% of the asset's circulating supply, based on statistics shared by the official X handle of the meme coin.
It is key to note that staked tokens are pulled out of circulation. A majority of the staked assets will remain locked in the program for as long as four years and this reduces the volume of tokens in circulation. Typically, this is bullish for the asset's price.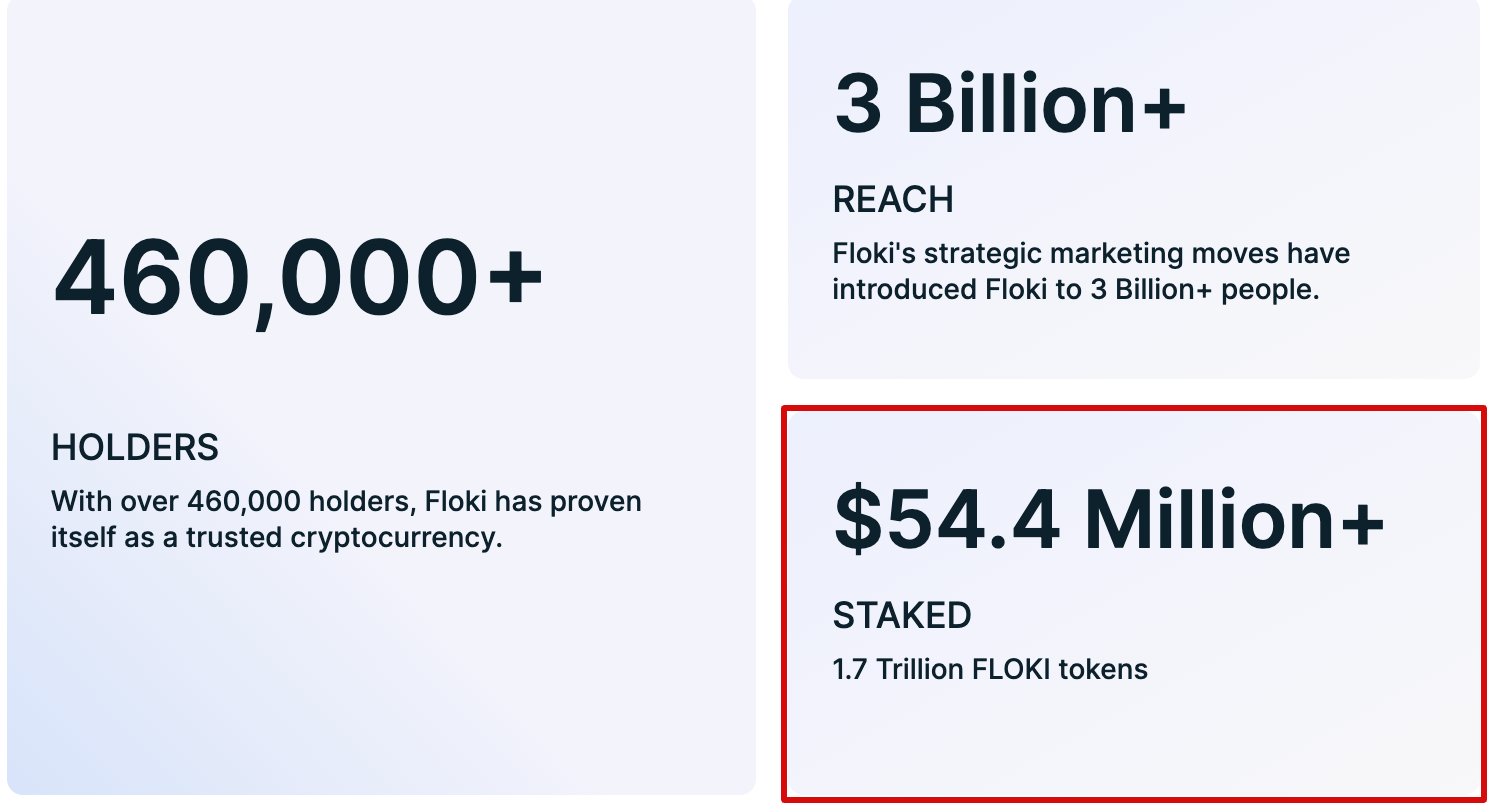 FLOKI staked in the staking program
Over 50% of FLOKI's sister token TOKEN supply has been allocated to stakers and users can earn these tokens over a period of 4 years — with an APY of up to 160%. Staking FLOKI tokens allows users to earn TokenFi's TOKEN.
FLOKI is trading at $0.00003132 and yielded 4% gains on the day. FLOKI is likely to sustain its gains and continue its uptrend as the selling pressure on the meme coin across centralized exchanges reduces, with the staking program gaining popularity among market participants.
---
Source