Share:
Shiba Inu price is up 15% in two days, aggregating to an 80% climb since mid-June.
The rally comes after the SHIB team shared a vague message on Crypto X, triggering a wave of FOMO.
As traders and investors anticipate a big announcement from the team, the memes coin has breached the $0.00001 mark.
Shiba Inu (SHIB) price has outperformed the entire crypto market, recording massive gains as the rest of the altcoins slide into the weekend mood led by the big crypto itself, Bitcoin (BTC). The rally is fueled by impulse, something that would bode really well for the broader market if it comes.
Also Read: Top 3 Price Prediction Bitcoin, Ethereum, Ripple: BTC showing weakness shakes ETH, XRP, and most altcoins
Shiba Inu price breakout triggers a $23B spike in open interest
Shiba Inu (SHIB) price is up 15% in two days and 110% since the $0.00000543 bottom recorded on June 10. This is not a mean achievement considering the broader market is currently choking out of lack of impulse. For SHIB, however, the driving force is the typical Fear Of Missing Out (FOMO), fueled by a recent vague message from the Shiba Inu team.
Rightfully so, SHIB community members have a lot to look forward to, starting with the Shibarium deployment. Shiba Inu developer Shytoshi Kusama announced Shibarium's imminent premiere, slated for release sometime in August. The SHIB executive will also make an appearance in Canada's Futurist Conference from August 15 to 16, further invigorating hype around the ambiguous "soon" announcement.
Meanwhile, the FOMO has triggered a $23 billion spike in open interest, an aggregate of both short and long positions. With this many contracts still open, the next four days will be critical for Shiba Inu price with capital inflow aggressively streaming.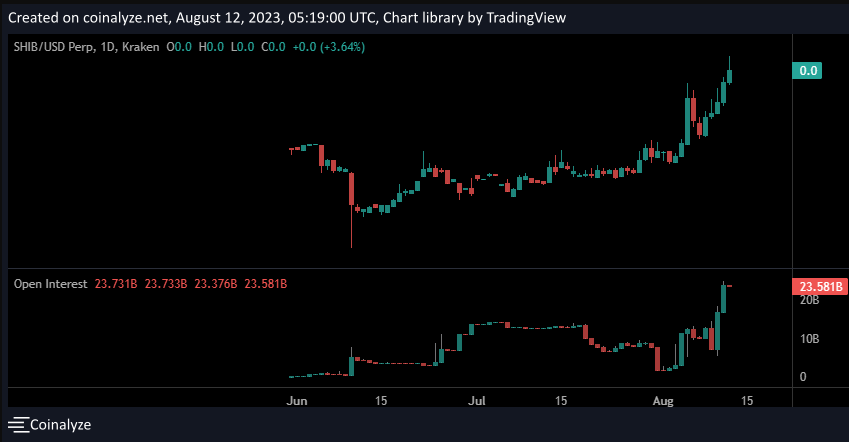 SHIB Open Interest
Surging open interest coupled with a sustained price uptrend is a good recipe for a continued rally, increasing the odds for more gains in SHIB for the next few days. It is worth mentioning that this is the highest reach for the meme coin's open interest since June.
Shiba Inu price hits multi-month high
Shiba Inu (SHIB) is currently exchanging hands for $0.00001082, levels last seen in April. The fact that SHIB has shed one zero is a remarkable achievement considering the current lull in the market. Increased buying pressure could see SHIB shatter the immediate but critical barricade at $0.00001162.
A decisive flip of the aforementioned hurdle into support would pave the way for a potential rise to the February highs around $0.00001378, denoting a 30% climb from current levels.
The Relative Strength Index and the Moving Average Convergence Divergence (MACD) indicators favor the upside, moving north to suggest rising momentum. Despite the RSI being above the 70 mark, Shiba Inu price could continue north in alignment with Welles Wilder's interpretation that an asset is only considered overbought once the RSI crosses the 70 mark to the downside.
A continued rally, therefore, sustained by SHIB traders keeping their profit-taking appetite in check, could see Shiba Inu price moon to record a new yearly high above the psychological $0.00001579.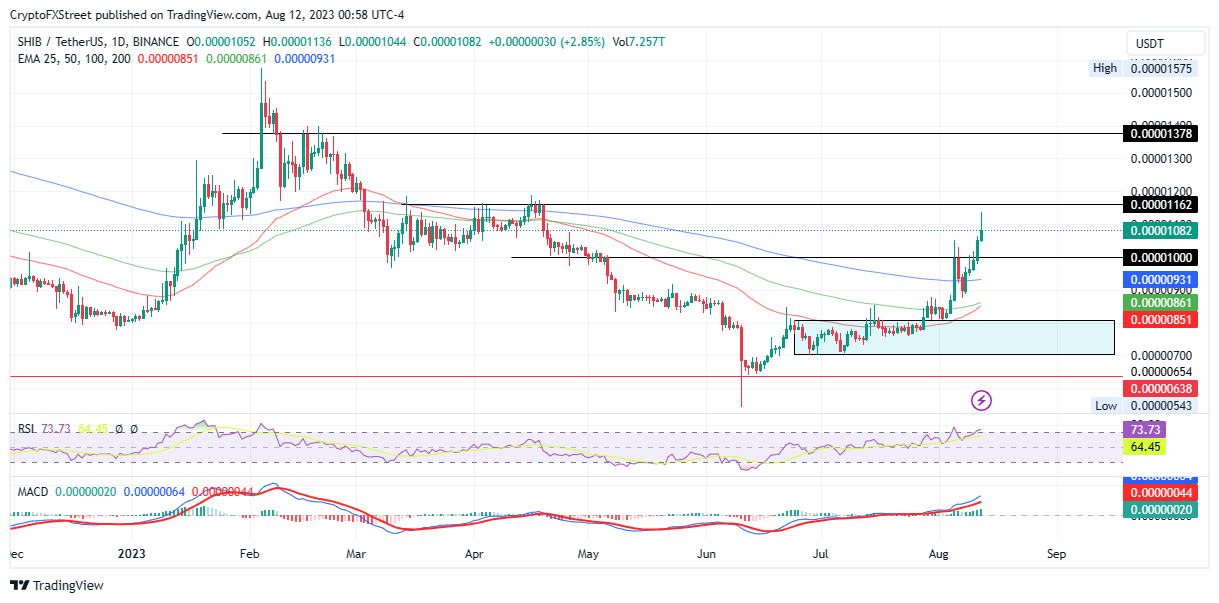 SHIB/USDT 1-day chart
On the other hand, a rejection from the $0.00001162 level, possibly due to long traders' take profits being triggered could see Shiba Inu price head south. While a downtrend would not be ideal, invalidation of the current bullish thesis would only occur after SHIB falls through the order block marked in blue, flipping the demand zone into a bearish breaker.
The ensuing selling pressure could see the Shiba Inu price revisit the $0.00000654 support floor.
Bitcoin, altcoins, stablecoins FAQs
Bitcoin is the largest cryptocurrency by market capitalization, a virtual currency designed to serve as money. This form of payment cannot be controlled by any one person, group, or entity, which eliminates the need for third-party participation during financial transactions.
Altcoins are any cryptocurrency apart from Bitcoin, but some also regard Ethereum as a non-altcoin because it is from these two cryptocurrencies that forking happens. If this is true, then Litecoin is the first altcoin, forked from the Bitcoin protocol and, therefore, an "improved" version of it.
Stablecoins are cryptocurrencies designed to have a stable price, with their value backed by a reserve of the asset it represents. To achieve this, the value of any one stablecoin is pegged to a commodity or financial instrument, such as the US Dollar (USD), with its supply regulated by an algorithm or demand. The main goal of stablecoins is to provide an on/off-ramp for investors willing to trade and invest in cryptocurrencies. Stablecoins also allow investors to store value since cryptocurrencies, in general, are subject to volatility.
Bitcoin dominance is the ratio of Bitcoin's market capitalization to the total market capitalization of all cryptocurrencies combined. It provides a clear picture of Bitcoin's interest among investors. A high BTC dominance typically happens before and during a bull run, in which investors resort to investing in relatively stable and high market capitalization cryptocurrency like Bitcoin. A drop in BTC dominance usually means that investors are moving their capital and/or profits to altcoins in a quest for higher returns, which usually triggers an explosion of altcoin rallies.