Share:
FTX founder Sam Bankman-Fried and his lawyers proposed an extension to file their proposal for additional bail conditions.
Prosecutors have demanded tighter restrictions for the disgraced CEO after being caught watching Super Bowl on VPN.
FTT price noted not a sudden shift but a simple decline of 3.41% at the time of writing.
FTX ex-CEO Sam Bankman-Fried has been barely able to catch a break in the last couple of weeks. The barrage of cases and charges against the ex-CEO has led to the team of his lawyers trying to ask for more time to deal with one problem before moving on to the next one.
FTX disgraced former head Sam Bankman Fried faces new issues
Earlier this week, the FTX founder was hit with four new charges by the prosecutors. Sam Bankman-Fried was accused of conspiring with former executives in order to donate millions of dollars to influence US politicians.
Additionally, the charges against Bankman-Fried also included bank fraud increasing the total criminal charges to 12.
Thus, the former boss of FTX has asked the US courts for more time, requesting the federal judge to provide him with an extension. In a letter filed to the court, the disgraced founder's lawyers demanded time until March 3 to figure out the ongoing bail dispute. The lawyers were noted saying,
"We respectfully request that the court grant the defense an extension of time to file our proposal for the court's technical consultant and additional bail conditions."
This came after the US prosecutors demanded tighter restrictions for Sam Bankman-Fried. Judge Lewis Kaplan was asked to cut down on Bankman-Fried's internet access after he was noted watching the Super Bowl last week using a VPN.
FTT price loses steam
After a rather impressive recovery of 195.74%, FTT price has been on a consistent decline, with the token dropping by 38.81% from $2.502 to $1.528 at the time of writing.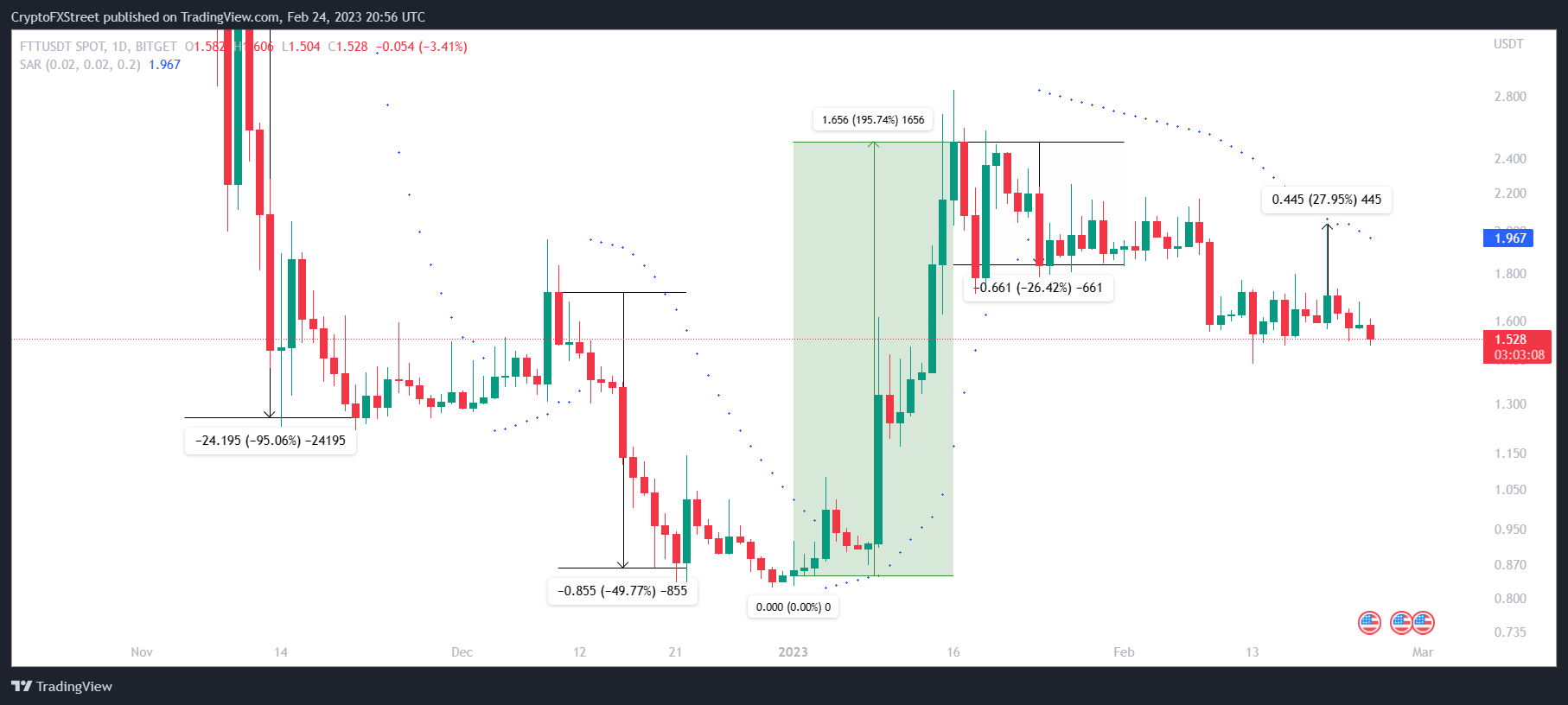 FTT/USD 1-day chart
Although no major positive development has taken place in the FTX cases, the price is still keeping above the critical support of $1.500 despite falling by more than 3% in the last 24 hours.