FTT price declined from $25 to $0.90 during Quarter 4 of 2022.
Former FTX Ceo Sam Bankman-Fried recently pleaded not guilty to charges of financial fraud and misconduct.
FTT token could go into price discovery to the downside if the $0.82 level is breached.
FTT price is in a challenging spot during the first week of 2023. Former CEO Sam Bankman-Frieds' recent decisions in court may be problematic for the centralized exchange token's future price action.
FTT price token is in a dangerous position
FTX's FTT price token witnessed a 95% decline as the cryptocurrency exchange token fell from $25 to $0.90 in less than two months. During Q4, FTX filed for bankruptcy, and former CEO Sam Bankman-Fried (SBF) was arrested on charges of financial fraud and misconduct of consumer funds.
During the first week of the new year, the FTX scandal grew even more controversial as SBF pleaded not guilty to the alleged charges. The controversy has led investors to wonder if there is any hope for an FTT pullback to recoup some of the losses accrued.
FTX price currently auctions at $0.91 as the bulls have taken charge past the 8-day exponential and 21-day simple moving averages. From a purely technical perspective, the bullish hurdle enables the FTT token's uptrend possibility. The first level of liquidity for market makers to aim for would be the broken support zone at $1.24, which would be a 40% hike from the FTT price today.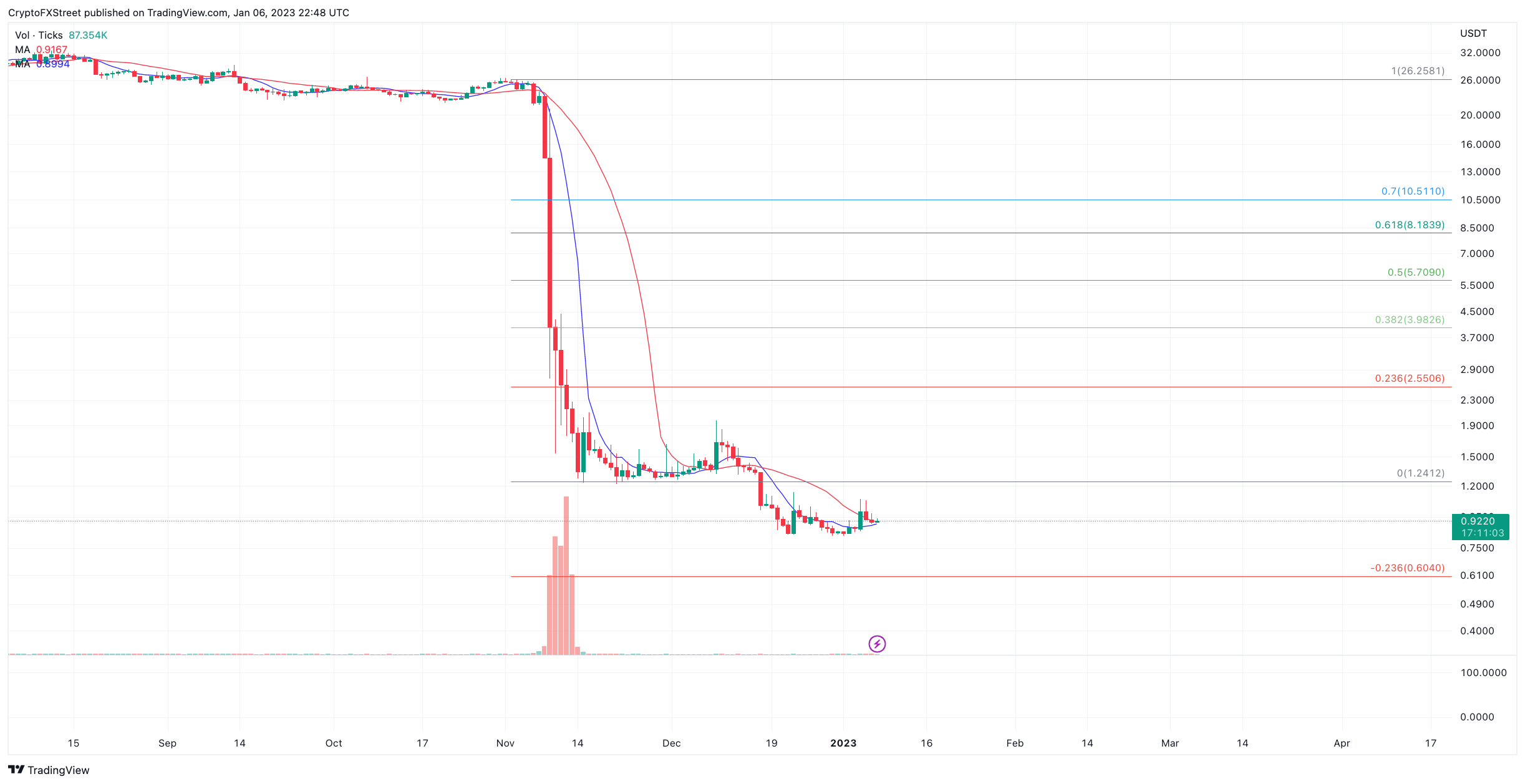 FTT/USDT 1-Day Chart
Still, the FTX token is already trading below the first level of support established between November 14 and December 16. Thus the bears have already won the first battle, trapping a month's worth of early buyers in the process. A second attempt at the 2022 swing low at $0.82 should not be taken lightly. A breach of the barrier could induce further downtrend price action pushing the FTX token into price discovery to the downside. Price discovery would suggest erratic and unpredictable behavior from the FTT price with unforeseeable targets.
This video shows how Bitcoin price moves could affect FTT price