FTX bankruptcy proceedings will not include the $550 million worth of Robinhood shares, which remain seized by the Department of Justice.
Emergent Fidelity only has about $20.7 million in cash at the moment, with no other assets.
FTT price has been consolidated between $2.4 and $1.7, trading at $2.0 at the moment.
FTX saga added another eventful moment to its list after a company with no direct connection to FTX filed for bankruptcy. The repercussions that arose from the ongoing bankruptcy proceedings reached Emergent Fidelity through the one common link, Sam Bankman-Fried.
FTX CEO Sam Bankman-Fried loses another company
Sam Bankman-Fried owned Emergent Fidelity Technologies along with FTX. The company was also the responsible offshore entity that was home to the 55 million Robinhood shares worth more than $550 million.
However, the company went ahead and filed for bankruptcy on Friday despite the Department of Justice providing no clear answer about the ownership of the shares.
The Chapter 11 bankruptcy filing will allow the liquidators to work through the situation. Commenting on the same, a liquidator in a court statement said,
" [The liquidators] duties are to the debtor's creditors, whoever those creditors may be. Given the many parties claiming to be creditors or outright owners of the debtor's assets in proceedings in the US, the JPLs believe that Chapter 11 protection is the only practical way to empower the debtor to defend itself, the assets, and its creditors' interests in the US."
Sam Bankman-Fried, despite being no longer in control of the company, owns nearly 90% of the entity, with FTX co-founder Gary Wang owning the remaining 10% of the company. Whether or not the Department of Justice returns the Robinhood shares cannot be ascertained, but for now, the company has only $20.7 million in cash.
FTT price falls into a consolidation
FTT price, following its 26% dip in the last few days, has now consolidated, keeping itself stuck in a sideways momentum between $1.7 and $2.4. Trading at $2.0, the cryptocurrency managed to chart a green candle, rising by more than 7% in the last 24 hours.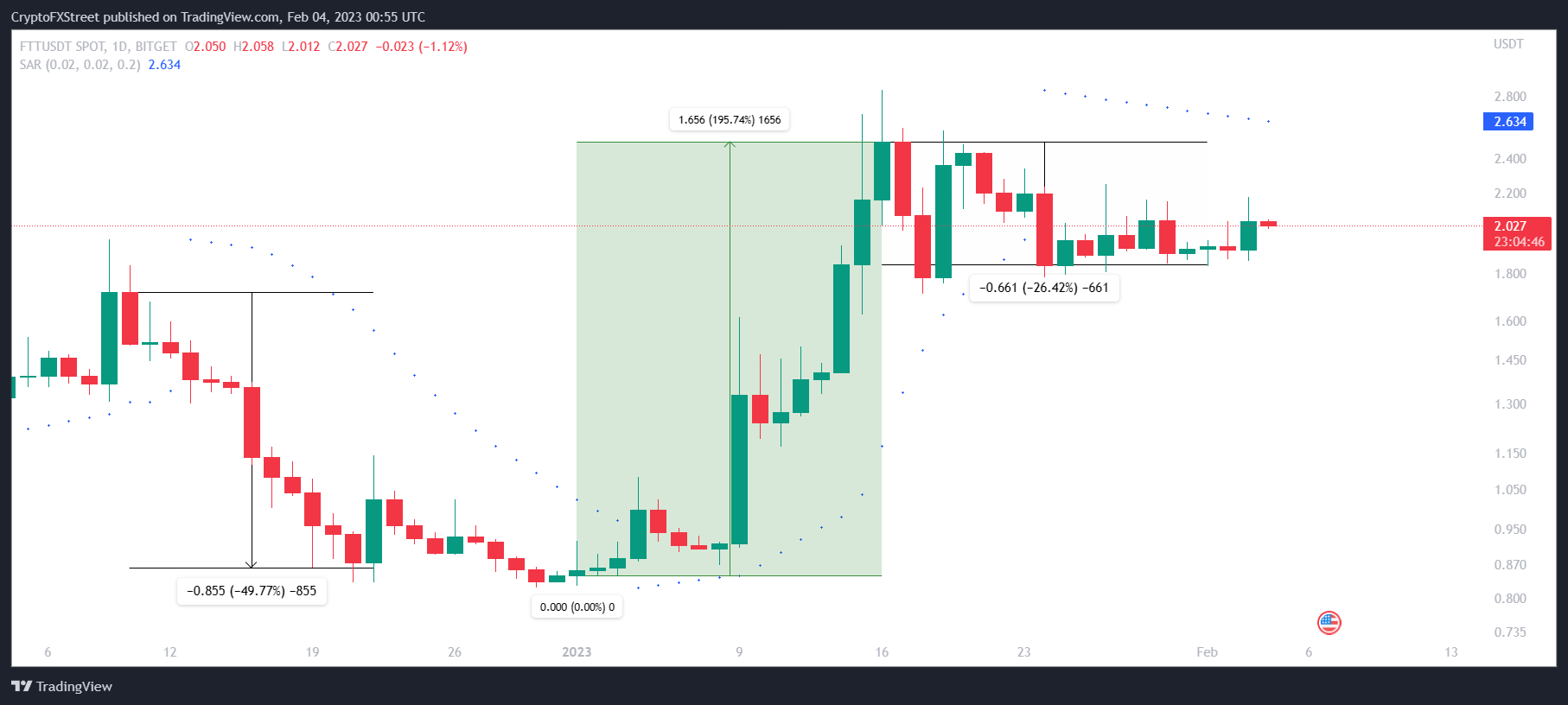 FTT/USD 1-day chart
Any volatile change in the price action would be explained by some outside factor, as the rest of the market is also rather quiet at the moment. As for cryptocurrency traders, laying low would be the way to go.