Share:
Galaxy Digital CEO Mike Novogratz has lauded BlackRock executive Larry Fink for his recent assertions on Fox Business.
Fink finally endorsed Bitcoin after his long-standing skepticism on July 6, terming it an "international asset."
According to Novogratz, this conversion is the best thing that has happened to BTC this year.
Galaxy Digital CEO Mike Novogratz has referred to BlackRock CEO Larry Fink's interview with Fox Business, marking it as a landmark in the crypto ecosystem and a watershed moment for Bitcoin. The news comes amid the Spot Bitcoin Exchange Traded Funds (ETF) race, which has investors biting their nails in anxiety about what approvals could do for Bitcoin price.
Also Read: Bitcoin Weekly Forecast: Could Spot ETF trigger BTC rally to $50,000?
Galaxy Digital Holdings CEO excited about Larry Fink's conversion
Galaxy Digital CEO Mike Novogratz hailed BlackRock executive Larry Fink as "the best thing that happened to Bitcoin this year." The acclamation, reported by Bloomberg, comes after Fink's July 6 appearance on Fox Business to indirectly endorse Bitcoin following the asset manager's Spot BTC ETF filing.
Citing Novogratz in an interview with David Rubenstein for an upcoming episode of Bloomberg Wealth:
He [Larry Fink] got 'orange-pilled. Larry was a nonbeliever. Now he says, 'Hey, this is going to be a global currency.' People around the world all trust it.
As FXStreet reported, Fink used the interview to create an alignment between BlackRock and the purpose of Bitcoin. The BlackRock CEO urged investors to switch from Gold to Bitcoin to hedge against inflation, citing BTC's unique ability to protect against currency devaluation. He termed the flagship crypto as an "international asset," pivoting on it to tout BlackRock as being founded upon hope.
According to Novogratz, Fink's proclamations were a public display of skeptic turned believer, which bodes well for Bitcoin considering the BlackRock CEO's heft. The Galaxy Digital executive sees the transformation as part of an "adoption cycle" poised to catapult BTC to its 2021 all-time high of $69,000 and possibly breach it. Nevertheless, Novogratz observes that the Federal Reserve pivoting on reduced interest rates would help realize this speculation.
Noteworthy, Larry Fink is a powerhouse name in the financial world, with his firm, BlackRock, commanding upwards of $9.1 trillion in assets under management (AUM). Fink has earned a reputation as one of the most powerful personalities on Wall Street, a consigliere (mentor and confidant) to presidents and prime ministers, and the man at the hub of the wheel of American capitalism, according to Coin Bureau's lead reporter Guy Turner. Similarly, Novogratz is an icon of commendable repute, famous for his voice as a crypto proponent from Wall Street.
At the time of writing, Bitcoin price is $29,290, presenting the ultimate test of patience for traders and investors who are desperate for a move. The king of crypto continues to consolidate under the foothold of the 50-day Exponential Moving Average (EMA) at $29,350 for almost a week, with momentum indicators suggesting bulls have taken a breather.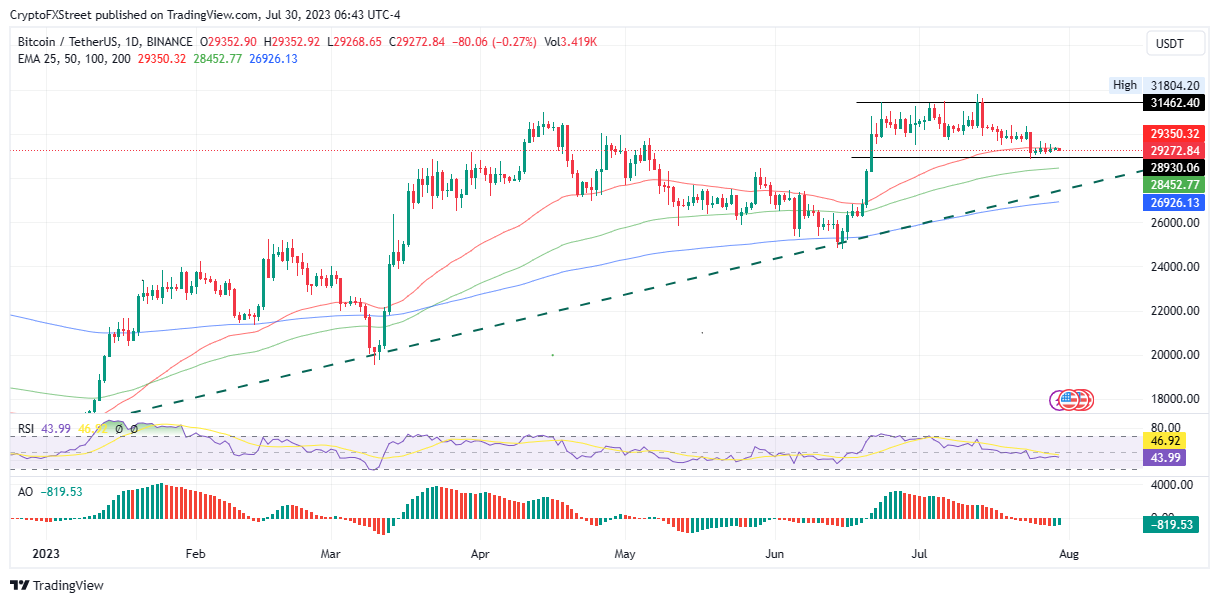 BTC/USDT 1-Day Chart
Also Read BTC Weekly Forecast for expert perspectives on Bitcoin's race towards $40K or $25K.
---
Like this article? Help us with some feedback by answering this survey:
---
Source