Share:
GBP/USD bears are in the market testing daily support.
Sterling bulls eye a move towards 1.2550s.
GBP/USD is trading at around 1.2480 and has traveled between a low of 1.2465 and a high of 1.2546 so far on the day. The British Pound was in trouble at the start of the London day with the rise in Britain's jobless numbers.
Markets have started to re-price the Bank of England as they expect the central bank to pause its rate-increasing path over the coming months that would otherwise be needed to bring down inflation. Current market pricing indicates potentially just one more 25 basis point rate increase from the Bank of England
The Pound fell by as much as 0.5% against the Dollar to 1.2465 and the lows of the day. The United Kingdom´s Unemployment Rate unexpectedly climbed to 3.9% in the three months to March as more people sought to get back into the jobs market.
Meanwhile, there is an eye being kept on Congress and the delays in raising the US debt ceiling. Tighter credit conditions caused by the recent banking crisis in the US and elsewhere have increased the likelihood that the US economy will slip into a recession, leading to Federal Reserve rate cuts and a weaker US Dollar.
´´With time running out to strike a deal to raise the debt limit, President Biden and congressional leaders are set to meet on Tuesday for pivotal face-to-face negotiations at the White House to avoid a default that economists say could eliminate jobs and cause a recession,´´ the New York Times wrote
´´The meeting, at 3 pm, comes a day after Treasury Secretary Janet L. Yellen reiterated that the United States could run out of money to pay its bills by June 1 if Congress does not raise or suspend the debt limit, the statutory cap on how much the government can borrow to finance its obligations.´´
´´Ms. Yellen warned on Tuesday that the United States faced ´an economic and financial catastrophe´ if it defaulted and said the standoff over the debt limit was already affecting financial markets and households.´´
GBP/USD technical analysis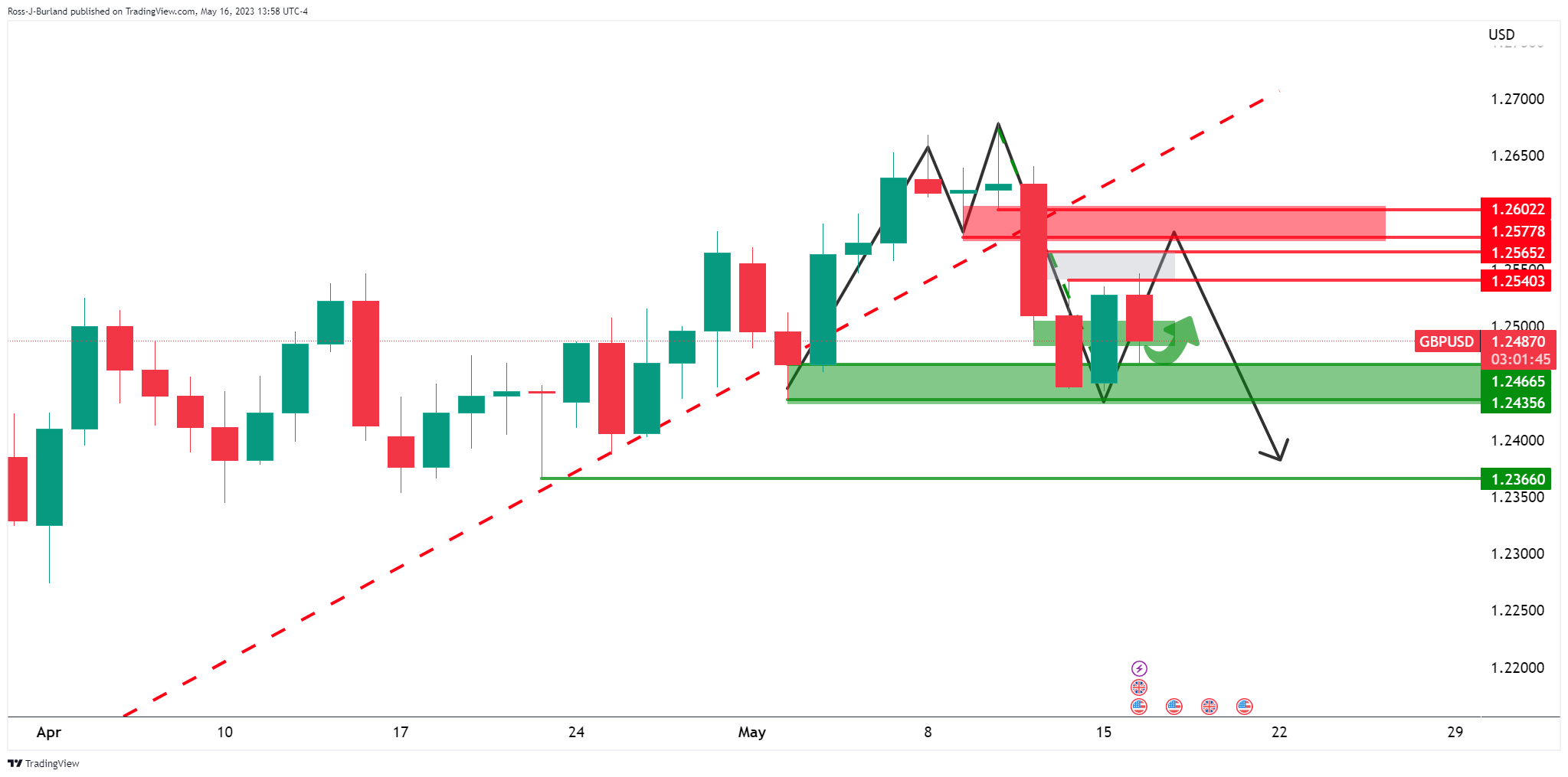 The M-formation is homing in the 1.2550s in a bullish correction, although the bears are in the market on Tuesday but support is holding.