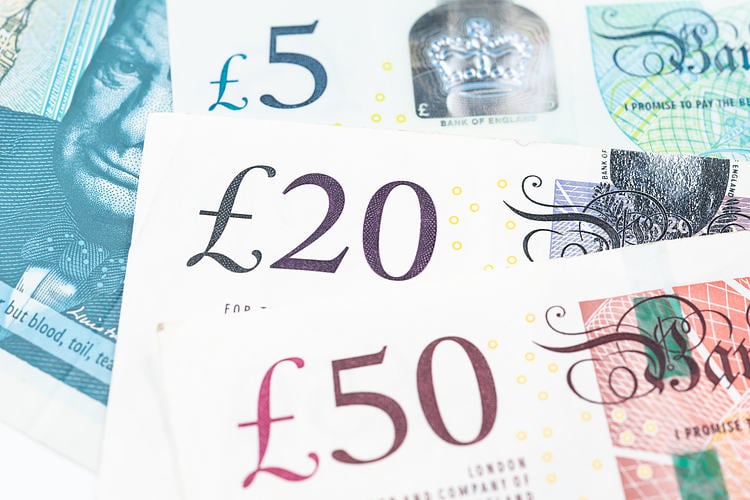 Share:
GBP/USD hovers above 1.2400 ahead of US consumer confidence data.
US Dollar is embracing the US economic data released on Thursday.
UK's economy is contending with the BoE's hawkish stance in the midst of a deteriorating demand climate.
GBP/USD struggles to snap the previous day's loss, hovering around 1.2410 during the early trading hours of the Asian session on Friday. The pair is experiencing downward pressure after the better-than-expected economic figures from the United States (US).
On Thursday, the Core Producer Price Index (PPI) for August increased by 2.2% as expected, and below the previous rate of a 2.4% hike. Retail Sales improved to 0.6% against the previous month's 0.5% readings and the market consensus of slowdown to 0.2%.
US Initial Jobless Claims for the week ending on September 8, printed the reading of 220K new claimants better than the forecast 225K. The previous week's print was 217K.
However, the CME FedWatch Tool has reduced the probability to 35% that the US Federal Reserve (Fed) will implement a 25 basis points (bps) rate hike in November. Investors turn cautious regarding the potential for such a move as they evaluate the changing economic overview and Fed communications.
US Dollar Index (DXY), which compares the US Dollar (USD) against the six other major currencies, trading around its six-month highs marked on Thursday. The spot price is beating around 105.40 at the time of writing.
On the other side, the British Pound's (GBP) risk appetite remains uncertain following Wednesday's disappointing performance in the United Kingdom's (UK) economic calendar.
UK Gross Domestic Product (GDP) data revealed a more severe decline than anticipated, as the July figures dropped by 0.5%, surpassing the expected 0.2% decrease and erasing the 0.5% gain from the previous month. This unexpected GDP contraction has added to the GBP's volatility and market uncertainty.
The UK economy is grappling with a range of challenges stemming from the Bank of England's (BoE) tight stance on interest rates. These challenges include exceptionally robust wage growth and a labor market where demand is showing signs of slowing down.
Consequently, the British economic forecast has become precarious as overall output is contracting amid a weakening demand environment. The probability of the UK economy slipping into a technical recession is elevated, given the BoE's plans for additional interest rate hikes that are already in the works.
Market participants will likely watch the release of the US preliminary Michigan Consumer Sentiment Index on Friday. This index is expected to register a slight drop from a reading of 69.1 to 69.5. If the actual reading aligns with or exceeds these expectations, it has the potential to provide the Greenback with the momentum required to continue its upward trajectory.