Gemini Earn users continue to demand their money back, which has been denied to them since Genesis' withdrawal halt in November 2022.
In Q4 2022, Genesis claimed that it was doing its best to avoid filing for bankruptcy.
Digital Currency Group founder Barry Silbert claimed cooperation, also denying commingling of funds with Genesis.
Gemini partnered with the crypto brokerage company Genesis Global Capital to provide its Earn users with interest. However, the collapse of Three Arrows Capital in Q2 2022 and the downfall of FTX in Q4 triggered losses for Genesis, leading to the brokerage company taking severe measures, which are now being publicly fought by Gemini's founder.
Gemini vs. Genesis Global Capital
Gemini co-founder Cameron Winklevoss penned an open letter on Monday to Barry Silbert, the founder and Chief Executive Officer of Digital Currency Group (DCG), Genesis' owner. In the letter, Winklevoss bashed DCG and Silbert for denying all attempts at reaching a resolution for returning the money Genesis owes to Gemini Earn users.
After FTX's collapse, Genesis halted all withdrawals in November, leaving over 340,000 users of the Gemini Earn program in a state of confusion concerning their crypto assets. Winklevoss claimed that these users have over $900 million stuck cumulatively, which the Digital Currency Group must find a way to return.
Winklevoss also alleged that DCG was commingling funds, stating that the company owed about $1.675 billion to Genesis, which in return belonged to its creditors. However, this was quickly denied by Barry Silbert, who tweeted,
DCG did not borrow $1.675 billion from Genesis

DCG has never missed an interest payment to Genesis and is current on all loans outstanding; next loan maturity is May 2023

DCG delivered to Genesis and your advisors a proposal on December 29th and has not received any response

— Barry Silbert (@BarrySilbert) January 2, 2023
Towards the end of the letter, Gemini co-founder also gave a deadline to Digital Currency Group, stating,
"We are asking you to publicly commit to working together to solve this problem by January 8th, 2023."
This is Winklevoss' second public attempt at regaining Gemini Earn users' fund after having formed an ad hoc committee with other Genesis creditors. The Creditor Committee was formed after Genesis stated that it was looking to raise about $1 billion in order to avoid filing for bankruptcy, which was its last resort.
Crypto market remains sluggish
Bitcoin has been unable to lead the crypto market into recovery, as the total value of all cryptocurrencies remained below $800 billion, at $767 billion at the time of writing. Since the 9% slip around mid-December, the crypto market has been moving sideways, making virtually no significant improvement.
The possibility of a recovery would be stronger if the market capitalization climbed back and established $800 billion as a support floor.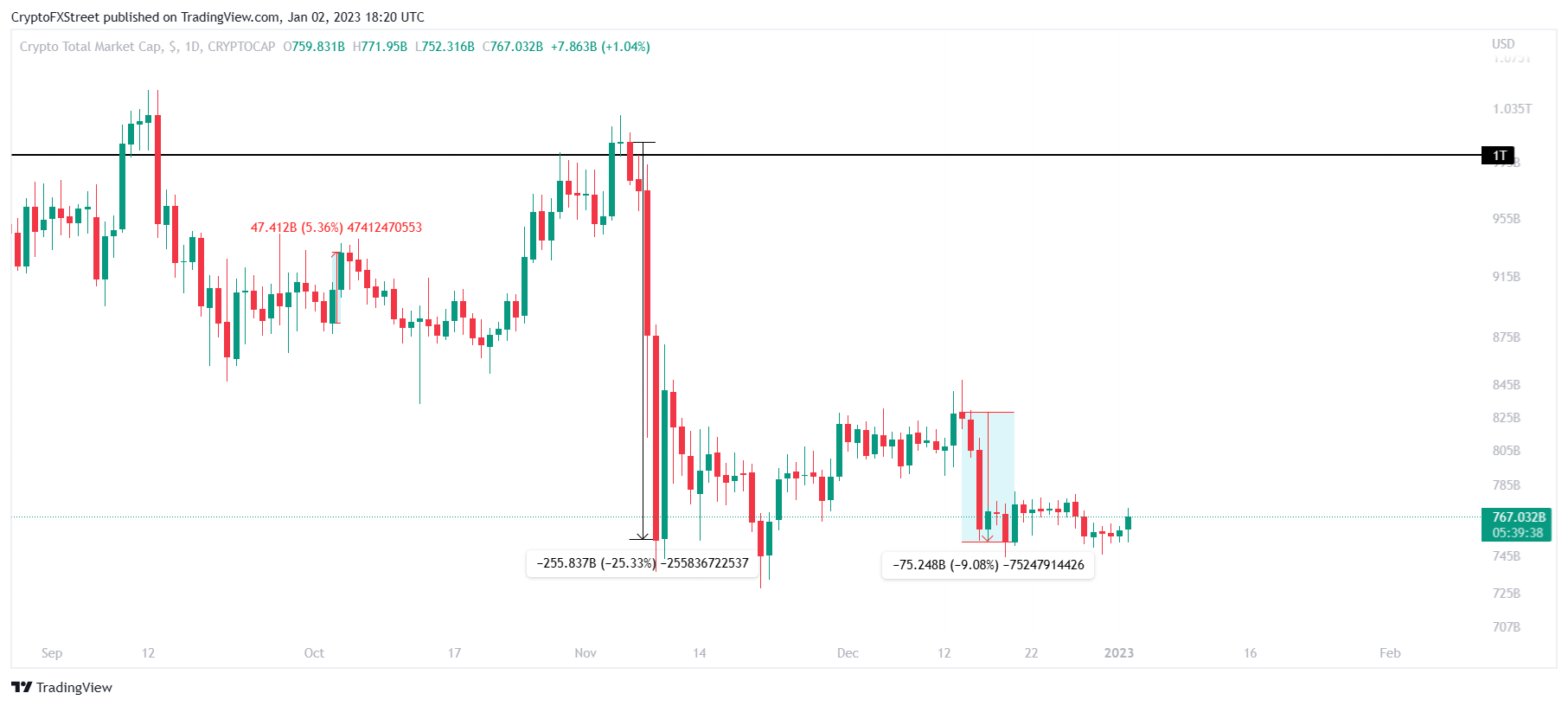 Total crypto market capitalization