Share:
Gold price bulls are in the market and eye the $2,000s.
The Federal Reserve´s preferred inflation measure could be a catalyst on Friday.
Gold price has been buoyed in part by a weaker US Dollar and expectations for a fall in interest rates. The US Dollar index was down 0.4% at 102.20, raising the appeal of dollar-denominated gold prices. XAU/USD has traveled between a low of $1,955 and $1,984.36 on Thursday.
Analysts at TD Securities argued that investor participation has remained muted despite little evidence of a boon from safe-haven demand in gold markets. ´´In reality, underwhelming CTA flows have weighed on the white metal's performance, despite substantial buying activity in China,´´ the analysts explained.
´´Today, prices are surging overnight amid several large-scale CTA buying programs, as a drift lower in key trigger levels has finally kicked off significant algorithmic buying activity that should help the metal outperform, ´´ the analysts added further.
Federal Reserve sentiment, key for Gold price
Meanwhile, with the Federal Reserve in mind, the February reading of personal consumption expenditures (PCE) on Friday, the Fed's preferred inflation gauge, will be released and could be a catalyst for the Gold price. January figures showed a sharp acceleration in consumer spending so the data will be closely eyed.
´´Comments from Fed officials have been mixed with Jerome Powell indicating last week that the impact of the recent turmoil in the banking system could be the equivalent of 25bp of tightening,´´ analysts at ANZ Bank said. ´´However other Federal Reserve officials have pointed out that more tightening will be required if inflation risks persist.´´
Meanwhile, US data on Thursday showed that Jobless Claims last week rose more than expected from the week before indicating a cooling labor market, while fourth-quarter Gross Domestic Product growth was slightly lower at 2.6% compared with earlier estimates of 2.7%, both supporting the case for a softer Fed policy.
Gold price technical analysis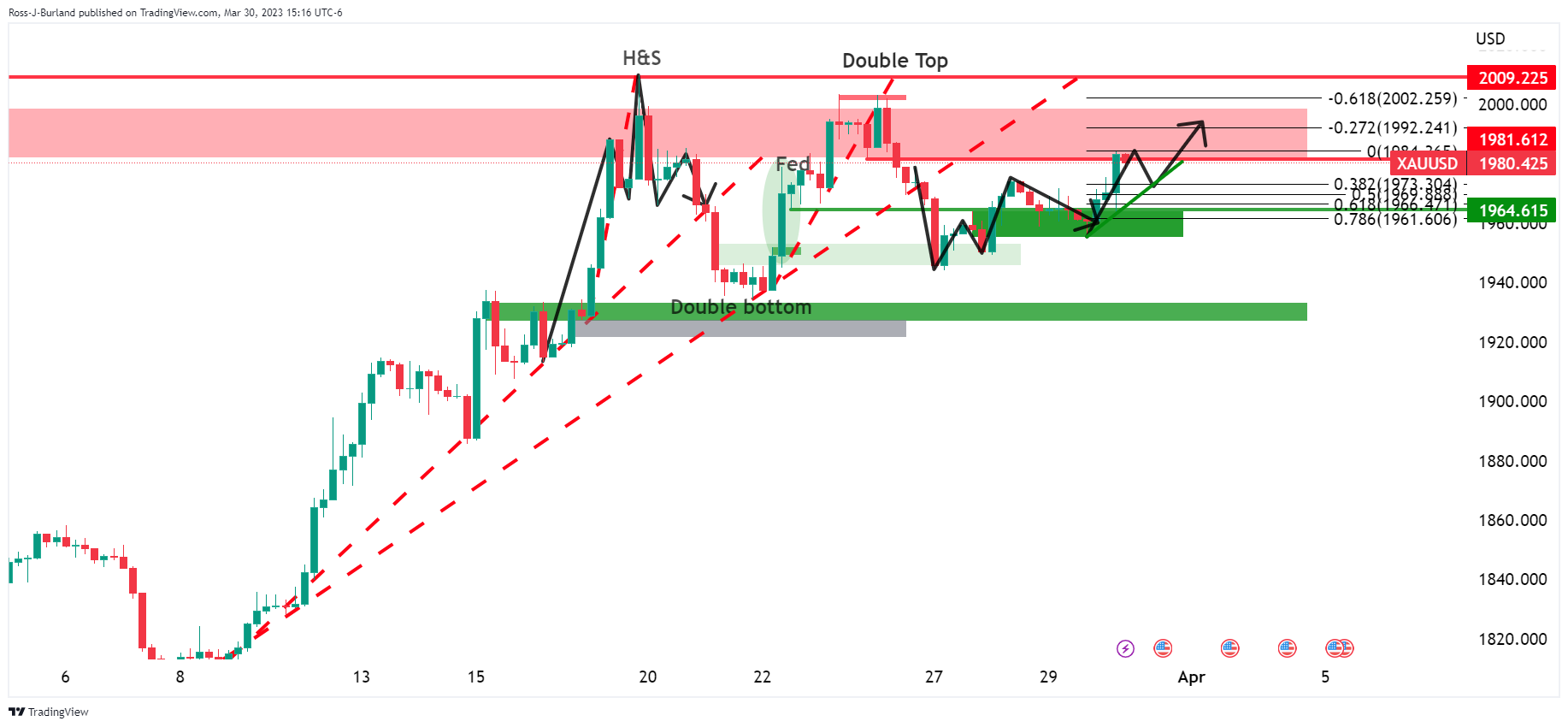 Gold price was testing the $1,980s resistance but the W-formation was a bearish pattern and this pulled on the Gold price. The gold price bulls have steppe din at neckline support and the price has rallied back into resistance. A pull back into the Fibonacci scale could be the next development before a move higher should the Gold price bulls stay committed with eyes on a restest in the $2,000s