XAU/USD Current price: $1,814.62
Fears of a wave of a new coronavirus strain in Europe undermined the market sentiment.

The positive tone of US indexes limited demand for the American currency.

XAU/USD is technically neutral, but speculative interest keeps buying the dips.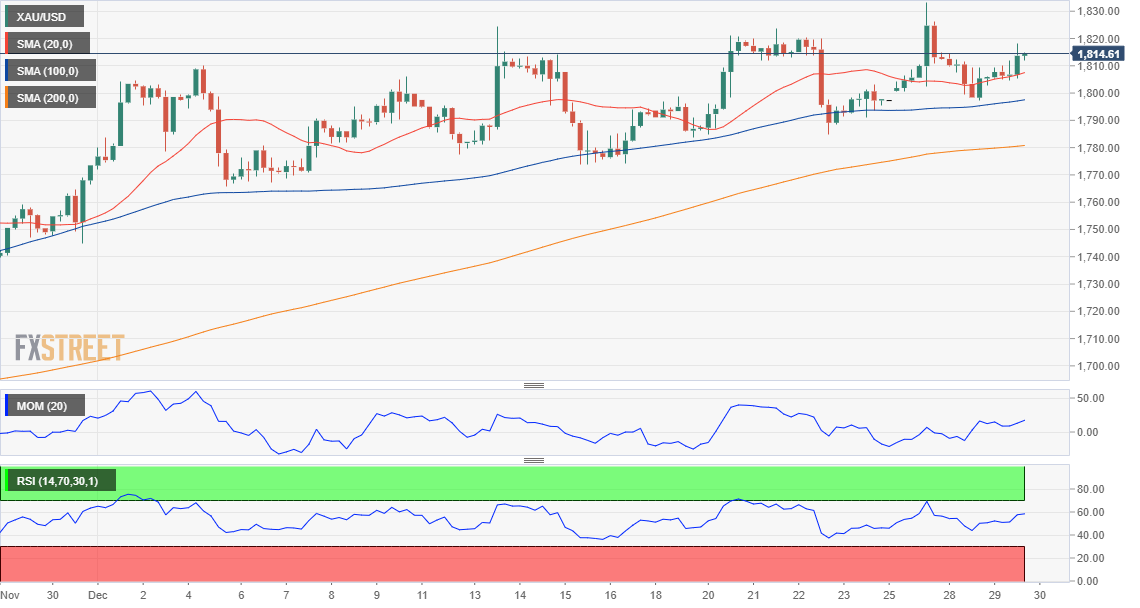 Spot gold recovered some ground on Thursday, now trading at around $1,813 a troy ounce. A shortened week ahead of New-Year celebrations implies reduced volumes and volatility across the FX board. Additionally, the lack of relevant macroeconomic headlines exacerbates the absence of directional strength.
The little action seen throughout the day was directly related to sentiment, the latter triggered by Chinese news. On Wednesday, financial markets were on alert after Italy reported that roughly 50% of the passengers of two flights arriving to Milan on Wednesday tested positive for COVID-19, and several western nations rushed to impose control on Chinese travelers, fearing the spread of a new strain. However, mid-European morning Italy reported they found no new covid variants in the tests.
Most Asian and European share markets closed in the red, but Wall Street is enjoying a better mood, with the three major US indexes posting substantial gains. On a negative note, the yield on the 10-year Treasury note is down 5 bps, while the 2-year note yield is up 2 bps.
XAU/USD price short-term technical outlook
The daily chart for the XAU/USD pair supports further gains ahead, although they seem unlikely for the rest of the week. The 20 SMA extends its bullish slope above the longer ones while providing dynamic support at around $1,796.20. At the same time, technical indicators remain within positive levels, although without directional strength.
In the near term, and according to the 4-hour chart, the bright metal offers a neutral-to-bullish stance. Technical indicators remain flat within positive levels. Meanwhile, a bullish 20 SMA, which advances above the longer ones, provides intraday support, currently at $1,806.71. Dips below $1,800 are being quickly reverted, suggesting speculative interest is waiting for a firmer reason to resume buying.
Support levels: 1,806.70 1,796.20 1,784.60
Resistance levels: 1,824.50 1,833.40 1,845.20