Share:
The winter rally, which rose HBAR price 180% since January 1, remains intact amidst bearish price action.
A decline as low as $0.049 would result in a 30% decrease in market value but could be viewed as a buying opportunity.
Hedera Hashgraph price shows short-term bearish trading within an overall strong uptrend. Traders should keep their eyes on the technicals in search of a market reversal signal.
Hedera Hashgraph price is one to watch
Hedera Hashgraph price confirmed the short-term bearish bias mentioned in previous outlooks, as the scalable smart contract token has declined by 20% in the last nine days. The recent downswing is worth keeping an eye on as it could only be a brief moment before the trend reverses and the strong impulsive winter uptrend continues towards higher targets.
Hedera Hashgraph currently auctions at $0.07. A Fibonacci retracement tool surrounding the 1.8x winter rally still deems the 20% decline as a shallow pullback. It is common for digital assets to retrace at least 38.2% and, at max, 61.8% after a strong impulsive rally occurs.
The Relative Strength Index (RSI) suggests that underlying support is still within reason for the HBAR technicals. The recent 20% decline has brought the RSI back into the median line near neutral. This is a common area for investors to begin adding into their positions, which have already achieved some profit during the previous upswing.
HBAR price is hovering 16% above the first target zone near the 38.2% FIB level at $0.059. A decline toward the 61.8% level at $0.049 would lead to an additional 30% loss from HBAR's current market value. These two levels could be considered buying opportunities as the winter rally may be in the beginning stages of a larger trend targeting the $0.15 and $0.20 zones in the coming months.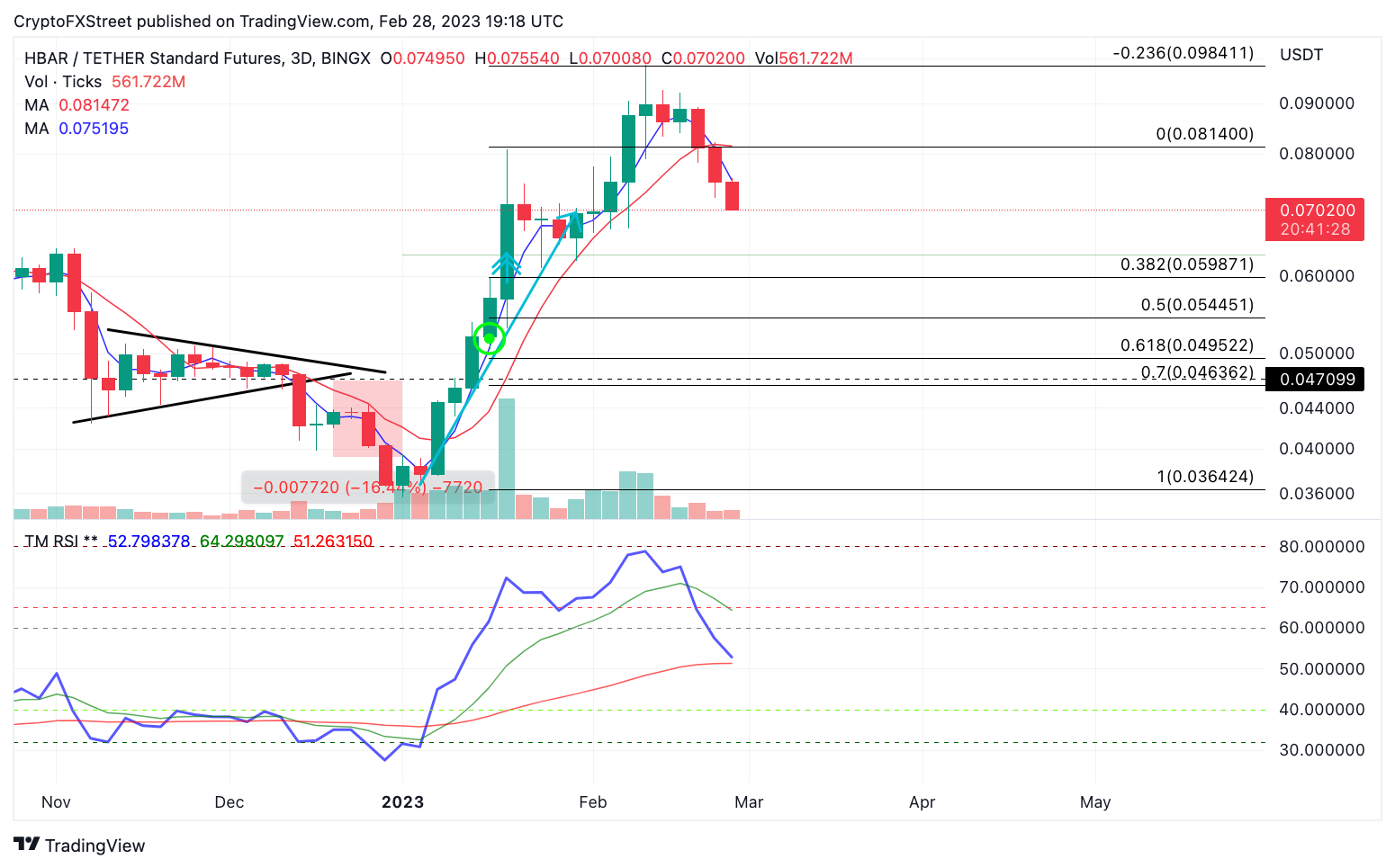 HBAR/USDT 3-day chart
The RSI would need to decline towards under the 40 level, or the HBAR price would need to fall lower than $0.049 to jeopardize the overall uptrend. If either scenario occurs, Hedera could decline as low as in 2022 to $0.035, resulting in a 50% decrease from HBAR current market value.