Hedera price sees its rally stalling this week.
HBAR sees bulls leaving the price action to avoid the challenges from next week.
Several tail risks are set to emerge again, crushing the rally of 2023.
Hedera (HBAR) price has been shooting for the starts but looks to be dropping like a stone now. Just like Icarus, who flew too close to the sun, this time, Hedera came just not close enough to the projected price target for this rally. With the price action shocking at $0.08000000, bulls are fleeing the scene, and bears could gain back control.
Hedera price could drop like a stone in next week's turmoil
Hedera price is set to face a wall of headwinds as not only a packed calendar of economic data and central bank decisions but also geopolitical tensions. Although it seemed to remain silent in Russia on the back of headlines that Germany and other allies are sending tanks, that has changed over the weekend. Putin has gathered his security council and shown off his supersonic weapons, and markets could see tensions ramp up again this week in Ukraine.
HBAR sees its traders not having a strong enough stomach to stay in the rally and face both the central bank tensions and the geopolitical risks. Although the 200-day Simple Moving Average and the 55-day SMA should provide support, it is more than likely that HBAR will tank towards $0.04000000 and flirt back with that low of December. The rally was an attempt to break with 2022, but that feeling could be back quite quickly.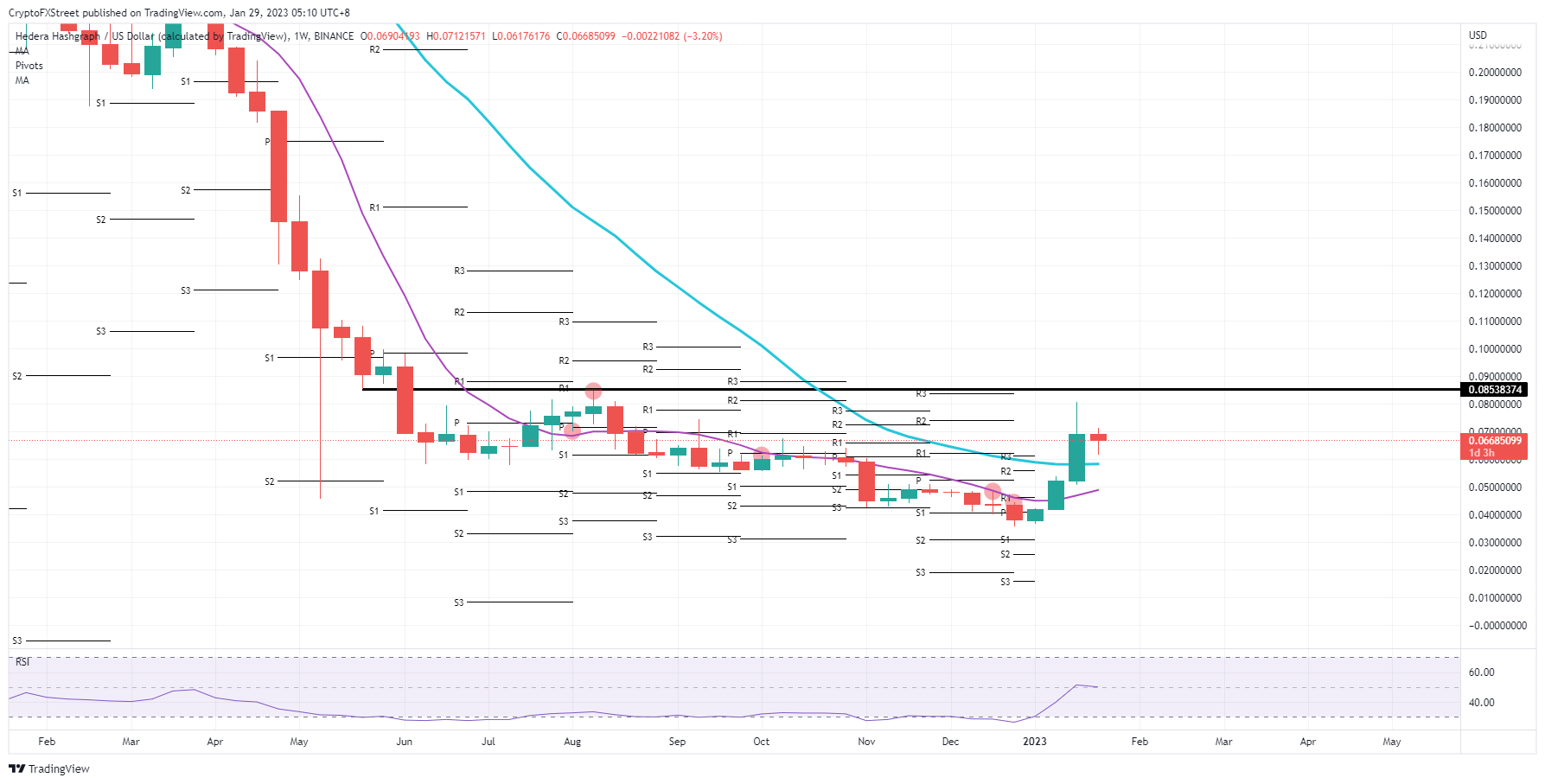 HBAR/USD weekly chart
The only thing that could see price action turn the other way is when one or two central banks turn dovish and confirm that inflation is decreasing. That would mean that the negative drivers for 2022 are fading and could unleash a wave of bullish bids in price action. Expect HBAR to pierce through $0.08538374 and jump higher towards $0.10000000 on the back of that change.