Share:
Litecoin price on November 14 noted no change, and neither did the volume, even though 1 million transactions were recorded on-chain.
Nearly 88% of the transactions were worth less than $1 and were mainly comprised of first-time active addresses.
The most likely reason behind this was the 300,000 new Ordinals inscribed on the Litecoin network in the past week.
Litecoin price, for the first time, remained largely unchanged despite witnessing an event that the market had not seen in forever. It even eclipsed Bitcoin. The network noted more than 1 million transactions being conducted in a day, but while the feat is remarkable, the cause and effect are rather dull.
Litecoin records a million transactions
Litecoin made history on November 14 after the network recorded over 1.02 million transactions in a single day. Not only was this the highest number of single-day transactions recorded since the inception of LTC, but it was nearly thrice as many as what Bitcoin registered on that day.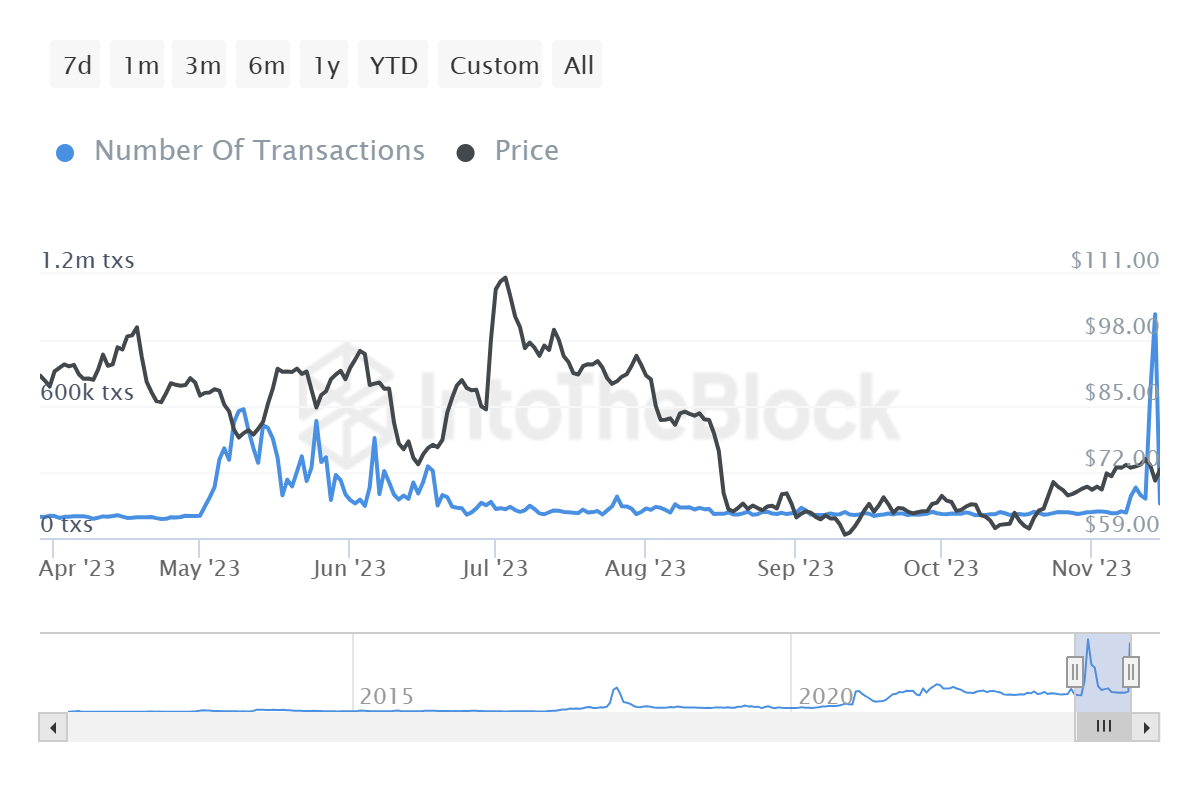 Litecoin transactions
While this may seem like a big deal, as it turns out, it is not. Litecoin did make history, but it made no splash as most of the transactions were nearly worthless. According to the breakup of the 1.02 million transactions, it can be observed that about 82% of them were valued between $0 and $1. In fact, only 6% of all the transactions were worth any more than $100, as most were conducted by small investors.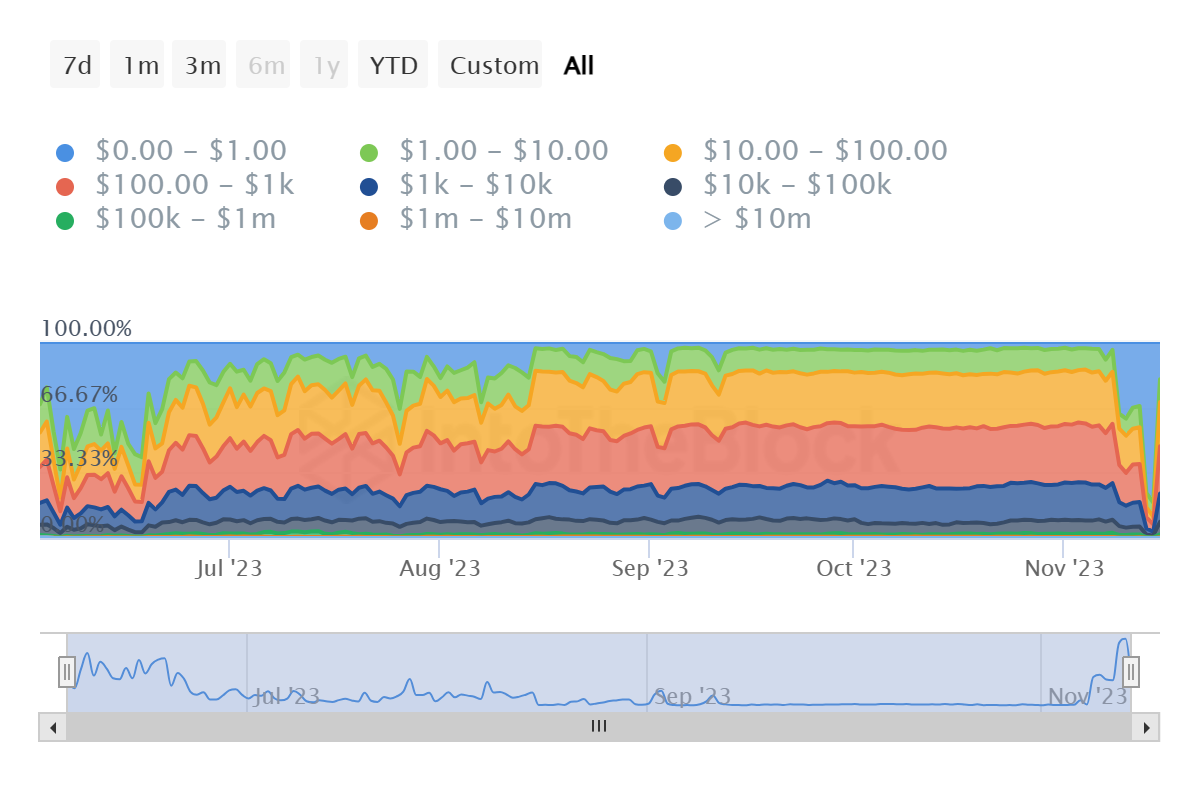 Litecoin transactions by value
This probability checks out when looking into what kind of investors were conducting these transactions. It turns out that while the network did note 1.16 million active addresses on November 14, about 88% of them were new addresses making their first transaction on the chain.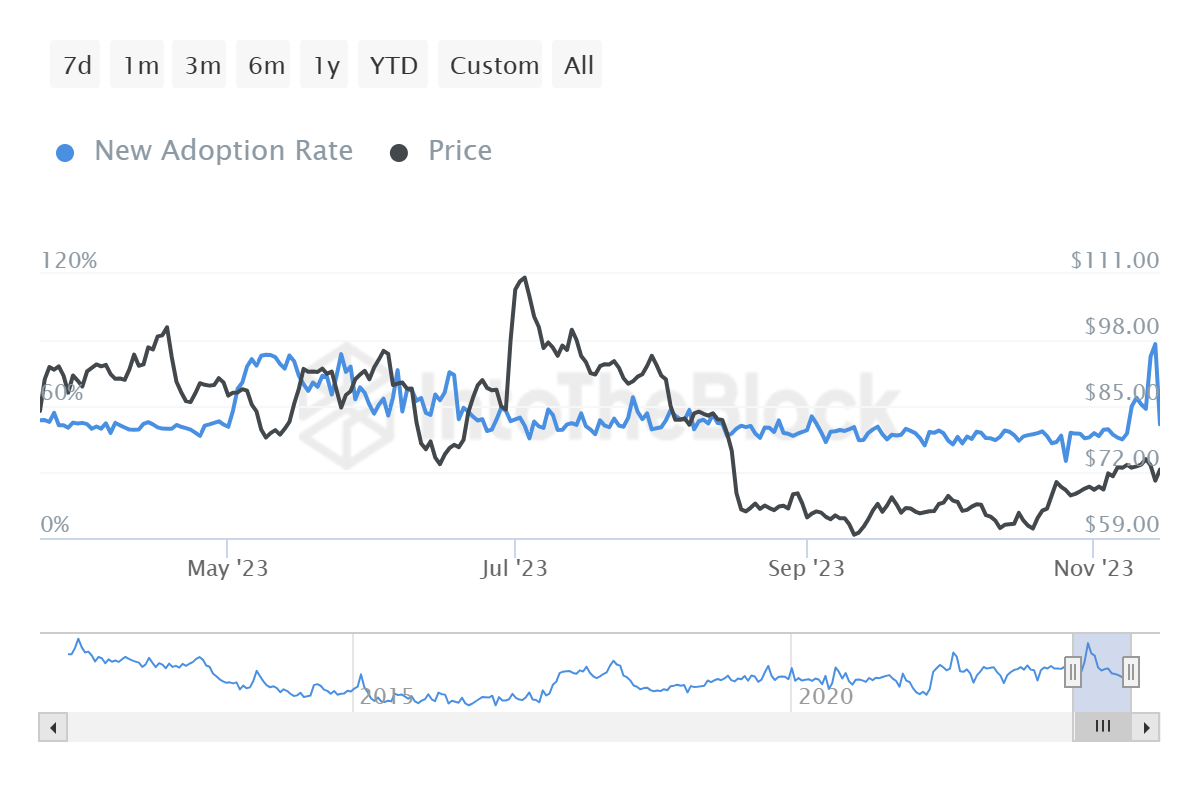 Litecoin new adopters
Putting two and two together suggests that most of these transactions were FOMO (Fear Of Missing Out) actions of investors. While, as with crypto, the real reason behind this remains uncertain, the most likely cause was Litecoin Ordinals.
According to a tweet from Litecoin a day before, the network recorded over 300,000 inscriptions in the past week. While in comparison to Bitcoin, the figure is merely 30% of the total inscriptions, it still remains significant to Litecoin.
Litecoin price makes no move
The reason why the surge in transactions most likely stems from FOMO is that price action did not observe any major change. If the move was driven by demand or major network development, LTC would have moved. On November 14, however, the altcoin barely moved.
In fact, Litecoin price noted a much larger change of a 4% decline in the past 24 hours. Trading at $71, the silver to Bitcoin's gold is presently consolidating between $77 and $69. The Moving Average Convergence Divergence (MACD) indicator evinces a bearish crossover on the chart, which suggests further decline might be possible.
This would mean LTC would have to fall through the support level of $69 and test $63 as a support floor.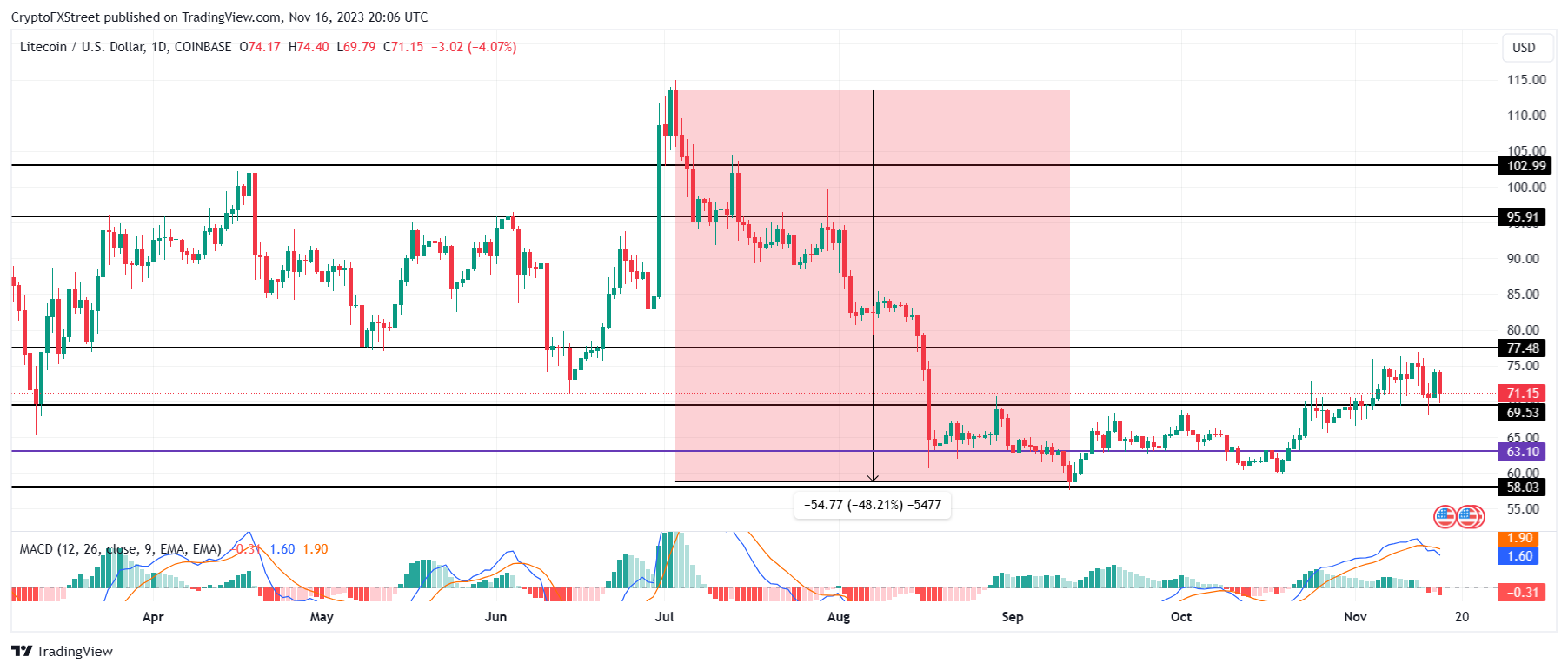 LTC/USD 1-day chart
But if the broader market cues remain neutral to bullish, a surge would send LTC to breach the resistance marked at $77. Reclaiming it as a support level would invalidate the bearish thesis, pushing LTC toward $80.
---
Source