Shiba Inu gained 100% against Dogecoin, hitting 0.00001638, up 100% within three months of hitting bottom at 0.00000993 in November.
The sharp recovery of the Dogecoin pair came into focus with the impending launch of Shibarium, a Shiba-Inu backed layer-2 blockchain built on the Ethereum mainnet.
Shiba Inu burn rate climbed 67% as token burn picked up pace over the weekend.
Shiba Inu token burn rate climbed by 67% since February 4. A total of 13,518,918 SHIB tokens have been burned according to the Shibburn portal. The meme coin gained 100% against competitor Dogecoin in the last 90 days.
Also read: Alt season to propel Shiba Inu price next, here's what SHIB holders can expect
Shiba Inu token burn follows SHIB's explosive 100% gains against Dogecoin
Shiba Inu, the second-largest meme coin in the crypto ecosystem and a competitor of Dogecoin, printed 100% gains against DOGE since its November low.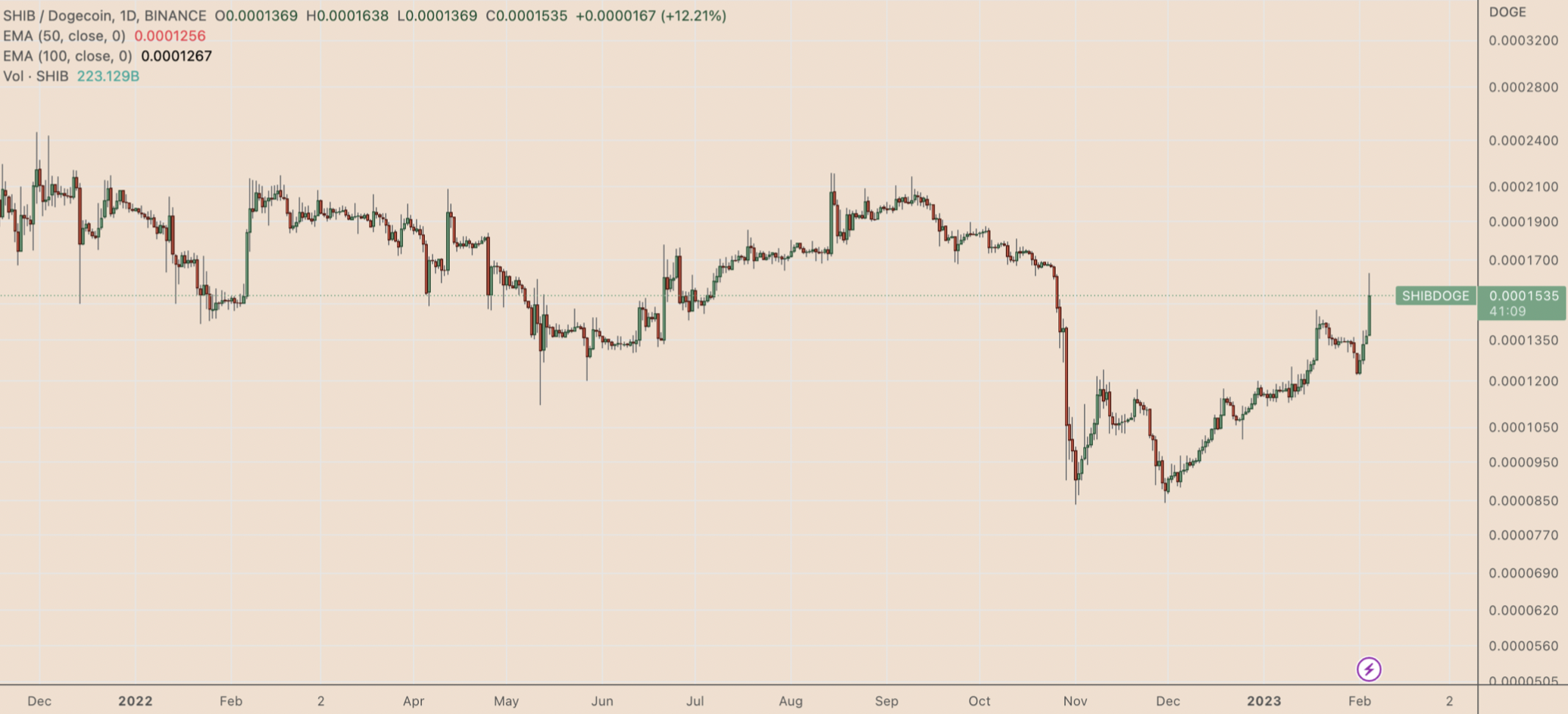 SHIB/DOGE price chart
SHIB/DOGE pair reached 0.00001638, a 100% gain after hitting bottom at 0.00000993, the lowest level on record. Shiba Inu's massive recovery came into focus as SHIB holders anticipated a rally in the token with developmental updates from Shytoshi Kusama and the project's development team.
Crypto Twitter anticipates that Shibarium will go live on February 14, fueling a bullish narrative among SHIB holders.
Dogecoin bot suspended for violating Twitter's rules
Dogecoin, Shiba Inu's competitor and the largest meme coin in the crypto ecosystem looked pale in comparison to the Shiba-Inu-themed cryptocurrency. Elon Musk, the billionaire CEO of Tesla and Twitter owner, suspended a Dogecoin tipping bot for violating the social media platform's rules.
Musk's move raised concerns in the community about Dogecoin's utility and its adoption on Twitter once the platform rolls out crypto payments. The Shiba Inu community is awaiting the launch of Shibarium and SHIB's gains against Dogecoin in Q1 2023.