Share:
Litecoin network has witnessed a massive spike in active addresses and network activity.
With LTC halving less than three months away, Litecoin price is recovering and nearly 50% of wallet addresses are profitable.
The introduction of the LTC20 standard has fueled an increase in activity on the Litecoin blockchain.
Litecoin, one of the top 20 cryptocurrencies by market capitalization, witnessed a massive growth in its wallet addresses with the approaching halving. The introduction of LTC20 standard, similar to Bitcoin's BRC20, is driving growth in on-chain activity on Litecoin.
Also read: Stablecoin outflows are diminishing, here's how capital is returning to crypto markets
Litecoin wallet addresses increase in profitability closer to LTC halving
Based on data from crypto intelligence tracker IntoTheBlock, there is a spike in the percentage of Litecoin wallet addresses that are profitable at the current price of $80.87. Nearly 50% of wallet addresses holding LTC are sitting on unrealized profits and the next cluster of resistance is the $81.27 to $83.57 level, followed by $83.51 to $85.75. Once Litecoin price crosses these resistance zones, there will be a spike in the percentage of wallet addresses that are profitable.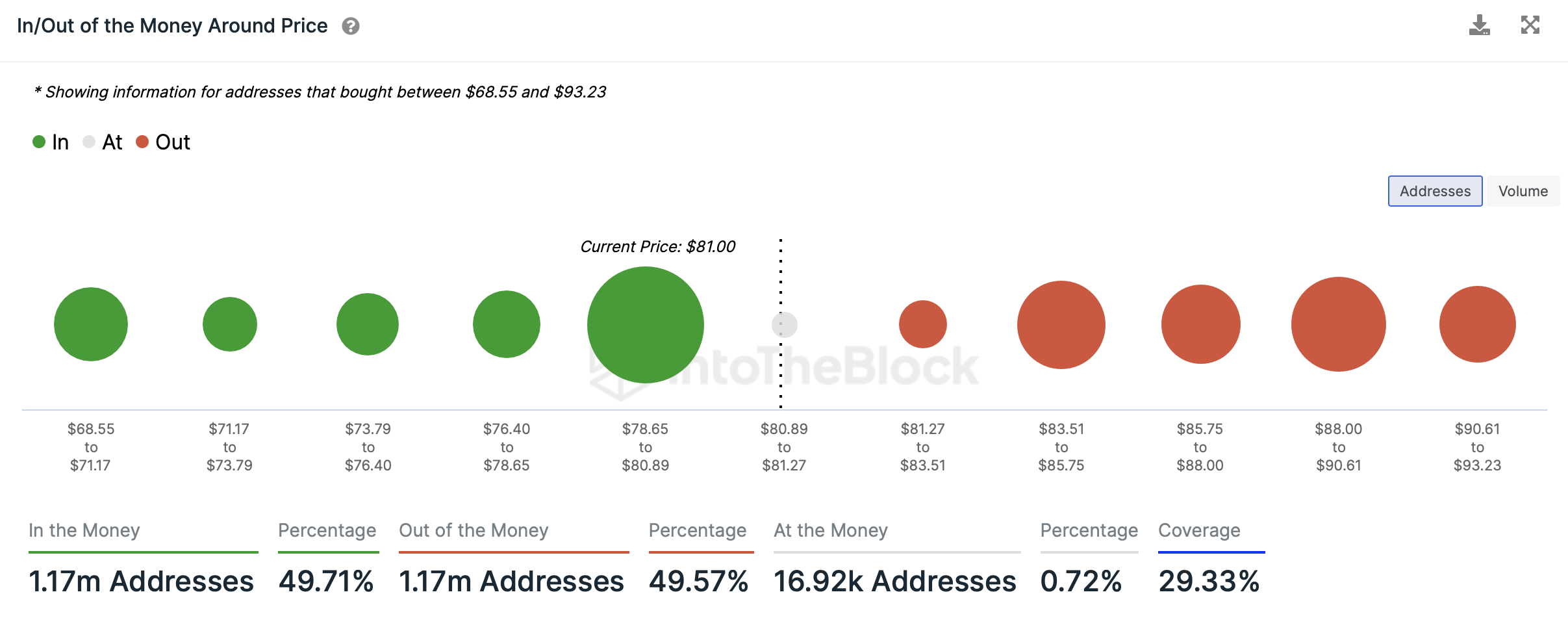 Litecoin wallet addresses that are profitable
1.17 million addresses holding LTC tokens are currently sitting on unrealized losses. Litecoin faces resistance at the $81.27 level where 51,000 addresses scooped up nearly 1 million LTC tokens.
The volume of new wallet addresses in Litecoin has climbed as the altcoin approaches its halving event in August. Data from Santiment reveals a spike in address activity on the LTC network.
Litecoin network address activity
Experts at Santiment consider the launch of LTC20 as the catalyst for massive spike in Litecoin address activity seen in the chart above. LTC20 is a standard similar to Bitcoin Ordinals' BRC20 on the blockchain.
The on-chain metrics fuel a bullish thesis for Litecoin price, closer to the halving.