Share:
Litecoin price is still on its recovery path after the 13% knockout punch from bears last week.
LTC sees its recovery not going to plan as another rejection is unfolding.
Although this week might still close in the green, another decline is just around the corner.
Litecoin (LTC) price sees bulls recovering and trying to bounce back after the firm selloff from the previous week that bore a 13% loss. There was a firm recovery plan set forward that required bulls to at least jump back above $94.43. It looks like the Bulls will drop the ball on that plan and instead are risking another rejection for this week that could see another leg lower if pressure on the bottom side grows too big for the Bulls to bear.
Litecoin price, though underpinned, sees pressure building for a break lower
Litecoin price, even this week, sees its price action nicely underpinned with the floor at the monthly pivot near $85. That is as far as the good news goes, as the Bulls might have played their hand here by defending it so strongly. What would have been better was that Litecoin price broke above $95.43 and confirmed the recovery bounce it was going for.
LTC bulls are exposing themselves for another rejection as $94.43 remains unchallenged and could be seen as the second rejection after the one from last week at $104. With lower highs and flat bottom at $85, bears have a clear target where they want to push LTC price toward. Expect next week, pressure to keep building, and when $85 gives way, a quick $5 could be selling off towards $80 and test the 200-day Simple Moving Avreage for support.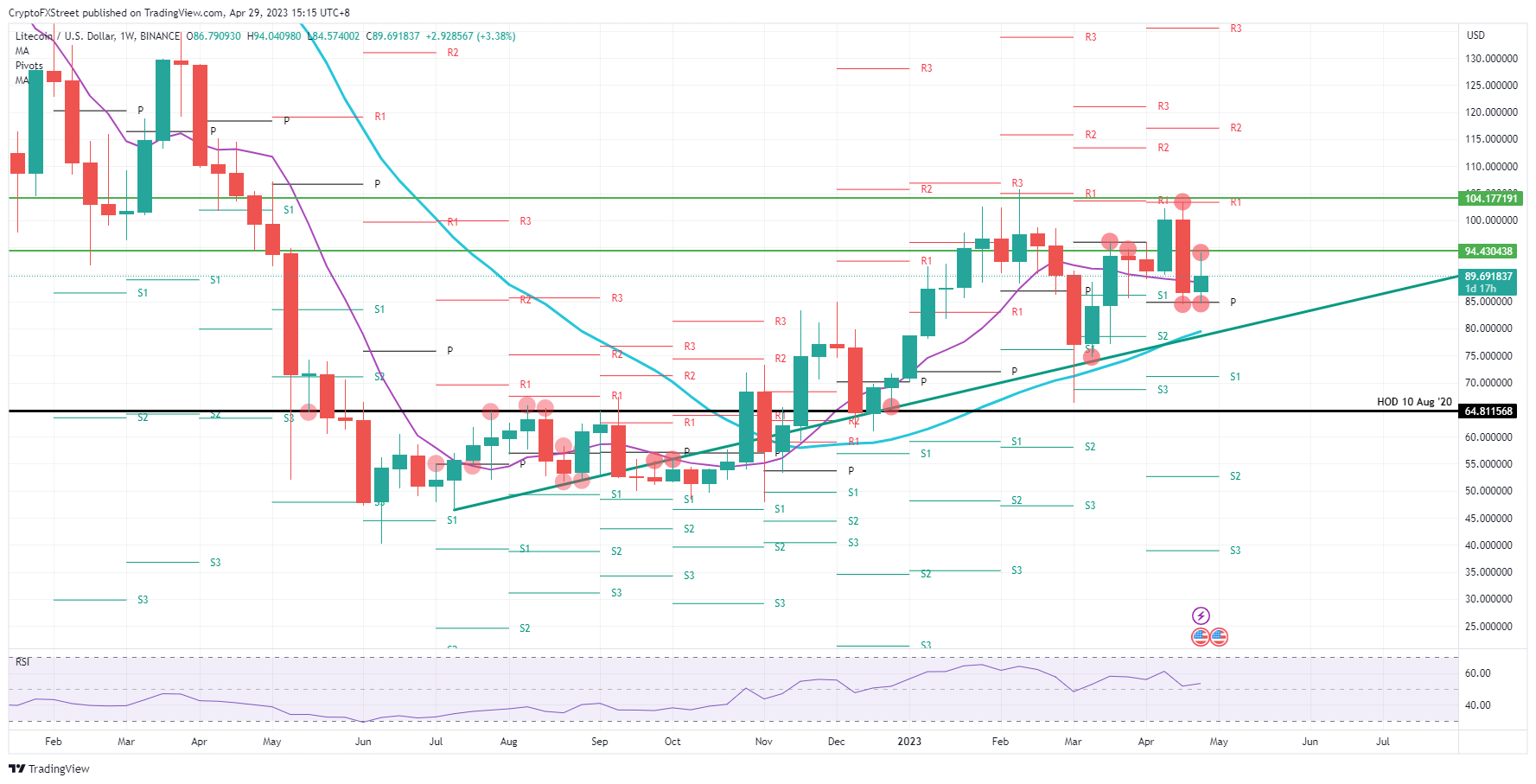 LTC/USD weekly chart
The recovery could be put on hold and see smaller increments of recovery in the coming weeks. That means a very slow grind higher towards $94.43 for a test and break higher. Next up, of course, would be $104 for a third test and a possible successful break higher this time.