Share:
Litecoin price crashed by 16.17% in the span of three days slipping to a monthly low.
Litecoin whales seemed to have simultaneously bought and sold more than $50 million worth of LTC right before the crash.
LTC at the moment is more correlated to Ethereum than to Bitcoin as the alt-season narrative continues to keep investors optimistic.
Litecoin price took after the rest of the market as it painted red on the charts for the third straight day this week. However, the more surprising turn of events was LTC whales' activity which seems more suspicious than it might be given the timing of their actions.
Litecoin price dips to a monthly low
Litecoin price fell by more than 16% in the span of 72 hours to trade at $85 after rejecting a breach of the barrier at $102. This level marks a 2023 high and has not been flipped into a support line for almost a year now as the last time this happened was in May 2022.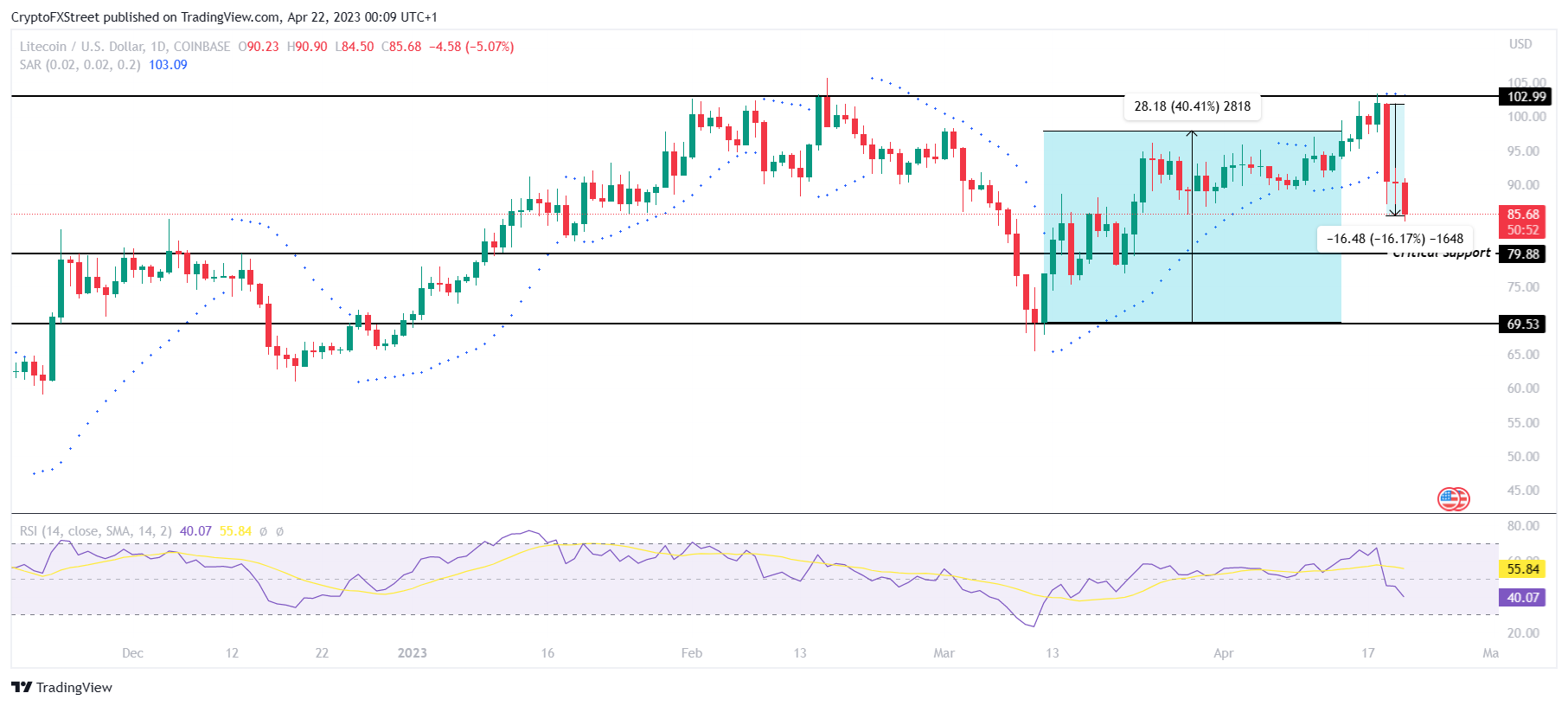 LTC/USD 1-day chart
By the looks of it, Litecoin whales had already anticipated this breach failure by assuming a market top nearly two days before the actual crash took place. This is because the cohorts holding 10,000 to 100,000 LTC and 100,000 to 1 million LTC suddenly moved their supply around, albeit in different directions.

Litecoin whale activity
The former cohort dumped nearly $50 million worth of LTC over the course of the week starting 48 hours before the decline. On the other hand, the 100,000 to 1 million LTC holders amassed the supply buying more than $50 million worth of LTC bringing their total holdings to more than 22 million LTC.
The whales selling their supply could have potentially further strengthened the broader market bearishness bringing the price to $85 at the time of writing.
But this dip will not be triggering any additional crashes or declines in price. The altcoin will mostly stick to maintaining a sideways momentum or gradually recover the losses endured in the last few days. Evidence of this potential behavior can be found in the volatility of the asset which is at a month and a half low suggesting no major swings in price is on the cards.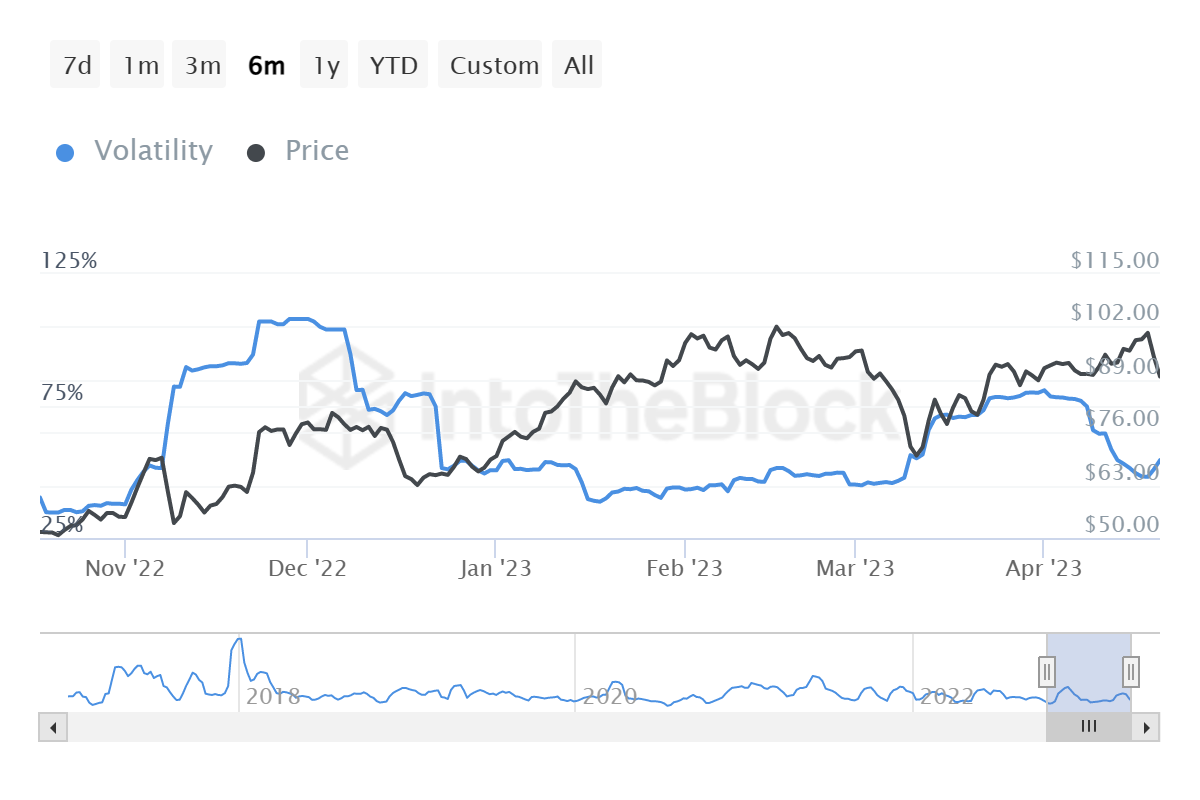 Litecoin volatility
Furthermore, the altcoin currently shares a higher correlation of 0.75 with Ethereum in comparison to Bitcoin which sits at 0.67. The reason behind this was the discourse of alt season which would be triggered only when Bitcoin's dominance comes down and altcoins capture of the crypto market capitalization.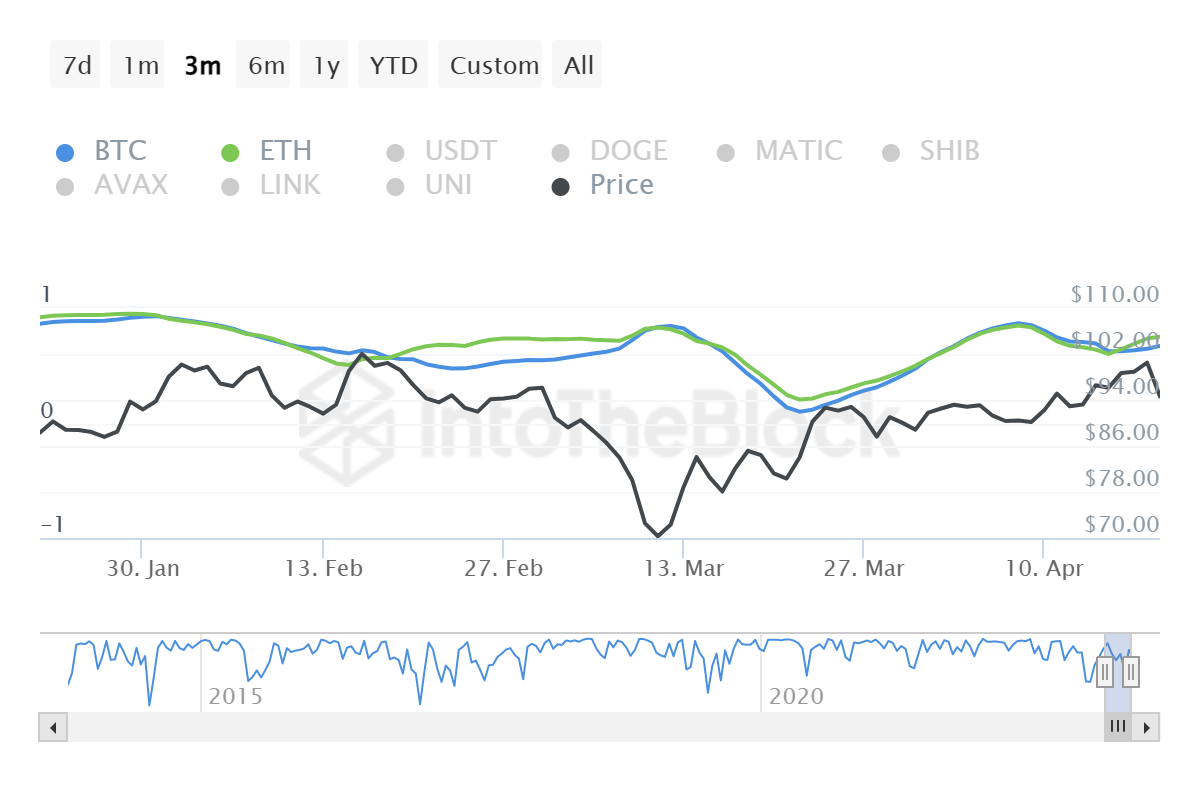 Litecoin correlation with Bitcoin
Thus, it would not be much surprising if Litecoin shifts its "Silver to Bitcoin's Gold" label to "Silver to Ethereum's Gold".