Share:
LUNA Classic price is currently on a downtrend, having declined by more than 25% in the last month.
Terra founder Do Kwon is facing multiple charges in Montenegro, which could imprison the disgraced CEO for up to five years.
Montenegrin prosecutor, Haris Šabotić, stated that the investigation against Do Kwon is expected to be completed before April 23.
Terraform Labs co-founder Do Kwon was arrested on March 23 after months of evading the authorities following the collapse of the Terra ecosystem in 2022. The disgraced head of the company is currently facing criminal charges in the country of Montenegro and could face severe punishment.
Terra founder Do Kwon might end up in prison
In an interview on March 31, the prosecutor appointed in the Do Kwon case in Montenegro, Haris Šabotić, detailing what can be expected out of the case going forward. As Do Kwon was arrested on the charges of falsifying documents at the Podgorica airport, the prosecution is focusing just on that. Šabotić stated,
"We are only concerned with charging him for using the forged documents. How they got them or from where is a matter for the police."
As stated by Šabotić, the arrest of Do Kwon and his associate did not arise from the Interpol red notice, which was the initial suspicion. Instead, a border guard's suspicion regarding the authenticity of the passports is what led to their arrest.
Going forward, Do Kwon is expected to face Podgorica's Basic Court, where the founder could be sentenced to up to five years in prison if the prosecution brings formal charges.
The deadline for investigating and gathering evidence for the trial is set for April 23, which is enough to collect evidence to finish the case, as noted by Šabotić.
However, should the prosecution fail to do so, then the criminal charges will be dismissed, and the case could be taken up by the Higher Court since Do Kwon has an Interpol arrest warrant to his name. No details about Do Kwon's extradition to the United States or South Korea have emerged yet.
LUNA Classic fails recovery
LUNA Classic is currently trading at $0.000125 after declining by more than 26% in the span of a month throughout March. Falling below the December 2022 lows of $0.000129, the altcoin slipped to touch the price point that was last visited by LUNC over seven months ago.
Unlike other altcoins, LUNA Classic price made no recovery in the last few weeks, which has given the cryptocurrency a lot of room to mark some increase, as noted on the Relative Strength Index (RSI).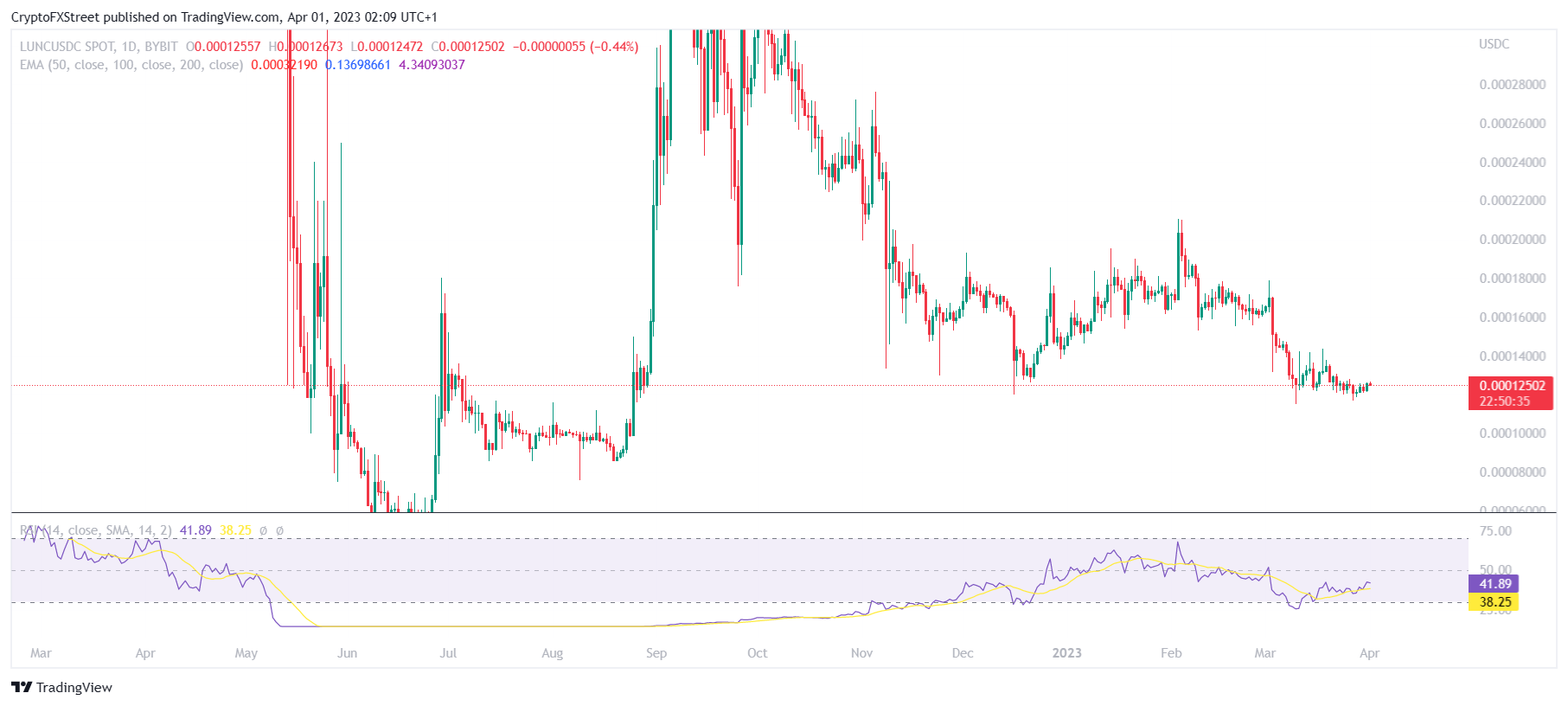 LUNC/USD 1-day chart
But the presence of the indicator in the bearish zone below the neutral line suggests the altcoin does not have enough strength to pull a recovery yet, and if Do Kwon ends up facing jail time, this crypto asset could further decline.