Share:
Natural Gas price has fallen almost 10% from its June high on the back of easing supply concerns.
European Gas stockpiles have risen to levels well above the average increasing confidence in the continent's supply capabilities.
The heatwave in America and Europe drives demand to power air conditioning, but temperatures are set to fall to modest levels.
Volatility from positoning ahead of front-month Options and Futures contract expiration may be driving prices lower.
Natural Gas price has fallen almost 10% from its June high, according to Spot US Natural Gas price data quoted at the start of the US Session on Thursday. A combination of factors are weighing on the price, including data showing robust European stockpiles, easing Russia turmoil after Wagner's failed coup attempt, forecasts the heatwave in the US will pass next week, and volatility ahead of front-end futures and options expiry.
XNG/USD is trading in the $2.600s MMBtu on Thursday, during the US session.
Natural Gas news and market movers
There is more Natural Gas in storage in Europe than is usually the case for this time of year, lessening fears of supply constraints. European storage stands at 76% of capacity compared to the 56% reported in June last year, according to data from Rystad Energy, quoted in Oilprice.com. This makes Europe's goal of reaching 90% of capacity by November easily achievable, ahead of the high Winter demand period.
Natural Gas has also fallen after the return of geopolitical stability to Russia, which is still a major producer. When the Wagner mutiny began, prices rose on fears supply would be disrupted by a civil war, however, now the mutiny is over they have fallen.
Volatility from traders shuffling positions ahead of the expiration date for front-month Futures and Options contracts might be impacting prices as the month of June comes to an end, according to Natural Gas Intelligence (NGI).
Demand for Natural Gas in the US to power air conditioning may be about to moderate after reports temperatures in the US are set to return to average ranges for this time of year next week.
Norwegian supply concerns, after outages at the Hammerfest LNG export terminal and the processing plants at Nyhamna and Kollsnes, continue to underpin prices. However, the high storage levels witnessed in Europe mean that the outages in Norway are now less of a concern.
Natural Gas Technical Analysis: Recovery stalls nears significant trend-determination level
Natural Gas price is trading just below a key trend-determination level on longer-term charts. Although the commodity remains in a long-term downtrend since turning lower at the August 2022 peak, bearish momentum has tapered off considerably.
The Relative Strength Index (RSI) momentum indicator is converging bullishly with price on the weekly chart, something that occurs when price makes new lows but RSI does not.
A break above the last lower high of the long-term downtrend at $3.079 MMBtu would indicate a reversal in the broader downtrend.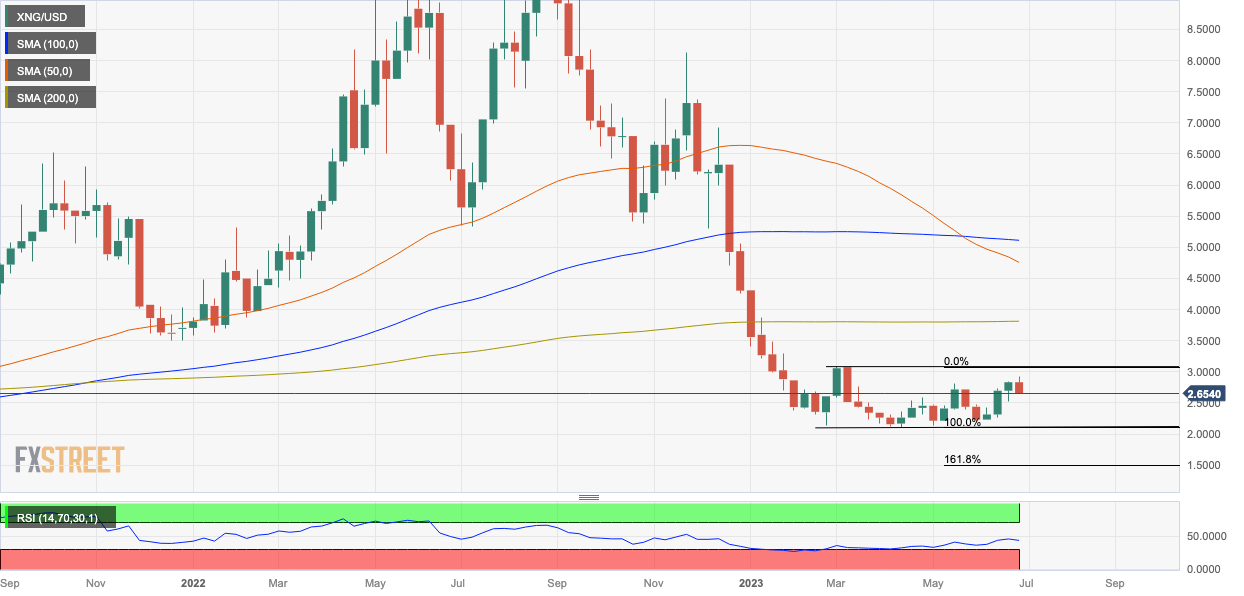 Natural Gas: Weekly Chart
Given this level has not been breached yet, however, the downtrend remains intact and a break below the $2.110 year-to-date lows would provide a confirmation of a continuation down to a target at $1.546. This target is the 61.8% Fibonacci extension of the height of the roughly sideways consolidation range that has been unfolding during 2023 (marked 161.8% on charts).
On the daily chart, price has been climbing within a roughly sideways market, although it has broken above both the 50 and not the 100-day Simple Moving Averages (SMA).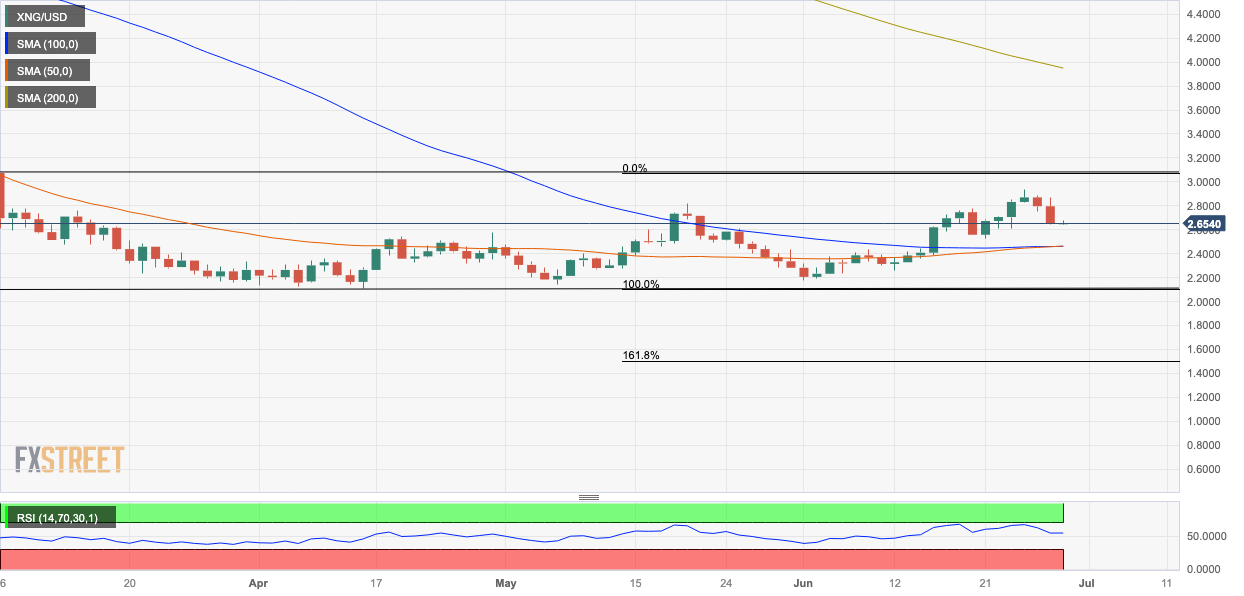 Natural Gas: Daily Chart
Nevertheless, a break above the last lower high of the long-term downtrend at $3.079 MMBtu would be required to indicate a reversal in the broader trend.
Such a move might then see prices rally higher to the next key resistance level at the 200-week SMA, situated at $3.813.
Until that happens however, price will probably continue to consolidate within its range or even go lower.