Share:
Natural Gas prices sold off for two straight weeks and finally found a floor at $3.20
The US Dollar saw its worst intraday loss in three months on Monday.
Natural Gas prices appear to have downside potential as demand is still subdued ahead of winter.
Natural Gas prices are starting to recover this week after a steep decline in the past two weeks. Gas prices briefly hit $3.63 and have been plunging since then. Traders were too eager to price in an Israeli ground offensive that would pull other countries into the conflict, likely propelling energy prices. However, with the offensive getting delayed again and demand falling, prices seem to have further room to the downside.
Meanwhile, the US Dollar (USD) seems to have lost its status as King Dollar, posting on Monday its worst intraday performance in three months. With quite a packed calendar on the data front this week, any signal that confirms any downturn in the US economy will likely be translated into another leg lower on the US Dollar Index. A similar pattern should be expected for Natural Gas prices, with only a gradual recovery if it actually happens.
Natural Gas is trading at $3.29 per MMBtu at the time of writing.
Natural Gas news and market movers
The International Energy Agency (IEA) said that the world demand for Natural Gas is set to be even lower than anticipated by 2040 as renewables are taking up a bigger share of the energy complex.
In that same report, the IEA lowered for a fourth straight year its projections in Gas consumption, in its latest annual World Energy Outlook.
European Gas prices drift lower as still mild temperatures are topping any surge in demand.
On Tuesday, French President Emmanuel Macron is expected to join other world leaders and will visit Israel in order to plead for a humanitarian corridor and delay the ground offensive for another few weeks.
Natural Gas Technical Analysis: What if Israeli ground offensive does not take place?
Natural Gas sees its seasonality being a bit broken this year. Although the winter season normally should see a ramp up in demand, Gas storages in Europe are already filled up ahead of schedule. Demand does not seem to pick up anytime soon, likely leading to a further correction in gas prices before demand comes back.
Still, headlines related to geopolitics could quickly cause severe upswings. There aren't any significant resistance levels except for $3.65, the peak of January 17. From there, the high of 2023 near $4.3080 comes into play.
On the downside, the trend channel failed to act as support near $3.37. Natural Gas prices could fall to $3.07, with that orange line identified from the double top around mid-August. Should the drop become a broader sell-off, prices could sink to $3, at the 55-day Simple Moving Average.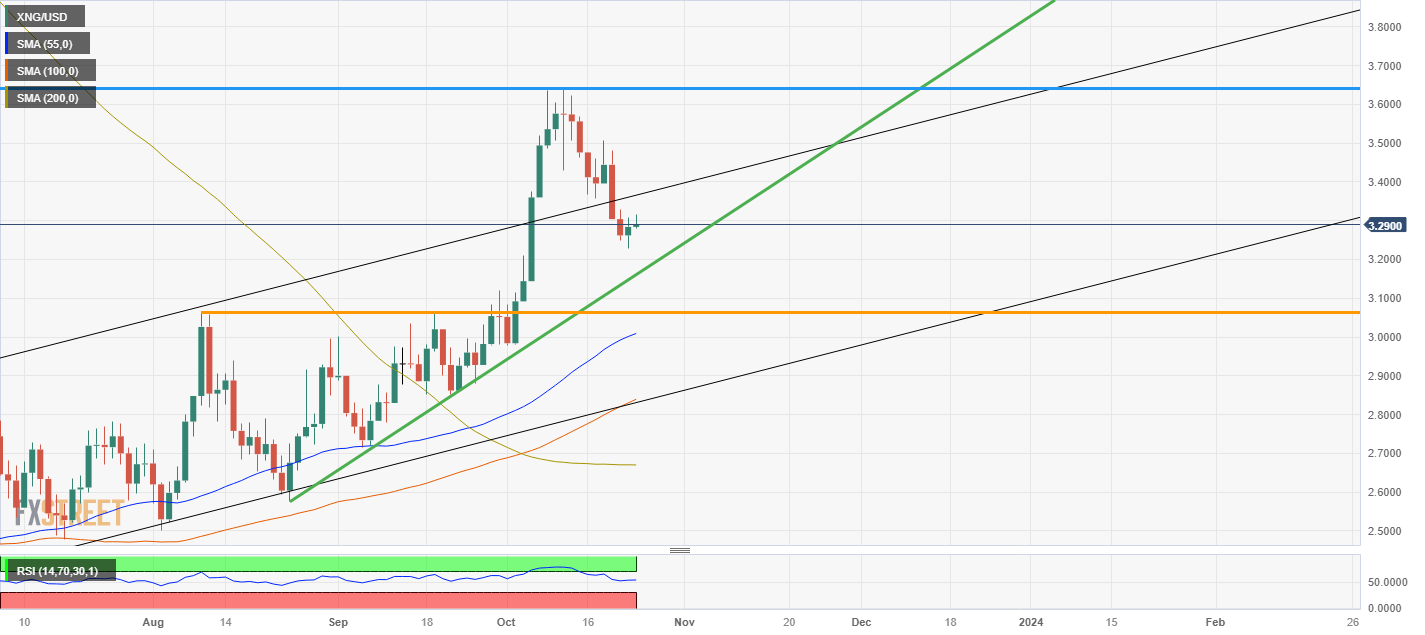 XNG/USD (Daily Chart)
Natural Gas FAQs
Supply and demand dynamics are a key factor influencing Natural Gas prices, and are themselves influenced by global economic growth, industrial activity, population growth, production levels, and inventories. The weather impacts Natural Gas prices because more Gas is used during cold winters and hot summers for heating and cooling. Competition from other energy sources impacts prices as consumers may switch to cheaper sources. Geopolitical events are factors as exemplified by the war in Ukraine. Government policies relating to extraction, transportation, and environmental issues also impact prices.
The main economic release influencing Natural Gas prices is the weekly inventory bulletin from the Energy Information Administration (EIA), a US government agency that produces US gas market data. The EIA Gas bulletin usually comes out on Thursday at 14:30 GMT, a day after the EIA publishes its weekly Oil bulletin. Economic data from large consumers of Natural Gas can impact supply and demand, the largest of which include China, Germany and Japan. Natural Gas is primarily priced and traded in US Dollars, thus economic releases impacting the US Dollar are also factors.
The US Dollar is the world's reserve currency and most commodities, including Natural Gas are priced and traded on international markets in US Dollars. As such, the value of the US Dollar is a factor in the price of Natural Gas, because if the Dollar strengthens it means less Dollars are required to buy the same volume of Gas (the price falls), and vice versa if USD strengthens.